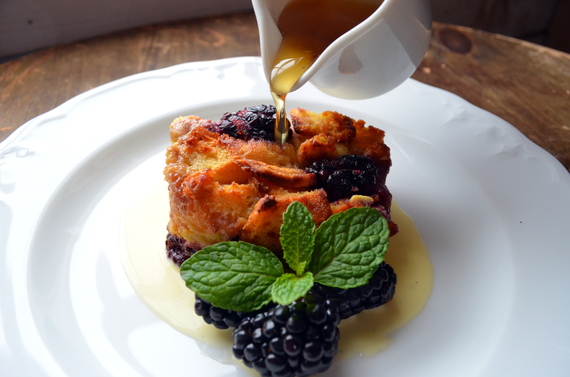 image: BedandBreakfast.com
Get a hot cup of coffee and drool along with us at these Sweet 16 amazing breakfasts. Bed & Breakfast owners and chefs share the recipes that earned them a place as finalists in the annual contest that celebrates the second "B" in B&B.
These recipes feature everything from sweet potatoes to St. Germain elderflower liqueur. We say "yes, please" to salted caramel, rosemary-infused syrup, farm-fresh blueberries, piles of whipped cream and, of course, to bacon -- lots and lots of thick, sliced bacon.
The press release noted "the Sweet 16 finalists were chosen based on recipe creativity, uniqueness and appeal by guest judges including Anne Banas, SmarterTravel.com; Genevieve Shaw Brown, ABC News; Adrien Glover, Travel + Leisure; and Larry Olmsted, USAToday.com Great American Bites columnist." The runners-up and winner were chosen by BedandBreakfast.com fans on Facebook.
Every one of these mouth-watering breakfasts looks worth waking up early to make; and they would be even better to wake up to, so we've included links to the recipes and to information on the inns that feature them in their morning meals.
Zachariah Rath, the Open Gates Bed & Breakfast innkeeper and owner, says, "The Sweet Stuffed Crepe Cigars recipe takes me back to sailing the high seas of the Caribbean from Grenada, to the markets of St. Martin, and the cigar shops in St. Barts."

Caramel Apple Bacon French Toast from Farmers Guest House in Galena, Ill., was a close second place in 2014's breakfast contest.

Finalist Blueberry Stuffed Puffed Pastry is from The Oaks Victorian Inn in Christiansburg, Va.

The Banana Stuffed Cinnamon French Toast recipe was also a final four finalist from the Marshall Slocum Inn in Newport, R.I.

Andrea Smith, at the Chatham Gables Inn, was inspired by her Irish aunt and created this Berry Breakfast Cobbler with Honey Ginger Cream, a guest favorite.

Blackberry Waffle Bread Pudding is served with orange blossom creme anglaise and warm local Vermont maple syrup. Get it at the Inn at the Round Barn Farm in Waitsfield, Vt.

It's three wonderful things in one: Chocolate Covered Cherry Cheesecake Bread Pudding was created for Valentine's Day at the Brayton B&B in Oshkosh, Wis.

Of course a B&B called the Cocoa Cottage should have a decadent chocolate breakfast recipe, and it does not disappoint with these Breakfast S'mores.

The Lititz, Pa. inn, the Swiss Woods B&B, offers up a desert-inspired breakfast: Swiss Carrot Cake Waffles with mascarpone cream and roasted pineapple.

Fried Chicken and Waffles blend sweet and savory at the Seal Cove Inn in Moss Beach, Calif., served with a sprinkling of prosciutto and delicious rosemary-infused maple syrup.

The By The Side Of The Road Bed and Breakfast serves up sweet, sophisticated and satisfying Country Pancakes, a favorite of guests.

Say "Yes!" to dessert first with a scoop of vanilla bean ice cream served on Individual Baked French Toast from the Albemarle Inn in Asheville, N.C.

The Glenlaurel Inn in Rockbridge, Ohio, uses home-baked brioche for their Salted Caramel & Banana French Toast with Toffee recipe.

The Meyer House Bed and Breakfast provides its guests fuel for their excursions to the nearby Canaan Valley State Park & Ski Resort with Stuffed French Toast

Sweet potato pie inspired these Sweet Potato Pecan Waffles with Praline Sauce at The Decker House in Mason City, Iowa.

Wedding Crepes St. Germain celebrate spring and the New England culinary tradition at the Lyttleton Inn in Littleton, Mass.
Story and images by the BedandBreakfast.com team, part of the HomeAway family.
Follow Home Away on Twitter: www.twitter.com/HomeAway