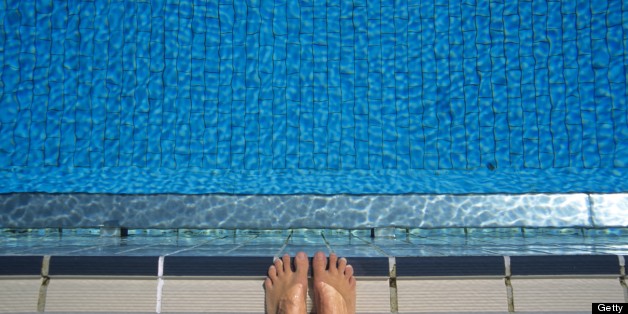 The world is full of beautiful places, and it's also dotted with incredible hotel pools to admire them from. Whether you prefer drifting in heated pools among ice-flecked mountain peaks or looking out over the Pacific from the tropical beaches of Tahiti, this selection of 10 jaw-dropping swimming pools will have something for you. Just one thing: if you're scared of heights, choose carefully...
10. Dream Downtown, New York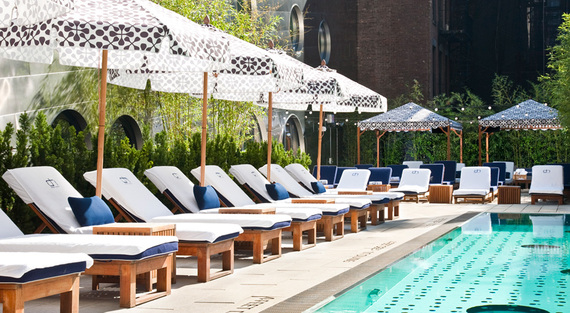 If you really want to live the high life in New York, check out Hopper's article on the best places to see celebs in NYC
Situated in the uber-fashionable Meatpacking District, the swimming pool at Dream Downtown is a lot more chic than its modest size would suggest. It has glass-bottom portholes that allow those in the lobby below to watch swimmers and its location next to the hotel's reflective metal exterior, the pool deck is one of the sunniest spots in Manhattan and the perfect place to work on your tan.
9. Paresa Resort Phuket, Thailand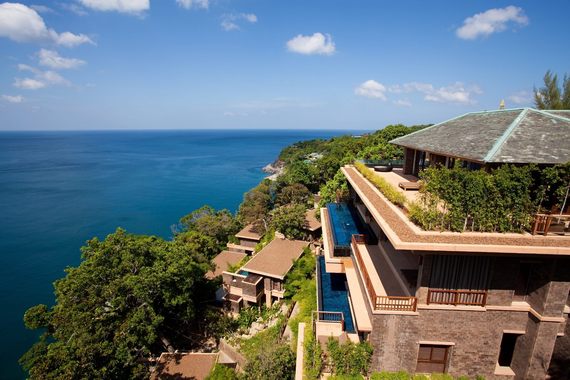 Take a look at this suggested itinerary to see what all is possible with just one week in Thailand
On the Thai island of Phuket, this infinity pool appears to tumble into the turquoise blue of the Andaman Sea. It's beautifully situated, surrounded by lush green rainforest and the cheeps and chirps of the jungle's inhabitants, yet suffused by a deep-seated tranquility, carried on the gentle wash of the waves below and, at night, the glittering stars above. But what really sets this pool apart are the floating islands placed in the pool, carrying deck chairs, a table, wine glasses and condiments -- yes, the most decadent of al fresco dining can be enjoyed while drifting on this pool's water.
8. InterContinental Resort Tahiti, French Polynesia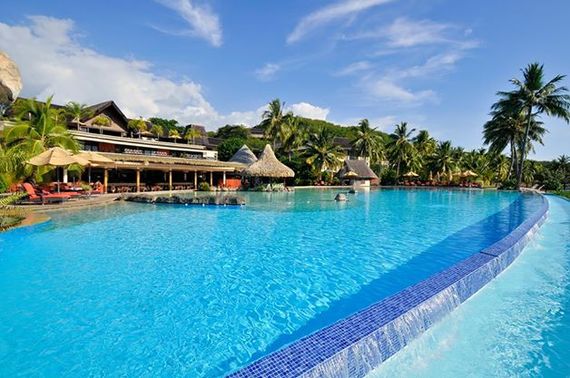 Flung far out in the Pacific, Tahiti is a tiny speck of land lost amid endless blue. And there's no better place to immerse yourself in this incredible fact than at the Lotus infinity pool in the InterContinental Resort. Like the ocean it seems to flow into, it's bottomed by sand and there's a swim-up bar complete with thatch roof and a decadent selection of drinks. But really this is all about floating back and gazing out over the Pacific's limitless blue. Located in the South Pacific Ocean, the pool faces north, looking across perhaps the greatest expanse of ocean you'll ever cast your eyes over.
7. The Atrium Pool at the Park Hyatt, Tokyo, Japan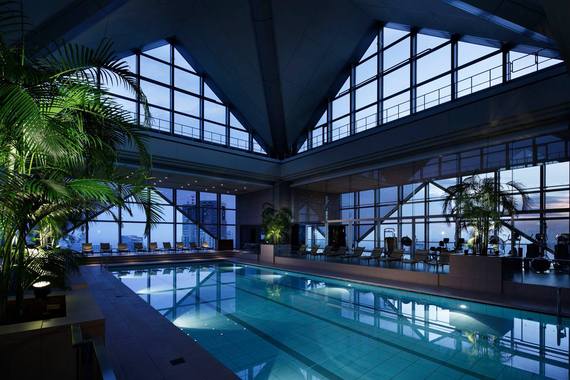 When you're not reenacting Lost in Translation, check out our picks for Tokyo's best sushi restaurants
This pool may be familiar -- an ageing Bill Murray struggles to complete a lap in it early in the film Lost in Translation, which is set in the hotel. But while that film suffused the hotel with a deeply melancholy atmosphere -- escaped only when our oddly matched protagonists adventure out into Tokyo's night time streets -- there's nothing downbeat about this beautiful swimming pool. Located on the hotel's 47th floor, it's 65 feet long and stretches out beside ceiling-to-floor windows that offer breathtaking views over the jigsaw city below. A swim is particularly gorgeous at night, when Tokyo glimmers and glitters within its cradle of shadowy mountains.
6. Four Seasons Safari Lodge, Serengeti, Tanzania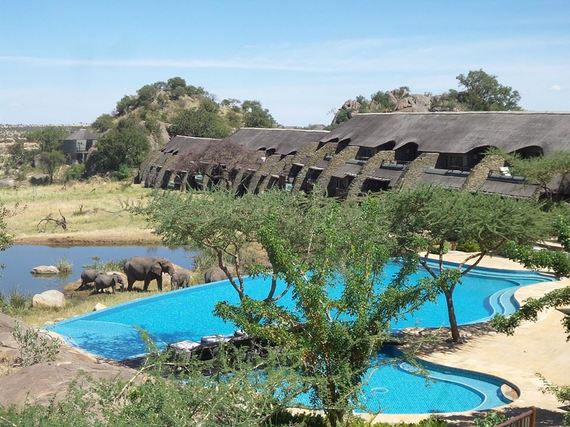 Also see Hopper's picks for the top 10 safari destinations in Africa
The heart of the sun-baked Serengeti isn't a bad place to cool off with a dip, a fact recognized by humans and elephants alike, who bathe side-by-side in the Four Seasons's astonishing infinity pool. Well, almost -- this pool is situated beside a wild watering hole, a patch of grass and mud pools where elephants, wildebeest, zebra and more gather to drink. And beyond this the great open plain of the Serengeti rolls out to merge with a shimmering horizon, so look out for all manner of creatures roaming this ineffable wilderness as you laze back in the cool water. And the pool points west, so as the afternoon ticks by prepare yourself for jaw-dropping sunsets, bathing the whole scene in gold.
5. Ubud Hanging Gardens, Bali, Indonesia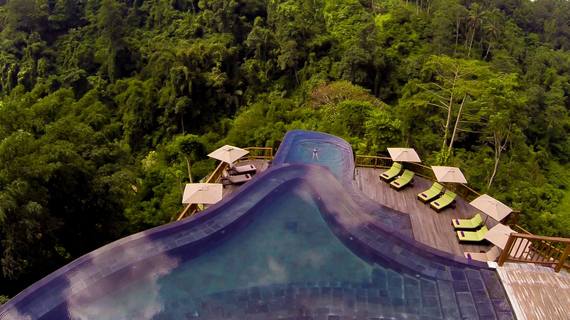 On the other end of the spectrum, Bali is also one of Asia's top backpacking destinations
The Ubud Hanging Gardens Resort is spectacularly located in the lush Ayung River Valley, high in the forested hills that surround the rice fields of central Bali. It's a deeply private retreat, hidden from the island's tourist bustle and accessible only by a private aerial ropeway. And the resort's centerpiece is its collection of elevated infinity pools, raised above the jungle canopy and flowing down onto the foliage and rice fields below.
4. The Cambrian Adelboden Hotel & Spa, Switzerland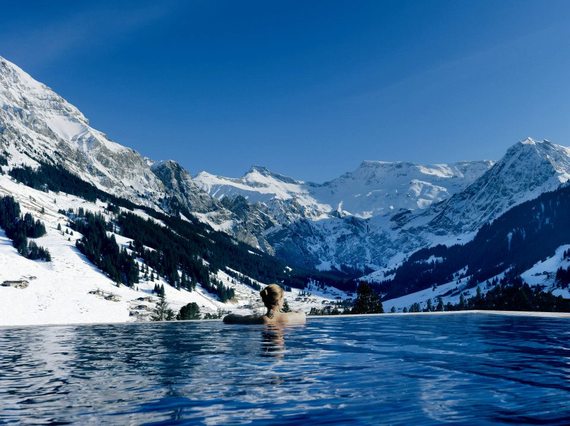 The Swiss Alps compose a jagged, dramatic, snow-swathed landscape that have inspired innumerable European writers, poets and philosophers. Sharply-rising crags streaked with fir forests tower above rolling green fields and softly pastoral villages. Up among the peaks you'll find west Europe's sharpest, crispest, freshest air, circling through the ice-clad heights. At the Cambrian Hotel, you can sit with your arms resting on the edge of an infinity pool, looking out over this sublime landscape -- your body warmed by the heated water as the chilled mountain air flows down your throat and spreads an invigorating cold through your chest.
3. The Wet Deck at the W Hong Kong Hotel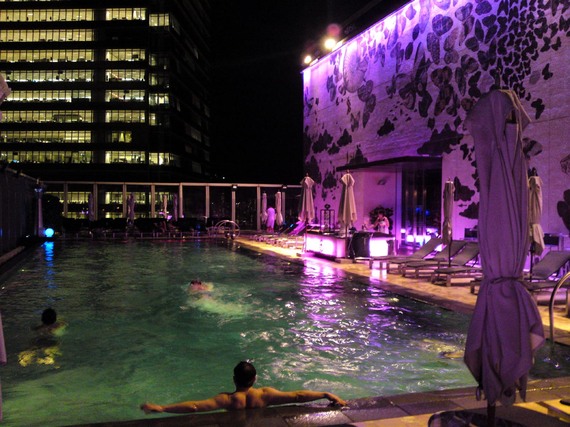 The W Hong Kong certainly gets its props for location -- its pool deck is situated on the 76th floor rooftop, in the shadow of ICC (Hong Kong's tallest building), and offers jaw-dropping views of both Kowloon and the Hong Kong Harbour. Up top, it's a fashionable scene as jetsetters sip on $30 Bellinis and enjoy the pool and hot tub. In the summer, the hotel hosts a series of trendy parties that sees top DJs entertain local clubbers and hotel guests alike. But no worries if the sun or scene becomes too intense, one floor below the hotel's Bliss Spa has a number of uncrowded hot tubs set against floor-to-ceiling windows with views that just don't quit.
2. Marina Bay Sands, Singapore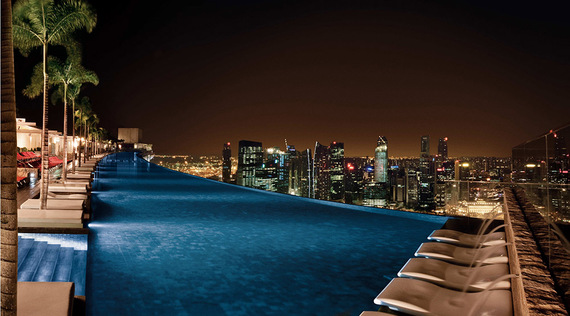 Also check out Hopper's article on Singapore's most luxe attractions
Marina Bay Sands is a height-of-decadence casino complex on Singapore's waterfront with several claims to fame. It was built at an astounding cost of $8 billion SGD, making it the world's second-most expensive casino property; and the 55-story property has a fiercely original design, consisting of three towers linked by a ship-shaped roof structure. But it is up on this rooftop that the hotel's greatest attraction lies: a phenomenal infinity pool, flowing over the edge of this intricate skyscraper and onto the glittering expanse of Singapore unfolding below.
1. The Peninsula Hong Kong, Hong Kong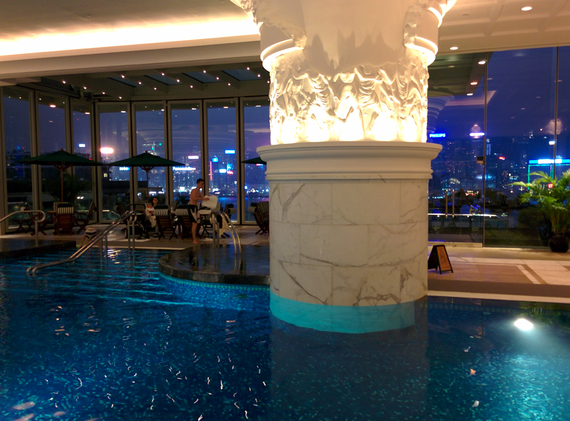 The Peninsula Hong Kong also made it onto Hopper's list of the world's most luxurious hotel suites
It's fitting that the Peninsula Hong Kong, one of the world's most luxurious hotels, offers its guests a palatial and exclusive pool experience. Unlike many of the other hotel pools on this list, access to the pool at the Peninsula Hong Kong is absolutely off limits to non hotel guests. This means billionaires, tai tais and Hong Kong movie stars can enjoy the Romanesque pool, stunning views of the Hong Kong skyline and the outdoor deck in peace and quiet, free from the prying eyes of the Hong Kong tabloids. Want to join in on the opulence? Book a room -- or, better yet, a suite! Rates start at around US$600 for a standard room and don't stop until the Peninsula Suite at $10,000.