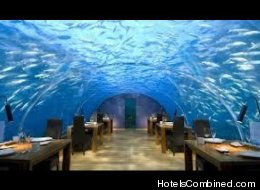 By Jacqueline Lunn, HotelsCombined.com

In a bid to capture the patronage of bored billionaires, the Russians plan to have a four-room hotel in space by 2016, 350 km (217 miles) outside of Earth's orbit. Despite initial estimates of a five-night stay in the hotel costing more than $150,000 (the trip alone on a space shuttle will set you back around $800,000), accommodation in the individual space pods will be more about experience than luxury. It's not about thread count or front desk service or the correct number of olives in your martini; it's all about space, man! It's about watching the earth rotate, peering out your hotel window to see 16 sunsets and sunrises in one day, figuring out how to wash your hands and add salt to your dinner in zero gravity. You know -- your regular, everyday outer space stuff.
A space holiday on the intergalactic horizon made us think about all those hotels on earth that just might scratch that unique location itch. From feeding orangutans after a swim in the resort pool to falling asleep in a glass igloo beneath the Northern Lights, we tracked down hotels that even make Google Maps smile:
Exploring the Strangest Hotel Destinations in the World
Imagine climbing into bed and falling asleep beneath the Northern Lights - the cutting-edge glass igloos at Hotel Kakslauttanen are designed to make this a reality. Sleep under the clearest skies and the brightest stars knowing that while temperatures have dropped to below zero outside, special thermal glass will ensure warmth inside the igloo without the glass ever frosting over.

Nestled within the Liwa Desert (one of the largest uninterrupted deserts in the world), the Qasr Al Sarab Resort offers luxury hotel amenities and spa treatments as well as camel rides, dune bashing and lessons on the ancient skill of Falconry.

Is life really better under the sea? You can find out by staying underwater at the Conrad Maldives - five metres underwater to be precise - wrapped up by the big blue. Ithaa, the resort's underwater restaurant, can be converted into overnight accommodation with plenty of notice; however, it does cost dearly to sleep with the fish. Watching daylight break through the ocean though is said to be amazing.

Not every hotel lets you watch orangutans play after breakfast. Set within a nature reserve, the Shangri-La Rasa Ria Resort has its own Orangutan Education Centre and extensive nature programs. Enjoy the orangutans or go for a nocturnal canopy walk or take a guided tour of the jungle.

In the central Serengeti in Northern Tanzania, Lemala Ewanjan is a mobile camp that keeps guests as close to the wildlife action as possible. During the day, enjoy game drives inside the park to spot giraffes, lions and gazelles. At night, curl up in your heavy-duty luxury tent and fall asleep to the sounds of the Serengeti Plains.

Ski-in and Ski-out from Altapura - the highest resort in Europe. And all that height means one thing: great, reliable snow for ski lovers. Praised for its modern styling and Scandinavian feel, guests here understand why height matters.
Follow HotelsCombined.com on Twitter: www.twitter.com/@hotelscombined