Why Is Breaking the Law More Acceptable as a Couple? By Jo Piazza for HowAboutWe
What's the difference between Reese Witherspoon and Lindsay Lohan? One has talent, an Oscar, dignity, no stints in rehab, oh the list does go on and on.
But another tangible difference (outside of the former being a functional adult and the latter being Lindsay Lohan) is that the one time Reese Witherspoon has behaved badly in the spotlight, she did it with her husband. A detail that seems to make many people view her actions as adorable and forgivable, rather than drunk, rash and insubordinate.
The facts are these: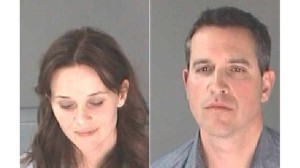 Last week, Reese and her husband Jim Toth were both arrested in Atlanta. He was under suspicion of a DUI, and she exhibited disorderly conduct by throwing a tantrum and then pulling the celebrity card.
According to the police report, as officers were dealing with Jim, Reese allegedly tried to pull rank.
"Do you know my name?" she asked.
The officer answered by saying, "No, I don't need to know your name."
Reese retorted: "You're about to find out who I am ... You are going to be on national news."
Attractive? No. Tipsy and high on fame just doesn't look good on anyone.
And yet when I read the story to a friend at dinner last night she said, "they're an adorable couple."
Another remarked to me, "at least she was with her husband."
Related: The Biggest Reason People Cheat, and Other Strange Truths About Marriage
It's true that bad behavior somehow appears less bad to us when the misbehaving are part of a committed duo, as opposed to an individual. Courtney Love with Kurt Cobain was edgy and romantic. Courtney Love without Kurt Cobain was and is a sad hot mess. Clyde without Bonnie would just be a heartless killer. Kate Moss and Pete Doherty on their own they would have seemed like hapless junkies, rather than ultraglam scenesters.
But is viewing poorly-behaved couples more favorably than singles just consumer bias? Because our society (still) places such a high-value on coupling and marriage, and because we place ourselves in that couple-centered rubric, we see the couples who cause trouble together as somehow superior to the singles who are misbehaving.
Two factors are in play here. Some are more likely to view trouble-making couples through the Bonnie and Clyde lens, seeing something inherently sexy in a couple on the lam, breaking the law and choosing a life together completely unfettered by social norms.
There are those who see Reese's act, in the context of being a wife, as honorable and protective. She was a lioness! She was protecting her husband!
"With good girl Reese, we'd like to think she was standing by her man. She's newly married, a new mom, and she's been through some heartbreaks in public," explained Dr. Gilda Carle, the "Today Show's" 30 Second Therapist, when I asked her about the Reese situation.
You don't get to be America's Sweetheart by playing dumb. Witherspoon instantly knew to spin the situation to win maximum brownie points from the couple-loving public.
Plus: Why Spouses Who Cheat Forfeit Their Right to Privacy
"I was frightened for my husband," she said in a statement as part of her explanation for the arrest.
See what she did there? She appealed to our own desires about what we want in relationships. No longer was the arrest about Reese. Nearly everyone wants to know that their significant other would stand up for them in a threatening situation. And nearly everyone wants to think of themselves as the kind of person who'd stand up to a cop to protect their significant other.
So are we wrong to judge Lindsay Lohan more harshly than Reese Witherspoon? No one would ever say that. But it is something to keep in mind the next time a celebrity is busted for bad behavior with a spouse. Is he selflessly protecting his woman? Or is he just a jerk who wanted to mouth off to a cop?
Jo Piazza (@jopiazza) is the author of the upcoming novel, Love Rehab: A Novel in Twelve Steps.
Want great date ideas? Sign up for HowAboutWe for Couples, a new site that makes it easy for you and your partner to share one-of-a-kind experiences together. Still looking for that special someone? Check out HowAboutWe Dating, the offline dating site.
More like this:
Not Every Child-Free Woman Is Going to Change Her Mind
The Science of Surprise: How Doing the Unexpected Keeps You in Love
Anyone Criticizing Ben Affleck's Acceptance Speech Doesn't Understand Marriage
For all of your modern love needs, follow HowAboutWe on twitter and like us on Facebook!
Follow HowAboutWe on Twitter: www.twitter.com/https://twitter