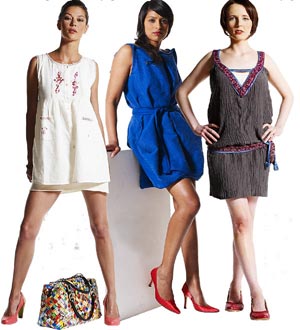 (Photo credit: The Daily Mail)
Tastemaker: David Hayes, The Daily Mail (UK)
Want to stay up with the trends - but keep your conscience clean? Then let a green fashion adviser show you how
Model Laura Bailey couldn't have put it any clearer. Pictured recently wearing a campaigning T-shirt spelling out the simple message "Green is the new black," the face of Marks and Spencer left no doubt as to just how cool she thinks ethical fashion is right now.
And Bailey is not the only style-setter to get in on the ethical fashion act; Cate Blanchett was spotted last month buying a coat from pioneering British eco label Ciel, Misha Barton and Charlize Theron have both snapped up dresses from the debut line of London Fashion Week's ethical designer label, Wildlife Works, and Topshop's favourite eco brand, People Tree, have a list of devoted fans as long as your arm that includes everyone from Helena Christensen and Lily Cole to Sting's wife Trudie Styler.
Read the entire article here.