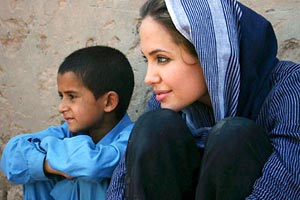 (Photo credit: web.ard.de)
Tastemaker: Laura Fitzpatrick, Time
Getting in touch with your inner Angelina Jolie is easier than it used to be. The so-called voluntourism industry, which sends travelers around the globe for a mix of volunteer work and sightseeing, is generating almost as much praise and criticism as the goodwill ambassador herself. Are volunteer vacations--which have become so mainstream that CheapTickets recently started letting online customers book volunteer activities along with their vacations--merely overpriced guilt trips with an impact as fleeting as the feel-good factor? Or do they offer individuals a real chance to change the world, one summer jaunt at a time?
Voluntourism trips are shorter, more entertaining versions of the kind of international work long sponsored by the likes of church missions and the Peace Corps. During trips that can be as short as a day and usually don't last longer than three weeks, work--which is often physically intensive--is punctuated by excursions to each destination's artistic, historical or recreational highlights. Ambassadors for Children volunteers, for example, who range from teenagers to retirees, pay $2,025 for 11 days in South Africa (airfare and lodging included), spending about a week with children infected with or orphaned by HIV/AIDS. Plus, they get a daylong safari as well as a tour of the Robben Island prison that held Nelson Mandela for 18 years.
Read the entire story here.