In her introduction for HuffPost's "9/11: A Decade After" feature page, Arianna Huffington writes that, "Practically every facet of our society was altered by 9/11 in some way, either by the attacks themselves, or, especially, by our response to the attacks -- a response that continues to evolve. Looking back ten years later we can finally begin to get a sense of just how the country was changed, and what elements of our society we'd previously taken for granted."
Indeed, much has changed in the past decade, and to commemorate this tenth anniversary of the September 11th attacks, Huffington Post bloggers have shared their reflections and remembrances of that tragedy and its aftermath. From survivor stories to taking on religious, political and global ramifications, here is our collection of the very best opinion, analysis and heartfelt expression from our valued contributors. Please join us as we remember where we were ten years ago, share where we are right now, and discern how we may continue forward while never forgetting those whom we loved and lost. And check back for updates, as we'll be adding new commentary through Sunday.
09/11/2011 8:11 PM EDT
Protestors Set Fire To American Flag In London
09/11/2011 7:26 PM EDT
Haunting Image From Cleveland Newspaper
09/11/2011 6:47 PM EDT
New York's "Frozen Zone"
HuffPost's Matt Sledge reports on the heavily policed area around Ground Zero:
On Sunday, for one day at least, the many layers of protection between the outside world and the 9/11 Memorial Plaza seemed less like a burden and more like a blanket. The day after Bin Laden died, the police officers in this neighborhood walked the streets with a swagger. But today the NYPD, the Port Authority police, the state police, the park rangers, the Secret Service -- all walked with a bearing that seemed to say they knew this shift was more than just a job.
09/11/2011 6:02 PM EDT
False Alarm At Dallas Airport
| | |
| --- | --- |
| | @ NBCDFW : Update: Discovery Channel "Son of Guns" crew left Ryder rental truck unattended at the curb of Terminal B. bit.ly/rpxe5E #breakingnews |
09/11/2011 5:47 PM EDT
More On Escorted AA Flight
Military jets escorted an American Airlines plane to a safe landing at New York City's JFK Airport on the 10th anniversary of the September 11 terrorist attacks.

NBC LA reports that the two F-16 fighter jets were called into action after three passengers refused to come out of a bathroom on a flight originating in Los Angeles.

There was initially some confusion as to whether the jets had been called, with NBC New York noting that a security official first said fighter jets had been launched and then another security official said they had been set to launch.

A law enforcement official told the AP that the incident isn't thought to be terrorism.
09/11/2011 5:19 PM EDT
Bomb Scare At Dallas Airport
| | |
| --- | --- |
| | @ NBCDFW : DFW Airport Terminal B closed because of security scare involving an unattended truck http://t.co/LU343WI #breakingnews |
09/11/2011 4:58 PM EDT
Passengers Cause Scare On AA Flight
09/11/2011 4:44 PM EDT
U.S. Soldiers In Afghanistan Fly Flag At Half Mast For 9/11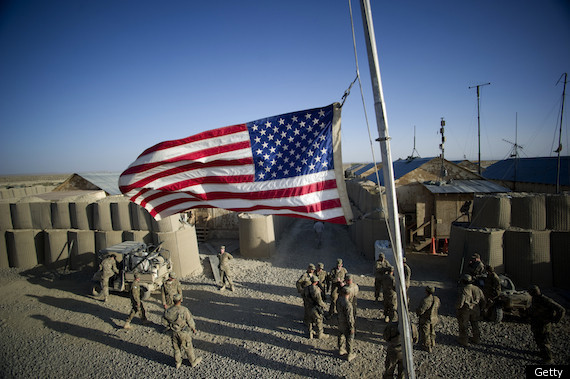 09/11/2011 4:31 PM EDT
9/11 Memorial In Paris, France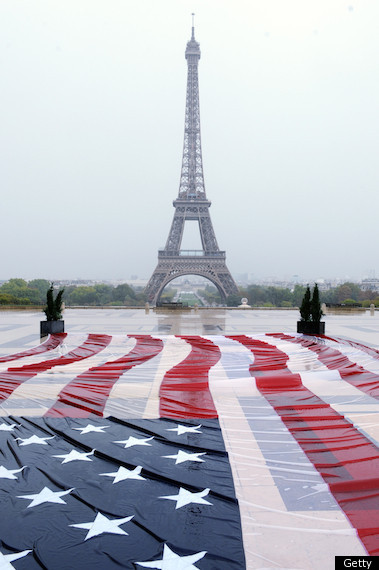 09/11/2011 4:17 PM EDT
Hillary Clinton: "Particular Satisfaction" That Obama Admin "Made Sure Bin Laden Was Brought To Justice"
NEW YORK -- Secretary of State Hillary Clinton told a group of 9/11 family members on Sunday she was glad they finally had a memorial to call their own, and doubly satisfied that Osama Bin Laden was dead in time for the commemoration.
"As we commemorate the opening of the memorial, we know that we still have work to do to bring all those who were part of attacking us to justice," Clinton told scores at a luncheon hosted by Voices of September 11, a non-profit advocacy group for 9/11 family members.
"But I can tell you it was a particular satisfaction for me, as a former senator of New York, to be in the team in the Obama administration that made sure Bin Laden was brought to justice."
That line received a loud round of applause.
In line with the Obama administration's guidelines for commemorating the tenth anniversary of 9/11, Clinton also sought to show that the attacks did not stop with America.
"Our diplomats are out in the field and in cyberspace exposing al Qaeda's hypocrisy and brutality, and the enormous toll it has inflicted, above all on Muslims," Clinton said.
"Even though the United States, thankfully, has not experienced another attack since 9/11, London has, Madrid has, Mumbai has, Islamabad has, Jakarta, Bali -- other places continue to be attacked."
"We don't want to just capture and kill terrorist leaders, we want to make them irrelevant," she noted.