Toasting Gatsby With Six Prohibition-Era Cocktails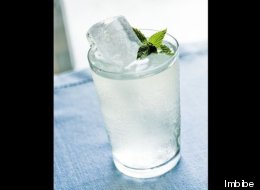 Baz Luhrmann's much-anticipated adaptation of F. Scott Fitzgerald's The Great Gatsby premieres today in theaters across the country. The story is set in the gin-soaked twenties, in the midst of Prohibition, and F. Scott Fitzgerald was known to be quite the tippler himself. Want to drink like Gatsby? Look toward these six classic cocktails.
And for more of the best liquid culture, click here.
Toasting Gatsby with Six Prohibition-Era Cocktails
The Last Word Easy to assemble but hard to forget, this Prohibition-era classic has found its way into a new generation of cocktail glasses thanks in part to Seattle-based bartender Murray Stenson, who helped re-popularize the drink. Click here for the recipe. Photo: Katie Burnett

Sidecar Elegant, infinitely balanced and approachable, the Sidecar has rightly become one of the most popular classic cocktails of the past century. Click here for the recipe. Photo: Stuart Mullenberg

Southside Fizz This classic fizz was traditionally served without ice, but adding several large cubes or a long spear of ice makes for a fine slow-sipper. For extra, Gatsby-esque decadence, substitute chilled dry Champagne for the club soda to make a minty French 75. Click here for the recipe. Photo: Stuart Mullenberg

Fallen Angel Gin, lime and crème de menthe combine in this bracing, once-forgotten classic. And we think Gatsby narrator Nick Carraway would find the name rather fitting. Click here for the recipe. Photo: Stuart Mullenberg

Singapore Sling Though its origins are murky, there's no question that this drink was wildly popular in the 1920s, and because it is gin-based, F. Scott Fitzgerald would surely have sipped his fair share of them. Click here for the recipe. Photo: Stuart Mullenberg

Cochon Bloody Mary Cocktail historian David Wondrich describes the Bloody Mary, originally created in the 1920s by Pete Petiot at Harry's Bar in Paris, as "second only to the Martini in the world of WASP drinking". We're pretty sure that Daisy, Nick and their hard-partying cohorts would have started many a day with a tall Bloody Mary. Click here for the recipe. Photo: Chris Granger
Follow Imbibe on Twitter: www.twitter.com/imbibe