A B-list actress, 2 DUI's, an electronic alcohol monitoring ankle bracelet, house arrest, rebirthing coaches, AA meetings, adultery, addictions and a highly dysfunctional family are the stuff of behind-the-scenes Hollywood and Henry Jaglom's latest film Queen of the Lot. We meet Maggie Chase (Tanna Frederick), a B-list actress who has starred in a string of cheesy martial arts/action films. Maggie is desperate for A-list fame and is obsessed with her Google points. She will do almost anything to be famous and is hoping her two DUI charges, house arrest, liaison with a married movie star named Dov (Christopher Rydell) from an A-list Hollywood family and renewed paparazzi attention will get her where she wants to go. She tells an interviewer that no one was interested in her at all until she got her second DUI. The attention thrills her.
While under house arrest, Maggie goes to stay with her manager (Zack Norman) and his partner (David Proval). The relationship between the two men is hysterical. We are treated to some laugh out loud "therapy" with a rebirthing coach (Diane Salinger), a confusing anonymous meeting with an entertaining cameo by Paul Sand, Maggie's boyfriend Dov trying to get her to smoke pot (to really experience personal growth) and some touching moments when she meets Dov's brother Aaron (Noah Wyle), a failed screenwriter who seems to be the only "real" person there.
Maggie's life gets even more complicated when she agrees to spend a weekend at Dov and Aaron's family home. Behind the gates of the estate Maggie meets Dov's father, troubled movie mogul Louis Lambert (beautifully played by Jack Heller). The Lambert clan had once been very successful but when we meet them they are having some serious financial trouble.
The moment Maggie and Dov arrive they find themselves at the dinner table where Maggie is assigned to a stool as Mrs. Lambert (Kathryn Crosby) didn't know she was coming. As we watch the family interact we see dysfunction on display. This family puts the D in dysfunction.
It's while staying at the house that Maggie and Aaron fall for each other. In one of the best scenes in the film, he catches her in the kitchen at night, practicing her eating disorder. Ms. Frederick reminds me of a young Lucille Ball. She is funny, sad and tender all at the same time. We understand why Aaron falls for her and the chemistry between Aaron and Maggie is delicious. She is a flawed heroine and very lovable.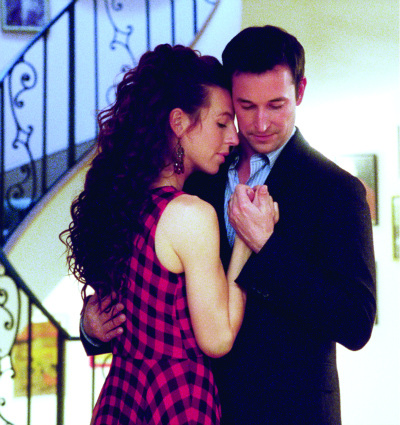 Photo courtesy of The Rainbow Film Co.
This dramedy is entertaining, touching and quirky, as are all of Jaglom's films. He is the type of director actors dream of. He puts together a great cast, gives them some direction and then lets them create. In this case, we get something fabulous! If you love Hollywood, or just a plain old fashioned love story, this film is for you. Don't miss it.
SUBSCRIBE TO & FOLLOW ENTERTAINMENT
THE spot for your favorite fan theories and the best movie recs. Learn more