It's hard to separate my passion for food from my passion for Italy. Each region (there are 20 of them!) offers different traditions and tastes to excite the palate. Now with the prospect of Eataly, an outpost of the world's biggest food and wine market, slated to open in New York in mid-September, foodies will be able to indulge in culinary travel closer to home.
I'll never forget my introduction to white truffles in Tuscany. At the recommendation of my friend Giovanni, a waiter arrived at the table shaving thin slices of what looked like a large rotten mushroom over my pasta. After a few bites, I was smitten by the intoxicating aroma and taste. Although I would never eat organ meats at home, I never miss a chance to eat Fegato alla Veneziana (calve's liver and onions) while in Venice (in the region of Veneto). Whether it's the ingredients, the food, the wine pairings, or the atmosphere (probably a combination of all four), everything tastes better in Italy -- or so it has always been.
Now a group that includes celebrity chef and restaurateur Mario Batali will be opening the new 50,000 square foot mega-market at 200 Fifth Avenue in the Flatiron district in New York. The original Eataly in Turin opened in 2007 on the site of the former Carpano Vermouth factory. In Manhattan, fine wines and craft beers will also be part of the draw with a rooftop restaurant and brewery in the works.
My introduction to Eataly was for lunch during a recent visit to Bologna. That branch (which includes a market and three informal restaurants) is embedded in a multi-level bookstore Librerie Coop Ambasciator in the heart of the historic district at via degli Orefici, 1. Decorated in clean, modern lines that stand out in contrast to the old brick walls, the inviting emporium has an impressive stock of Italian and English titles as well as a cornucopia of cookbooks in a contemporary setting.
My husband ordered a mouth-watering hamburger that sat upon on a cushion of squash puree instead of a bun. I opted for more traditional Emilia-Romagna fare, tagliatelli a ragu, served in a savory Bolognese-style sauce that is made without tomatoes. Both dishes were unforgettable and call me back to Bologna.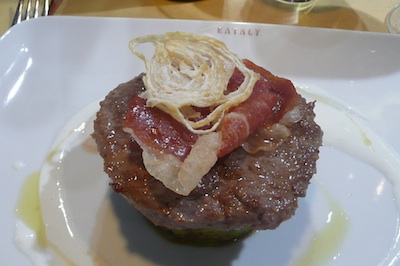 Consistent with Eataly's philosophy, the artisanal food products come from small local producers who sell at affordable prices. Imagine a marketplace so serious about the quality of its food and drink that it has a manifesto and bills itself not only as a place for consumers but to "buy, taste and learn."
Eataly has four other stores in Italy (Milan, Asti, Pinerolo and Bologna) and two in Tokyo. But next time you're planning a gourmet getaway, you'll have the choice of Italy or Eataly, without crossing the Atlantic.
Follow The Friendship Doctor on Twitter.
This Blogger's Books and Other Items from...
SUBSCRIBE AND FOLLOW
Get top stories and blog posts emailed to me each day. Newsletters may offer personalized content or advertisements.
Learn more