If you're considering a weekend getaway from Manhattan to enjoy the fall foliage, drive about 45 minutes north into Westchester County and stop at the world headquarters of PepsiCo, in the hamlet of Purchase, NY. Then seize this unique opportunity to visit a contemporary museum without walls, in an expansive park-like setting that showcases the seasonal beauty of the region.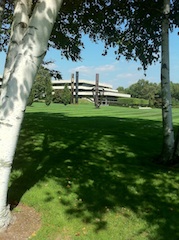 Anchoring the corporate site is an impressive cantilevered structure designed by architect Edward Durrell Stone more than 30 years ago and completed in 1970 (Stone, you may remember, also left his indelible mark on Radio City Music Hall in New York City). The buildings are linked together by a central fountain displaying David Wynne's Girl with a Dolphin.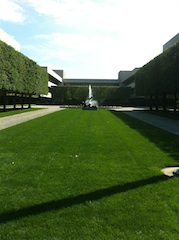 During work hours, the flowing concrete structures house corporate staff in six, three-story pavilions in the shape of inverted pyramids that surround a large inner courtyard. This past weekend, I counted less than 20 visitors plus a few security guards and groundskeepers on the sprawling property that encompasses more than 150 acres. Of course, that's not counting George Segal's sculpture Three People on Four Benches, who look like PepsiCo employees taking a lunch break outside the building. For those who are seeking respite from the density and intensity of the city, the setting is both serene and soothing.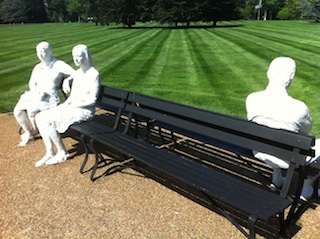 A graveled path forms a winding ribbon around the sculptures and allows you to amble through the collection. The permanent exhibit include 45 works by major twentieth century artists like Miro, Calder, Rodin, Moore and Giacometti, to name a few. Made of varying compositions---including bronze, marble, steel, nickel, resin, granite and spruce---the works are beautifully placed to enhance and be enhanced by the surrounding landscape, which encompasses more than 150 acres.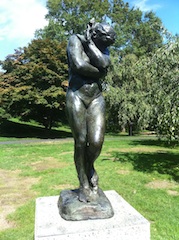 The lush, immaculately tended gardens were developed by a series of well-known landscape designers including Russell Page and François Goffinet. Along the relaxing walkways, you'll stop and gaze at specimen plants, graceful trees, dramatic grasses and unusual flowerbeds, and spot topiaries, hedges, sunken gardens, fountains and a lily pond.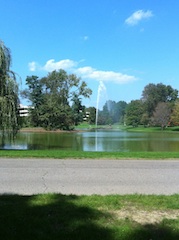 The project was conceptualized and commissioned by Donald W. Kendall, a former chairman and CEO of Pepsico, to foster creativity and inspire employees apropos of the company's move from New York City in about 1965. For what it's worth, there are reports that this approach actually resulted in lower turnover, less absenteeism, shorter lunch hours, and greater productivity.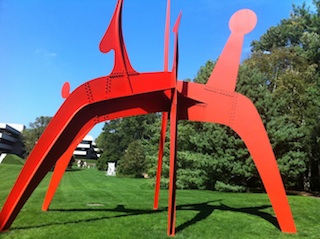 In 2009, PepsiCo received a Landmark Award from the American Society of Landscape Architects. One of the jurors wrote: "One of the most extraordinary gardens anywhere in the world and one of the greatest post-war efforts of that period. It gets more beautiful every year and is the perfect place to learn about where art should be placed in the landscape."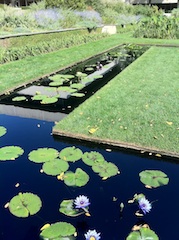 In a time of corporate cutbacks and the rising prominence of cubicles and open spaces inside buildings, your visit will take you back to a time when true opulence and beauty were in vogue and shared with the public. Another surprise: Admission is still free as is parking.
If you go:
Pack a picnic lunch. While there is no snack shop or food available, there are picnic tables positioned around the lake and Aquafina-only vending machines.
Bring the kids. They will love having free reign of the grounds and running through and around the imposing sculptures.
Parking lots are discretely tucked around the perimeter so you'll have no trouble ditching your car. Free maps are available at the visitor's center, to the left of the main building.
Open from 9-5 until November. For further information regarding hours and directions:
Pepsico Gardens, 700 Anderson Hill Road, Purchase, NY 10577, 914 253-2001
After your visit, you may want to take a swing across the street to visit the Neuberger Museum of Art on the campus of Purchase College of the State University of New York.

SUBSCRIBE TO & FOLLOW LIFESTYLE
We're basically your best friend… with better taste. Learn more