I landed in Toronto on October 27, 1987. Everything was new: the snow, the high-rises, the streetcar, the subway, almost everything was a novelty and so distant from Bethlehem, the city in which I was born and grew up. Until one day I discovered the sumac shrub along the Pottery Road Crossing and my connection to Toronto as also-home was established. I discovered it by mistake while biking along the Don River Valley Trail with my Canadian girlfriend at the time.
Sumac is an essential spice in Middle Eastern cooking. It has a dark red-burgundy color. As a dried berry, ground sumac has a tart, sour lemon taste. It is the main ingredient in one of my favorite dishes: musakhan.
The term 'musakhan' literally means "something that is heated." Sheets of flatbread encase a whole or half a chicken (cut into 4 serving pieces; or 4 skinless and boneless chicken breasts) placed on top of a confit of sumac and onions sautéed in cold-pressed olive oil and sprinkled with roasted pine nuts. The dish is simple to make and the ingredients are easily obtainable back home in Bethlehem. Many of the ingredients used -- olive oil, sumac and pine nuts -- are grown locally and are frequently found in many other dishes.
The taste is divine. As the chicken roasts, the bread protects it from direct heat and the aromatics and juices, the lemony flavor of sumac, the sweetness of caramelized onions, the buttery flavor of pine nuts along with the bitterness and pungency of cold-pressed olive oil, are all liberated and soaked up by the chicken.
I was so excited to see the sumac shrub in Toronto -- flashes of my mother sautéing the onions with sumac in olive oil while my aunt baked the taboon bread came rushing into my head. I had to stop. I reached over and almost hugged the leggy bush. My girlfriend yelled that it was a variety of poison ivy, which can cause a severe skin reaction when touched. I did not believe her and reached out to touch it, but her renewed screams made me freeze.
I still stop by the shrub whenever I bike the trail. I think that if I dig deep into those neatly packed photograph albums that my mother made of all the pictures I sent her during my early years in Toronto, I will find that picture of me standing in front of the sumac shrub on the Pottery Road Crossing, which I sent to her to ease her heart and show her that "things are OK in Canada". "I even found a sumac shrub" was my inscription on the photo.
Musakhan is a type of Middle Eastern soul food. It's a communal dish that is usually cooked at family homecomings, when a family member returns from a long trip and the whole extended family is invited to greet the returned member. On my first visit back to Bethlehem in 1991, I was greeted by my whole family and treated to musakhan for dinner. The women of the family are at the center of such a gathering and they divide into groups: a woman or two kneads the dough; another bakes the bread on the taboon, yet another cooks the onion and sumac confit and roasting pine pints. Male members are usually as involved, assembling the dish and presenting it to guests. I have fond memories of my mother, aunt, sisters, brothers, sisters-in-law, nephews and nieces preparing and presenting this dish as if in a communal dance. The aromas of the sumac, olive oil, roasted pine nuts and the taboon bread mixed with the sounds of the kids excited by the gifts from Canada, and the conversations almost always ending with "do you remember?" are forever ingrained in my memory. On my way back to Canada, I bought a big bag of sumac and cooked musakhan for my girlfriend and my family of friends in Toronto.
Cooking musakhan is my way of keeping the memories of my family of blood and family of friends back in Bethlehem and here in Toronto alive.
Now why am I sharing my story of chicken Musakhan with you when turkey time is upon us? Some of you might rightly be wondering if this guy, Muslim and from Bethlehem no less, knows anything about Christmas. But my family and I love Christmas and have established a tradition of celebrating it with family and friends. The Christmas tree is a must in our house. I love the sight of my daughters decorating it with twinkling lights and ornaments that carry more memories than design. I love watching them running around the Christmas trees, wondering what gifts await them beneath this tree so tall.
Back in Bethlehem, families gather around a whole roasted lamb for Christmas. Consistent with our Canadian traditions, we serve turkey. And like all of you, we wake up on Christmas day wondering about the gifts -- and what we will do with the leftover turkey.
I have tried it all: turkey sandwiches, turkey casseroles, turkey soup, turkey quiche... It is only when my little daughter Noora excitedly asked if I was cooking musakhan, mistaking the leftover turkey for chicken, that I realized that my chicken musakhan recipe can be adapted for leftover turkey.
And so here I am sharing my Noora-inspired Christmas-turkey-musakhan recipe with all of you. From my family to yours, as the saying goes. If you end up making this dish and enjoying it as much as we do, I ask you to toast my family here in Toronto and back in Bethlehem and to pray to strengthen us all to work for peace in the city and land we call Holy.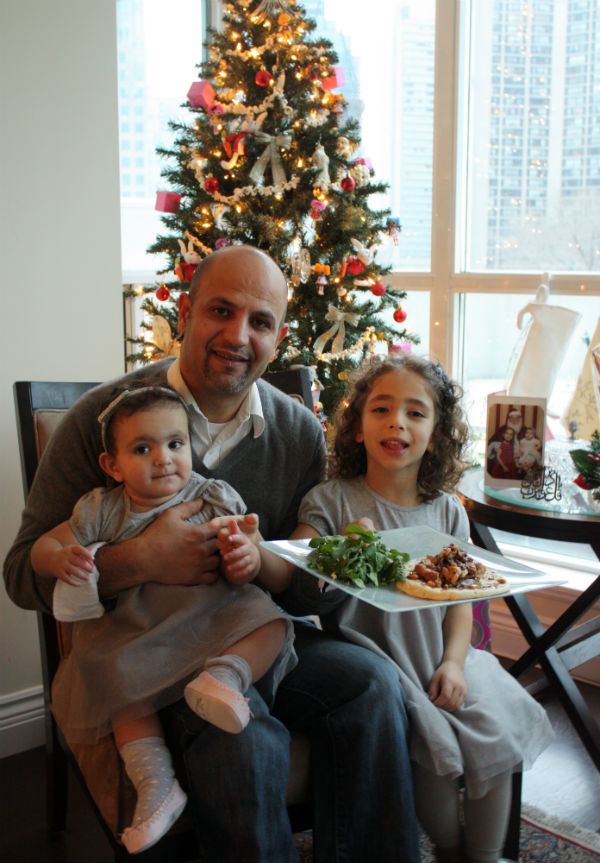 Musakhan turkey leftovers recipe
4 cups leftover Turkey, cut into strips
2 onions, thinly sliced
3 tablespoons dried sumac
Juice of 1 lemon
6 tablespoons olive oil
Pine nuts
4 medium pita breads or Armenian Lavash bread
1. Preheat oven to 350°F.
2. Roast pine nuts in oven for 5-7 minutes making sure they do not burn. Set aside. Alternatively you can use almonds.
3. Heat the olive oil in a large skillet over medium-high flame. Add the onions to the skillet and sauté, stirring often, until the onions are cooked down and beginning to brown and caramelize, 10 to 15 minutes.
4. Add the sumac and sauté with onions for another 5 minutes. You can add a little water or chicken stock if you find your mixture dry. Taste it and adjust tartness with the juice of 1 lemon if needed.
5. Add leftover turkey to sumac and onion confit. Cook until warm and turkey is coated with mixture.
6. Lay 4 sheets of bread or 4 sides of pita bread on a plate or clean cutting board. (Palestinians use freshly baked taboon flatbread for this dish. More commonly available Armenian Lavash bread is very similar. Or use 2 pieces of pita bread that have been split in two horizontally).
7. Lightly brush the bread with olive oil on both sides
8. Spread the sumac, onion and chicken mixture evenly down the center of the bread, sprinkle with roasted pine nuts and roll into a cone shape. Sprinkle the Lavash bread with water or chicken stock to lightly moisten it.
9. Place the Musakhan cone on baking dish in the oven and bake for 15 minutes. If the bread starts to burn, cover it lightly with aluminum foil or top it with an extra Lavash or pita bread.
10. Remove the dish from the oven and let it rest about 5 minutes. Remove and discard the top bread. Plate and serve with arugula salad in a simple lemon-parmesan dressing.
Isam Kaisi is the Executive Chef and owner of 93 Harbord Restaurant, Toronto, Canada

FOLLOW HUFFPOST