Sometimes a story is just so big it needs superlatives. A story as big as a continent.
Take Australia's water, what's left of it.
"Not since the American Dust Bowl of the early 20th century has an industrialized nation sustained more damage from drought and water scarcity in its prime food-growing region than in Australia's Murray-Darling Basin," writes Keith Schneider, a veteran reporter who's covered global agriculture and environmental issues for three decades. His full reportage is published online in our new multimedia piece, "The Biggest Dry: Australia's Epic Drought is a Global Warning of Water Scarcity."


Video: A love song, a hymn of mourning:
Where has Australia's beloved water gone?
(Video by Aaron Jaffe, edited by Eric Daigh with music by Nadav Kahn.)
While much-needed rain has come to parts of Australia over the past few days, it's hardly enough to sate the thirst of the drying Murray and Darling rivers and their great economies of cities and agriculture. The reality of the situation remains grim for many in Australia and potentially the world: tragic bush fires, drying wetlands, dying forests, failing crops and depressed communities.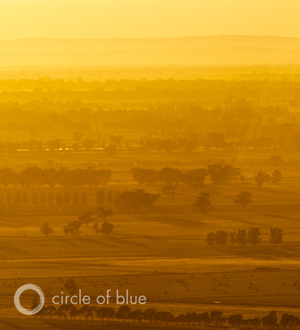 Sun-dried land between Deniliquin and Shepparton, New South Wales, Australia
It's the slow-fuse of the global water crisis unfolding as we watch. Yes, Australia is used to dealing with drought and hardship. But this drought, many experts seem to agree, is wholly different, a window into the future for other highly productive agricultural zones. We should all be taking note. Just turn to California for a glimpse of water emergency.
As the World Water Forum gets underway next week in Istanbul and World Water Day is just around the corner (March 22), we take heart in our reporting that we found some good news, too: Australian people are resilient, full of ideas and ask deep, urgent questions. Some sing and pray for water.
I photographed Beryl Carmichael, an Aboriginal elder, standing near the Darling River in Menindee, New South Wales. Her connection to her ancestors is fading with the river, she said through misty eyes. Maybe, just maybe the rains will come and stay.
"I hope and pray that one day the lakes will be full again," she said. "I'll still go down. Bless the river. Sing for all the fish to come. I'll still do all that."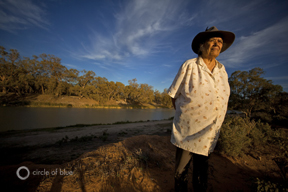 Beryl Carmichael, Aboriginal elder