At the opening reception last week for Water Stories at the Woodrow Wilson International Center for Scholars, we talked about iconic images that define and punctuate eras. Matthew Brady's plates of the Civil War that captured the still, anonymity of death. Eddie Adams and Nick Ut's black and white photographs from Vietnam that etched war's horrors on our collective mind's eye. And the first self portrait of Earth taken from the Moon. Moments that engage, involve, inform, defy, horrify, inspire.
While Atlanta suffers severe drought and the Great Lakes levels are dropping, I'm reminded of the iconic imagery produced during the Great Depression. Few are as engrossing as Dorothea Lange's image of a migrant mother and her family. When I hear scholars speak of water refugees, I think of Florence Owens Thompson and her hardships (see below). And I think of the faces captured by today's photojournalists, chroniclers of our time such as Brent Stirton. One of these faces of the modern water crisis is Francisca Rosas Valencia, whose tears belie the deep sorrow for her family as they leave their drought-stricken farmland near Tehuacan, Mexico.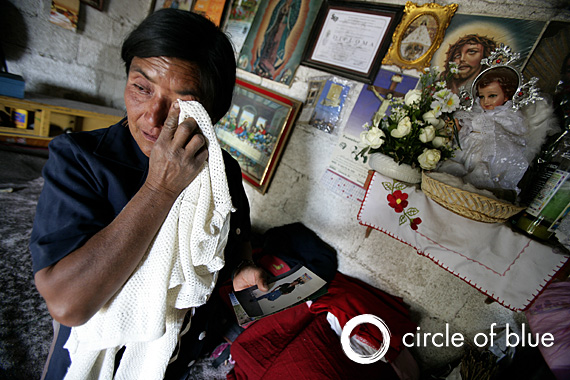 Photograph by Brent Stirton/Getty Images for Circle of Blue
TEHUACAN, MEXICO -- Francisca Rosas Valencia dabs away tears while praying for her son, Florentine, who left this drought-stricken valley to work in Los Angeles. (Read her story from Circle of Blue's coverage in Tehuacan: Divining Destiny).
In this era of digital media, there are bound to be many iconic images from the front lines of the water crisis. Will it be the stranded polar bear looking at us with longing eyes? Or perhaps the hands of a Bangladeshi farmer, crippled by arsenic poisoning? Or the precipitous drop in a river's flow to its delta? Or the overwhelming beauty of rainfall in the desert? These images will call to us with a duty to see. To see that so many of the world's struggles are about water.
The photograph that has become known as "Migrant Mother" is one of a series of photographs that Dorothea Lange made of Florence Owens Thompson and her children in February or March of 1936 in Nipomo, California. Lange was concluding a month's trip photographing migratory farm labor around the state for what was then the Resettlement Administration. In 1960, Lange gave this account of the experience:

I saw and approached the hungry and desperate mother, as if drawn by a magnet. I do not remember how I explained my presence or my camera to her, but I do remember she asked me no questions. I made five exposures, working closer and closer from the same direction. I did not ask her name or her history. She told me her age, that she was thirty-two. She said that they had been living on frozen vegetables from the surrounding fields, and birds that the children killed. She had just sold the tires from her car to buy food. There she sat in that lean- to tent with her children huddled around her, and seemed to know that my pictures might help her, and so she helped me. There was a sort of equality about it. (From: Popular Photography, Feb. 1960)