One of the great tragedies of the economic downturn in Raleigh, N.C. is that political squabbles have not only halted the realization of a visionary design for the proposed Charles E. Lightner Public Safety Center downtown, but also derailed any public discussion on the merits of its architecture.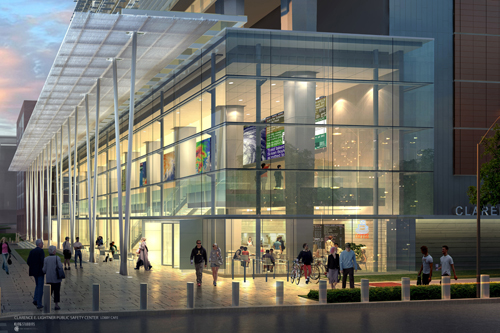 The future of this building, designed by the Raleigh offices of KlingStubbins with Cherry Huffman Architects, now languishes in uncertainty, the victim of a 4-4 deadlock in the City Council.
Ironically, two opposing votes come from council members who are part of the local architecture community, though neither cites design as a reason for his negative point of view.
And reasons to oppose it suddenly abound. It's hard to understand how they were missed four years ago, before the city (including its two council members/architects) asked for its design, then spent $20 million to deliver it nearly to construction-document stage.
There are questions regarding its cost of $201 million, about a possible rise in future interest rates, and over the wisdom of consolidating fire, police, 9-1-1 and IT services in one building. Some concern has been expressed also over the impact of a terrorist attack on a structure containing so many related emergency agencies.
There's no denying that these are dangerous times, but to abandon our ambitions in the face of a perceived threat would represent capitulation to that threat. In fact, we live also in an era of great advances in the art and science of architecture and security - and we're quite capable of building both securely and beautifully.
Cost-wise, the Lightner comes in below the median. Comparable buildings that house complex IT functions can range anywhere from $400 to $1,100 per square foot. The Lightner comes in at $462. As for consolidation, it wisely eliminates redundancy and saves money while creating synergy among inter-related agencies. And if we allow fear over changing interest rates to guide public policy, then we'll never build anything again.
A cynic might chalk all the nay-saying up to politically-motivated fear-mongering and demagoguery, and probably could find ways to make that case. But architecture isn't about cynicism and fear. It's about optimism - and building for the future. Moreover, as Chicago Tribune critic Blair Kamin said recently, it's about making a difference in everyday life, like the food people eat, the air they breathe or the books they read.
In other words, aesthetics and architectural symbolism matter in a healthy urban center.
The city's vision statement for the Lightner, distributed with requests for qualifications in 2006, not only demonstrated an understanding of this, but made a clear case for what the city wanted and needed from its design:

The proposed Public Safety Center would house fire, police, and emergency communications administration functions, traffic signal and information technology infrastructure functions, and general government functions current[ly] housed at other downtown locations, as well as the 9-1-1 and City emergency operations center. Once completed it [is] desired that this facility achieve recognition nationally as Raleigh emerges from a small southern town to a major new innovative, leading, progressive, and urban metropolitan city of the future.
The carefully articulated response from KlingStubbins and Cherry Huffman gave the city, where facilities for police, fire and emergency services are woefully inadequate, precisely what it asked for. The 17-story design is a refreshing and symbolic essay in transparency for government services. It's clad in glass from base to crown. It's designed to inform its citizens on a number of levels. And it's to be sustainable, seeking LEED gold certification.
The proposed Lightner not only faces Nash Square, but strives to frame it. Its horizontal, glass-enclosed lobby runs the length of the building, with an exterior transparent canopy that forms a porch-like pedestrian shelter. At mid-block lies a raised pedestrian crossing that links building to park, creating a civic space between sidewalks and street.
Inside it offers ground-level access with teller windows for requesting records or paying bills, a café and a two-story gallery space. At its mezzanine level, a huge data wall, clearly visible outside, will offer information on weather, traffic and emergency information, 24/7. Meeting space on the mezzanine can be used for training during the day and public functions at night.

Offices above are all about controlling natural light. Though there are few windows on east and west, there's maximum daylight on north and south, so people can work without turning on lights. Private offices are pushed to its center, with work spaces surrounding.
The Lightner is crowned with a modest, sculptural latticework that serves both to identify the building from afar and to screen its mechanical equipment atop. In essence, it's a 90-degree origami fold of the structure's glass plane. At night, it will glow - and offer the opportunity for light displays or artistic endeavors.
There's no doubt that to begin construction on a project this size in the middle of a recession will require leadership and political will.

But it can be done.
On Dec. 9, the North Carolina chapter of the American Institute of Architects stepped up to break ground on a new downtown headquarters at 14 E. Peace Street. Undaunted by politics and the recession, the group combined proceeds from fundraising and the sale of its existing headquarters with the sale of bonds through the American Recovery and Reinvestment Act of 2009, and began work on its $5 million Center for Architecture and Design. It's an act of leadership by example
Granted, the Lightner building's price tag is substantially higher. But its potential contribution to the economic recovery of Raleigh - through both short-term job creation and long-term cost-savings from the elimination of redundant systems - is significant.
The reasons to begin construction now are compelling. Building costs are down about 20 percent, and interest rates are also low. The city has already allocated $8 million in property taxes in 2010 alone, dedicated to the Lightner's construction.
One can only hope that politics can be put aside, that courage can be summoned up, and that Raleigh will step solidly into the 21st century - with a building that not only serves its citizens well, but shows the nation how a city can look a recession in the eye - and move boldly forward.
That, of course, would require just one more positive vote from an enlightened city council member willing to take the lead - whether architect or not.
SUBSCRIBE AND FOLLOW
Get top stories and blog posts emailed to me each day. Newsletters may offer personalized content or advertisements.
Learn more