Chicago's next mayor faces some major decisions that will affect how healthy, livable, and prosperous this city will be for generations to come. Many of these issues have been lingering for too long - such as cleaning up Chicago's two dirty coal plants, or delivering real recycling service to all Chicago residents. Others are emerging threats, such as the Asian Carp on the brink of invading Lake Michigan, or opportunities, like the tremendous job creation potential of innovative clean energy policies.
They all will require the same thing to reach a solution that works for today and the future -- a strong leader with a demonstrated commitment to a better environment. That's Rahm Emanuel. Given the city's fiscal crisis, the state of the economy, and other major problems; it is not going to be enough to take the right position on issues - it will be just as important for our next Mayor to have the resolve and commitment to deliver results. That's exactly who Chicagoans need as their next mayor -- someone who wants a cleaner, healthier Chicago for the future, but also has the strength and smarts to get things done.
Throughout his career, Rahm has not just been a strong supporter of environmental protection -- he has been a key strategist in efforts to protect Lake Michigan, and to move toward a clean energy future.

During his three terms representing Chicago's north side in Congress, Emanuel earned high marks for his support for environmental protection. He was a major force in building major new programs to protect the Great Lakes, and stood up to BP when they proposed dumping new pollution in the Lake Michigan from their Whiting, Indiana refinery. In the U.S. House, he helped pass national clean energy legislation, and as President Obama's Chief of Staff, set in motion major new energy efficiency and renewable energy programs.
Rahm knows we can bring new jobs to Chicago and make our city cleaner by being smarter about how we use energy, and by making Chicago a global capital in the green economy. Rahm's energy plans for Chicago include designating a dozen Energy Efficiency Target Zones in residential neighborhoods and business strips that have not been effectively reached by existing energy efficiency programs. Anchor organizations in each zone will set clear targets for energy savings and jobs created and will help building owners to access funding and workers. Rahm will create a $10 million fund to leverage $100 million to finance the upgrades.
On accepting the Sierra Club's endorsement last week, Emanuel said "My energy platform for the city includes a number of programs that will create jobs, improve our neighborhoods, and make it easier than ever for home and building owners to weatherize their properties and lower their energy costs. I pledge to work closely with local businesses and energy providers to help achieve these goals. All of these things will help to keep more money in Chicagoans' pockets, which is good for our regional economy." His full plan is available at here.
Emanuel also knows that public transportation and bikeways are essential to a liveable Chicago. He has announced a detailed transportation plan that prioritizes alternative modes and invests heavily in public transit and bicycle infrastructure.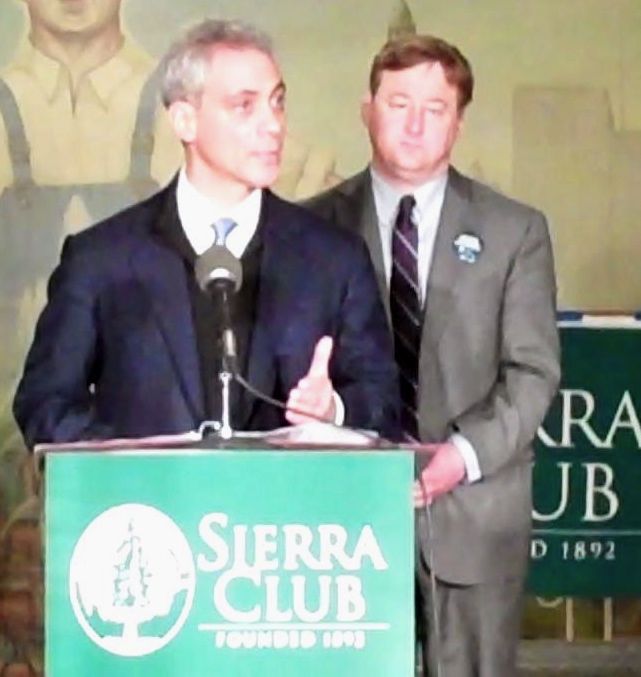 "The Sierra Club has been a partner over the years and I look forward to working with them to create the next generation of clean-energy jobs in Chicago and to promote sustainable development in every neighborhood," - Rahm Emanuel

Sierra Club is proud to recommend Rahm Emanuel to all the Chicagoans who want a better future for their children and new, good-paying jobs. Sierra Club volunteers are excited to join Rahm's campaign and spread the word to Chicagoans across the city who want to make Chicago a cleaner, healthier place to live and work
FOLLOW HUFFPOST