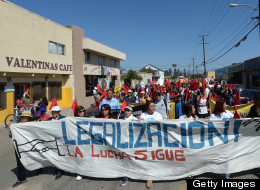 Imagine the excitement of an eight-year-old girl coming to the United States from her native Ecuador to visit Disney World for the first time and, with her father and brother, begin to establish a good life here. Imagine her exhilaration turning to confusion and anxiety when she is told she cannot return to Ecuador to visit her mother, who is still there, or she and her family will be deported for good. She is an undocumented immigrant.
Years of living in limbo in the U.S. pass without a change in her status. She grows into a teenager with a genuine passion for serving others. She becomes an achiever, a leader in her community, a National Honor Society student. But her chance of attending college and building a successful, useful life in the U.S. remains next to impossible. She has no path to citizenship.
This was the reality of Laylin Chong, who won a Passion for Action Scholarship to Wheelock College, graduated, and is now pursuing her master's degree at Wheelock. When she has her advanced degree in hand and is well prepared to fulfill her commitment to contribute to our society, will she be allowed to do so? Maybe.
I am tremendously inspired by Laylin's determination and ability to overcome the odds against successfully attending college while working two low-paying jobs to contribute to her family's income. It was not an easy journey, and her achievement is exceptional.
Each year, approximately 65,000 undocumented immigrant students graduate from U.S. high schools. Often these young people are culturally American, fully engaged in their schools and churches and the life of their communities here. However, because they are not citizens, they may not find employment, join the military, or otherwise pursue their dreams. The high cost of higher education and the shortage of federal financial assistance for all students are very real, but they present a nearly insurmountable obstacle for low-income undocumented immigrant youth, no matter what their potential may be.
Preventing undocumented but qualified students from earning college diplomas creates a barrier to their economic success and limits what they can contribute to American society. Public colleges and universities are inconsistent in their treatment of such applicants; some schools deny admission and most charge out-of-state tuition. Only 13 states allow some undocumented students to pay the in-state rates at public institutions. My state of Massachusetts is among these states; it allows Deferred Action for Childhood Arrivals (DACA) recipients to be eligible to pay in-state tuition.
The impossible situation of undocumented students has inspired the Development, Relief, and Education for Alien Minors Act (DREAM Act), which makes qualifying undocumented youth eligible for a six-year-long path to citizenship conditional on their earning a college degree or completing two years of military service. On June 15, 2012, President Obama announced that his administration would cease the deportation of young undocumented immigrants, reflecting criteria previously proposed under the DREAM Act. The U.S. Citizenship and Immigration Services also began accepting applications for a Department of Homeland Security initiative named Deferred Action for Childhood Arrivals on Aug. 15, 2012. These are positive steps in the right direction.
Another is a tentative proposal announced by a bipartisan group of eight senators on March 17, 2013. It would allow the nation's 11 million undocumented immigrants to earn a green card to work in the U.S. permanently after 10 years of residency and to become naturalized citizens three years later. Taken together, the two waiting periods would provide a path to employment and U.S. citizenship in 13 years, matching the draft of a plan by President Obama to offer full participation in American democracy to millions who are living in fear of deportation.
Immigration reform promises benefits not only in terms of human rights, but also for American education and the economy. It will help to propel the country forward by growing our educated workforce, and thereby growing the economy as a whole. There is now positive dialogue developing to pass practical, comprehensive immigration reform. Let's keep it going.
One forum for such dialogue is a four-day international conference that Wheelock College is holding June 19 to 22, 2013, inviting global thought leaders to discuss issues facing children, youth, and families in the areas of education, health, and human rights. Keynote speaker Cherie Blair, who established the Cherie Blair Foundation for Women, will speak on equality and human rights. Kerry Kennedy, president of the Robert F. Kennedy Center for Justice and Human Rights, will speak on the promotion and protection of basic rights.
Among the many other topics scheduled for discussion by conference participants is immigration. Moving beyond policy, a panel will explore an interdisciplinary approach to the social impact of immigration on children, youth and families. My hope is that other engaged citizens will continue this critical dialogue and help to secure a strong future for our country and for deserving young people -- like Laylin Chong.
Immigration resources:
Follow Jackie Jenkins-Scott on Twitter: www.twitter.com/WheelockCollege