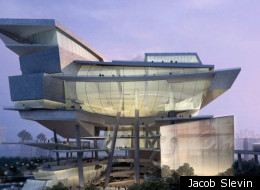 I'm pleased to say that 2011 was an exciting entry into a new decade of architecture, especially given the prologue put forward by the close of the prior decade. There's undoubtedly continued heartache for all constituents of the construction industry, as the debt crisis continues to sprawl, such that the contagion almost feels more severe in the past four months than the past four years. However, concurrently, we're seeing technology at large, in particular, information technology and sustainability practices, pierce the visual veil so deliberately and directly, not just as a tool to facilitate documentation or fabrication, but rather as a philosophy that is addressing conceptual design strategies at their core. Essentially, the output is a new standard whereas architecture is more seamlessly engaging with its patrons, its site, its environment, and often a combination of these elements.
Assembling this short-list of projects was an arduous assignment, but hopefully readers will enjoy the 11 most meaningful architecture moments of 2011.
11 Best Architecture Moments of 2011
Designed by Bing Thom Architects. 2011. Given time constraints imposed on federally funded projects, Bing Thom Architects leveraged social media technologies to streamline community consultation. The end result is a piece of architecture that reflects multiple points of view, shall we say, influenced by the wisdom of the crowds. Surrey supports the changing role of the library, and additionally incorporates the needs of the client and the ideas of the community; but at the same time, Surrey is also a marvelous construction delivered on time and on budget. Photographed by Nic Lehoux, courtesy of Bing Thom Architects.

Designed by Diller Scofidio + Renfro. 2011. This new campus facility is intended to facilitate the intersection of diverse creative endeavors, encouraging hybrid expression. All spaces within the Creative Arts Center physically overlap with each other such that students experience dance, video, sculpture, and acoustics as a holistic sensory journey. Photo courtesy of Diller Scofidio + Renfro.

Designed by Skidmore Owings & Merrill (SOM). 2011. Named by Time Magazine as one of the 50 Leading Inventions of 2011, SOM maximizes views and minimizes solar heat gain on the office floors, effectively reducing friction between patron and building with site and environment. A quarter of each floor plate is chiseled out of the south side, shifting from west to east over the height of the tower. The output is an iconic stone sculpture comprised of twisting ribbons of torqued walls. Photo courtesy by SOM.

Designed by Aedas. Structural Design by Thornton Tomasetti. This scheme explicitly celebrates diverse programs via inter-related and intersecting modular spaces. Tom Scarangello, CEO and Chairman of Thornton Tomasetti explains, "This innovative architectural design required an equally innovative engineering design approach, to accommodate slanted columns and facades, the 'floating' theater and lobby atrium, and a skybridge that spans almost 260 feet." Photo courtesy of Aedas.

Designed by FXFOWLE Architects. 2011. Aside from the multi-use programs -- office, residential, retail and miscellaneous public space -- the totality of this scheme, within lots 407, 408, 209 and 214 of the King Abdullah Financial District Master Plan, engages with cultural and religious layers too. The residential plug interfaces with the lower recessed portion of the tower and becomes part of the tower façade that faces out onto the mosque and its plaza below. The tower in turn inflects its west and east façades to acknowledge the presence of the mosque on one side and the residential terminus on the other. Photo courtesy of FXFOWLE Architects.

Designed by Michael Arad and Peter Walker. 2011. The world famous 911 Memorial occupies two acres at Ground Zero at the foot of the soon to be completed Freedom Tower. Two reflecting pools, featuring the largest manmade waterfalls in North America, sit within the footprints where the Twin Towers once stood, engaging the memory of what perished ten years prior. The names of every victim of the 2001 and 1993 tragedies are inscribed into bronze panels edging the Memorial pools. Photo courtesy of PWP Landscape Architecture.

Designed by Gehry Partners. 2011. Beekman Tower is Gehry's first skyscraper in New York City, his second project locally and tallest venture to date. Inevitably, one sees a resemblance to the Disney Concert Hall in Los Angeles and the Guggenheim in Bilbao. Gehry is the master of manipulating form, specifically material, to confront a building's engagement with its site. With Beekman Tower, he extends this same skill set to the skyline. The gentle, organic surfacing of Beekman challenges the philosophy of designing tall buildings, often reduced to just plain extrusion, and in my view, introduces a new paradigm for how a skyscraper engages with its groundscape. Photo courtesy of NYC Architecture.

Designed by Zaha Hadid Architects. 2011. Zaha Hadid was awarded the RIBA Stirling Prize 2011 for the Evelyn Grace Academy. Zaha was challenged to accommodate four schools under a single academy umbrella on this extraordinarily confined site (fifteen percent of the size of an average secondary school site). Furthering the challenge was the school's heavy emphasis on sport curricula. Zaha cleverly inserts a 100m running track into the heart of the site, which serves as the predominant stitching for this scheme, effectively merging two programs that are typical disparate, as well as heightening engagement with students: "this is a design that literally makes kids run to get into school in the morning." Photo courtesy of Zaha Hadid Architects.

Designed by Foster + Partners. 2011. The bank's energy efficient envelope is constructed of glazed panels and 200mm-deep screens cut in traditional Islamic patterns from sheets of stainless steel. Effectively, the building surface formally and functionally addresses the local landscape. In addition to this convergence of culture and structure, Foster deploys an electricity-free cooling system: fresh air is drawn into an empty pipe that encircles the building underground, is then naturally cooled by the earth and released into the branch. Building and site harmoniously provide a comfortable environment for patrons. Photo courtesy of Forster + Partners.

Designed by Kohn Pedersen Fox Associates (KPF). 2011. The Heron Tower was actually highlighted on The Huffington Post twelve months ago by fellow colleague Patricia Brizzio as a project to follow in 2011. Unlike the autonomous tall buildings constructed nearby in previous years, Heron Tower is an articulate structure. Set at the junction of Bishopsgate and Camomile Street in central London, the building form organizes itself around a series of office "villages" with a triple-height atrium at the heart of each. Photo courtesy of KPF.

Designed by Herzog & de Meuron. 2011. A unique shopping, dining, residential, and parking experience, 11 11 Lincoln Road is pure Miami beach -- "all muscle without cloth," says Jacques Herzog. Each floor plate boats natural light and presents vistas of the city. The building dulls all distinction of object and moment, and architecture and icon. The cityscape of Miami is penetrating this open plan scheme without any resistance. Says Robert Wennett, the developer, "it's not a building, it's more like a performance piece." Photo courtesy of 11 11 Lincoln Road.
Follow Jacob Slevin on Twitter: www.twitter.com/jacobslevin