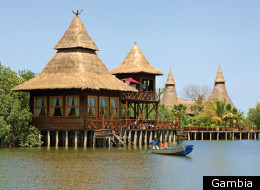 In a recent discussion with a family friend who got engaged over the holidays, the topic of honeymoons arose. She mentioned that her honeymoon, aside from walking down the aisle, was one thing she was truly looking forward to. As far as locations, she was contemplating Italy or Thailand. Very different locations, but both within her budget. After asking her if she'd consider honeymooning in Africa, I was shocked to hear her response. She quickly dismissed the idea, claiming that it would be too much of a hassle and well beyond her budget. Simply put, she just wasn't interested in the idea of traveling to Africa.
Upon some reflection, I must confess that her response was genuine and not really out of the ordinary. After all, most couples envision honeymooning in places they have either been told about or have been exposed to in some type of medium, whether it be print, television, or radio. This is precisely one of the reasons I consistently make an effort through the "Pearls of Africa" feature in my publication to highlight amazing honeymoon destinations in Africa. I believe the promotion of African tourism to the American bridal market is not only beneficial for those brides that may not have otherwise considered what the continent has to offer, but it also aids in changing the perception of Africa. It's because of responses like my friend's that I've curated a list of the most awe-inspiring locations in Africa, and some nifty resources that make travel to Africa seamless and hassle-free. In this post, I've listed my top 5. Allow me to help you think outside of the box...
Known as "The Smiling Coast of Africa," with its luxury hotels, breathtaking lodges, and eco-tourism advantages, Gambia is a destination for both the reserved and outgoing couple. It's one of the smallest countries in Africa, yet it harbors a history so rich and essential as highlighted in Alex Haley's iconic book, "Roots."

Not often thought of as a "romantic" honeymoon destination, Morocco has much to offer and a rich culture as well. Pictured here is Kasbah Tamadot, owned by Sir Richard Branson and voted as the "Best Small Hotel Africa" in the 2011 African Hotel Awards. This has to be one of the most colorful and impressive hotels. The architecture and interior decor is just divine. To see more from this resort, click here.

Pure white sand. Turquoise seas. Stunning vistas. Complete romance. Considered one of the world's most beautiful islands, Seychelles is the perfect African getaway if you're looking for a dreamy and stylish beach setting. Couples have the option of enjoying all that a private secluded island has to offer or coupling the trip with a Kenyan safari.

Dreamy coastlines, bustling cities, and an unadulterated African Bush. South Africa proves to be one of the most sought after travel locations in the world. Whether you enjoy a typical beach escape or you love the wilderness and safaris, there's something for everyone. Travel to South Africa can be pricey for many. To offset the cost of traveling to South Africa, consider a honeymoon registry from a vendor who specializes in African travel. Pictured in this image is the Kagga Kamma Private Game Reserve. The luxury accommodations are bundled within sandstone formations.

West Africa is home to a vast number of exotic destinations. One I'd like to highlight is Cape Verde, located just off the coast of Senegal. With its brilliant beaches and volcanic rock formations, honeymooners can enjoy anything from scuba diving to rock climbing. In a nutshell, it possesses everything the Caribbean has, but with a mix of Portuguese, Brazilian, and West African culture.
For more stunning African honeymoon destinations, visit Munaluchi Bridal.
Follow Jacqueline Nwobu on Twitter: www.twitter.com/munaluchibride