Today I'm launching Jaime King's Picks. Every Wednesday, I will be doing a piece about my favorite stylin' things for women, men and the home. My goal is to inspire you and to share with you that the secret to true style is surrounding yourself with things that make YOU feel great.

I am dedicating my first post to Arianna Huffington who said "Jaime, we need to make flat shoes chic." Three years ago Arianna's high heel got caught in a grate and she broke her ankle. Last year I fell while doing a movie and broke my tailbone. I quickly jumped right back into my heels for my red carpet events, and this led to months of physical therapy. Needless to say, I wasn't the only victim of this epic fashion fail. Between the doctors in their lab coats and the injured women who begged to take off their sneakers and slip back into their Louboutins, the office was a fashion war zone.
Unless you're Victoria Beckham, you probably look like a drunken sailor after five minutes in these things we call stilettos. Even dear Victoria is rocking flats now on doctor's orders.

I know it may sound nuts, but I WANT TO MAKE FLAT SHOES CHIC! They are terrible for your body, cause countless painful injuries, they make your legs look insanely sexy and long, but I digress.... Slide into some fabulous flats. You know you want to! There is nothing more endearing than effortless elegance, and here are some awesome picks to start you off on the right foot.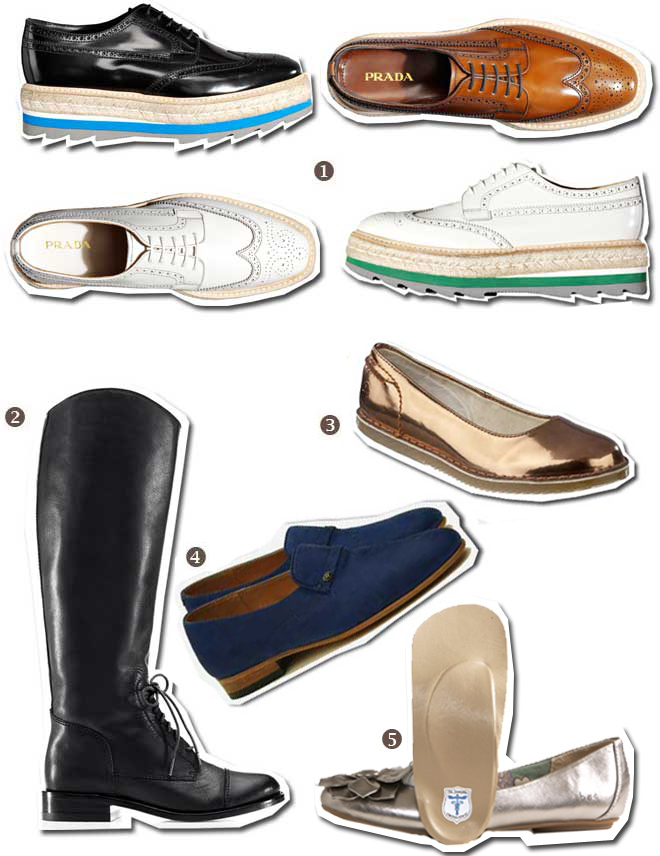 1. Prada Oxford Loafers
I adore these! They are my go-to flats right now. With all the colors available, you can really make them your own. I love their boy/girl vibe. Every time I rock them, guys stop me on the street wanting them for themselves! $795, www.prada.com for store info.
2. Juicy Couture Lace-Up Rider Boots
The long clean line and the classic front laces of these boots will keep you looking pulled together and elegant. Pair them with jeans and a Burberry leather jacket or a long cashmere sweater dress and yum is the word! $425, www. JuicyCouture.com.
3. Doc Martens Christina Flats
These are a great twist on the brand we know and love. The copper finish makes your little sweet dress sexier and any casual look edgier. This is the perfect shoe to highlight the metallic trend for fall. $70, www.DocMartens.com.
4. Dieppa Restrepo's Lordy Loafers
For the boys! I know. You always get to wear "flats." Dieppa Restrepo has the coolest shoes for men and women. The Lordy is my fave for you guys. These sublime slip-ons come in a multitude of colors, making them a versatile pairing for everything from tees to tuxes. $225, diepparestrepo.com.
5. Dr. Joseph's Life Steps
These orthotics are my new find that EVERYONE needs to know about. These in-soles have been life-altering for everyone I know who wears them, including myself. This brilliant doctor has made specific orthotics for any shoe selection. They come in three selections. One for your sports sneakers, one for your flats and one for your heels. They keep your posture aligned and when you can't resist slipping into those towering heels, slip these in and voila! Your pelvis and back will stay in place and you, my fashionable friend, will stay on the straight and narrow. $49.95, Dr-Josephs-Orthotics.com.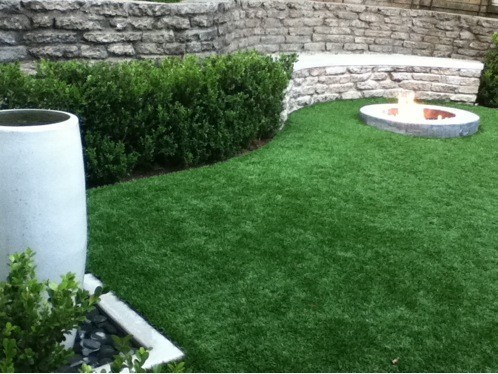 6. Eco-Friendly Synthetic Grass
For the home. Nothing is better for your tired feet than a gigantic heating pad! This amazing eco-friendly synthetic grass from ForeverLawn has changed my life. It's always a vibrant green, with no dirt and no watering necessary. It is my guests' number one spot to sprawl out and relax. This is my favorite way to calm a stressed body and sore muscles. In the sun, it warms up and I lay down and kick back. At night, spread out under the stars and ask a friend for a foot rub. Run your tired feet over the grass and it's like a mini-massage. Crazy, but AWESOME! And your friends will be in awe of your forever beautiful garden. $8-$12 per square foot, www.foreverlawn.com.

SUBSCRIBE AND FOLLOW
Get top stories and blog posts emailed to me each day. Newsletters may offer personalized content or advertisements.
Learn more