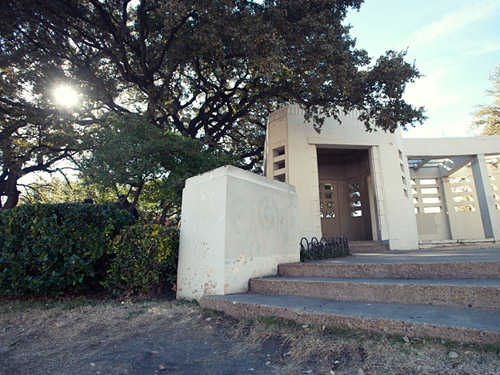 Abraham Zapruder filmed the Kennedy assassination atop this pedestal in Dealey Plaza. (Photograph by Van Ditthavong).
This year, Texas marks the "terquasquicentennial" (a.k.a. the 175th anniversary) of its independence from Mexico. To commemorate the occasion Texas Monthly has dedicated its March issue to an insane 6,000-mile journey to 175 places that tell the story of the Lone Star State. The stops along this road trip are mostly unmarked, forgotten sites, but their significance and impact on both the state and the country is undeniable. Yesterday we stopped in six places that tell our culinary history. Today we're looking at crime. A full 29 of the 175 stops on our road trip involve battles, massacres or murders. If your tastes tend towards the macabre, consider adding these five bloodsoaked sites to your itinerary.
1. The home of UT shooter Charles Whitman at 906 Jewell Street in South Austin was torn down a while back and replaced with a big boxy modern home. But there's still something eerie about standing in front of the spot where Whitman, a mentally ill 25-year-old UT student, began his day of terror on that fateful August morning in 1966. His first victim that day was his mother, whom he strangled in her home. He then came back to the house on Jewel Street and stabbed his wife in the heart while she slept. He would go on to claim 13 more victims on campus, shooting 10 of them after barricading himself inside the observation deck of the University of Texas tower. At the time it was the largest shooting rampage in American history. Even though you can't see Whitman's original home, a house across the street gives a rough approximation of what the street looked like forty-five years ago.
2. No tour of Texas crime scenes would be complete without a stop in Dealey Plaza, the site of the Kennedy assassination. But after you've toured the Sixth Floor Museum in the old book repository from whence Lee Harvey Oswald fired his shots at the presidential motorcade, head down to the grassy knoll to the far western column in front of the pergola. Dallas dressmaker Abraham Zapruder set up his 8mm camera on top of this column to record what would become the most famous 26.6-second home movie in the world. While President John F. Kennedy was the fourth president to be assassinated, Zapruder's film allowed America to relive the horror on film. And it was his particular vantage point that made the footage so shockingly clear.
3. While you're in Dallas, head over to 105 Herbert Street. Today, only a few pilings remain, but it was here, in the kitchen of a small home, that the world's most infamous outlaw pair first met in January 1930. Clyde Barrow, then a gawky 20-year-old kid, had dropped by a friend's house to find 19-year-old Bonnie Parker making hot chocolate. The attraction was immediate and two years later, after Barrow spent a stint in jail, the pair would set out on a crime spree for the ages.
4. From Dallas, drive up Interstate 35 to Gainesville near the Oklahoma border. Here, in a field on the east bank of Pecan Creek, 40 Union sympathizers were hanged over a two-week period in October 1862 in what came to be known as the "Great Hanging." (Today the field is located between between Main and California streets.) Other extrajudicial killings of those displaying pro-Union sympathies in surrounding communities followed.
5. Now down to Houston, where you can drive by the River Oaks mansion at 1561 Kirby Drive that plastic surgeon John Hill shared with his wife, Joan Robinson Hill. Today, the home is known to Houstonians as the Blood and Money house, after a 1976 book by Thomas Thompson about the family. The story is classic in the Houston society murder genre: When Joan died of a mysterious illness in 1969, her father, oilman Ash Robinson, suspected she had been poisoned by John. John was charged with his wife's murder but the case ended in mistrial. But then Ash meted out his own justice by sending two hired thugs who gunned John down in his doorway.
SUBSCRIBE TO & FOLLOW LIFESTYLE
HuffPost Lifestyle is a daily newsletter that will make you happier and healthier — one email at a time. Learn more