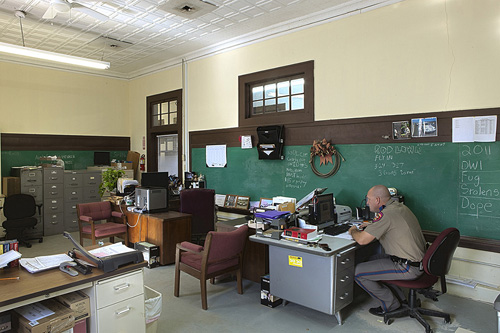 This classroom where LBJ once taught grade school is now used by the state Department of Public Safety. (Photograph by Kenny Braun).
This year, Texas marks the "terquasquicentennial" (a.k.a. the 175th anniversary) of its independence from Mexico. To commemorate the occasion Texas Monthly has dedicated its March issue to an insane 6,000-mile journey to 175 places that tell the story of the Lone Star State. The stops along this road trip are mostly unmarked, forgotten sites, but their significance and impact on both the state and the country is undeniable. Last week we stopped in places that tell our culinary and criminal history. Today we're looking at politics. To date, Texas has spawned three U.S. presidents, three vice presidents and numerous cabinet-level appointees. And events in the state have shifted the political course of the nation countless times, from then-governor Sam Houston's refusal to secede in 1861 to John F. Kennedy's assassination in Dealey Plaza in 1963. If you are planning a trip to Texas (or even if you aren't), consider stopping at these seven places where defining political moments happened, as featured in our terquasquicentennial issue.

1. Start in Austin, the state capitol. Avoid the obvious landmarks (the governor's mansion, the state capitol) and head for the Vaughn Building at 807 Brazos Street. Here, in suite 402 in 1981, Karl Rove started Rove + Company, the political consulting firm that would revolutionize how direct mail fundraising is used in campaigns. Today, Rick Perry's political office occupies the fourth floor of the Vaughn building, but a number of Texas politicians have used the building's offices as a waystation between jobs, including Kay Bailey Hutchison, George W. Bush and John Cornyn. And if you're hungry, head down Congress Avenue and eat at Manuel's, which is across the street from 301 Congress, where the Bush-Cheney campaign had its headquarters and where the fateful decision was made to send friend of the bush family James Baker to Florida to handle the recount.
2. But how did Baker become such a close family friend? Glad you asked. Now head east to Houston, where you can stand in the spot where this key friendship was formed. Before he was George H.W. Bush's secretary of state, Baker was his doubles partner. The pair became acquainted in the late 1950s when they began to play doubles together at the Houston Country Club, located at 1 Potomac Drive (Good luck getting in). Their friendship flourished in the political arena, with Democrat Baker switching parties to manage Bush's 1970 Senate campaign against Lloyd Bentsen. Baker would go on work as Reagan's chief of staff and Secretary of the Treasury before reconnecting with Bush in 1980 and managing his presidential bid.
3. While you're in town, be sure to swing by Texas Southern University's Hannah Hall, where, around the same time Bush and Baker were swatting balls, future U.S. representative Barbara Jordan was sharpening her debating skills as a member of the university's debate team. Jordan would use these skills to win the country's admiration for many public addresses, perhaps none so impressive as her masterful keynote address at the 1976 Democratic National Convention.
4. Now turn toward San Antonio. When you get to town visit the West Side, and stop by the small frame house with blue and white trim at 2906 Monterey Street. This is the house where Henry Cisneros, former San Antonio mayor and U.S. Department of Housing and Urban Development secretary, was born on June 11, 1947. The streets of this neighborhood on San Antonio's west side weren't paved until the 1970s. The house today still belongs to Henry's mother Elvira Cisneros and has not changed all that much since his childhood.
5. From San Antonio continue heading south to the small town of Cotulla, and the former Welhausen Elementary School. It was here, in September 1928, that the man who would become the 36th president took a year off from college to go teach school in the small red brick building at 204 Northeast Lane. The room that Lyndon Baines Johnson taught in is now being leased to the Department of Public Safety and used by state troopers. It was in this room, teaching at the segregated school for Hispanic students, that Johnson gained a deeper understanding of poverty and how government could shape people's circumstances that would inform his life's work.
6. And while you're in south Texas, visit the county courthouse in Edinburg where Lloyd Bentsen performed his first duty as a public official after winning his first election for Hidalgo county judge in 1946 at the ripe old age of 25 (Always a wunderkind, Bentsen had graduated from high school at 15). The future four-term senator had yet to settle in to his office at 100 North Closner Boulevard when a young couple came to the courthouse wanting to be married.
See more items from Texas Monthly's terquasquicentennial issue at our website. And try your hand in our road trip challenge at our special TX175 blog.