Every year on the anniversary of September 11, the same question pops up: where is Osama bin Laden? And for eight years various pundits, who hardly speak a word of Pashto, Dari, Urdu or any other language spoken in the region, play the guessing game, placing him somewhere along the Pakistani-Afghan border.
This week, President Obama took Gen. Stanley McChrystal's advice and ordered a surge in the war in Afghanistan by sending 30,000 more American troops there to help battle the Taliban insurgency. In a speech at the US Military Academy at West Point on Tuesday, the President set out what he said was a new strategy to bring the war to a "successful conclusion" and reverse the momentum of Taliban gains.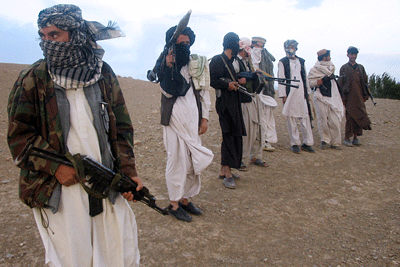 The president did not mention Osama bin Laden, a frequent target of his criticism during the campaign when he criticized President Bush.
"We will kill bin Laden, we will crush al Qaeda. That has to be our biggest national security priority," then candidate Barack Obama said during an October 2008 debate.
If the U.S. goal remains to "crush" al Qaeda, then perhaps many Americans would not be as upset with Obama's Afghan surge; however, this is not the case.

As it stands, there will be nearly 100,000 U.S. troops in Afghanistan, along with about 47,000 from allies. This is not to mention contractors, who already outnumber U.S. forces in the war-ravaged country. According to credible intelligence estimates, 100 al Qaeda operatives are in Afghanistan, and 300 more have fled to Pakistan. As for the Taliban, conflicting estimates put their numbers anywhere between 7,000 to 25,000. Therefore, this build up does not make sense, and the numbers do not add up.
Also, why do the United States and its allies need close to 150,000 troops if they can negotiate with the Taliban? Mr. Karzai does!
"We must talk to the Taliban as an Afghan necessity. The fight against terrorism and extremism cannot be won by fighting alone," Karzai said. "Personally, I would definitely talk to Mullah Omar. Whatever it takes to bring peace to Afghanistan, I, as the Afghan president, will do it."
Meanwhile, President Obama has increased U.S. pressure on Pakistan to fight the Taliban in its territories. As an inducement, and a measure of heightened American concern for Pakistan, he has also helped bring a big increase in aid to the country, including $7.5 billion of non-military aid over five years, approved recently by Congress. The problem is that there is no certainty or confidence that the current Pakistani regime is going to last; Pakistan's president Asif Ali Zardari is one of the country's most discredited politicians and linked to corruption. There is a major question mark on who will be replacing him or what sort of a government Pakistan will have after his imminent fall.
President Obama has not been forthcoming with the American people. He should come clean and explain the real reason behind the surge. It's not because of bin Laden, al-Qaeda, or the Taliban. The real reason is Pakistan, a failed state with nuclear warheads!
SUBSCRIBE TO & FOLLOW WORLD POST