For the first couple weeks of my C.S.A. Share (Community Supported Agriculture Share) I got a lot of the same. Scallions, greens, and yes, asparagus week after week. So what is a girl to do with several bunches of asparagus? Soup is on!
This soup is great warm or cool on hot summer evenings. I've also found the soup is fresh and almost sweet the day you make it but develops an equally appealing savory nature if you keep it overnight and serve the next day.
Ingredients:
2 Bunches Green Asparagus
1 White Onion
1 Tablespoon Butter
1/2 Cup of Whole Milk
5 Cups Stock (I highly recommend Better Than Bouillon Vegetarian No Chicken Base, I think this is actually more flavorful than chicken or regular vegetable stock)
Salt to taste
You will also need a stock pot and a blender, food processor or stick blender
Start by trimming off about an inch off the woody end of your asparagus and discard. Next trim the tips off your asparagus and reserve for later. Rough chop the remaining asparagus stalks and your onion.
In a stock pot over low-medium heat, melt the butter and add onions with a pinch of salt. Cook the onions until just transparent but don't brown them. Add the 5 cups of stock and your asparagus (except the tips you reserved earlier). Simmer the mixture for 15 minutes, add the reserved asparagus tips and simmer another 5 minutes and then remove the soup from the heat.
I use a blender to liquefy the soup, I think it gives it a nice smoothness but you could also use a food processor or stick blender. Remember the soup is hot so be very careful blending it! Meanwhile place your half cup of whole milk into the empty stock pot that you used for the soup. Let the milk warm up on very low heat; be sure it does not boil. Once the milk is warm add the liquefied soup back into the pot and mix. Do a taste test and add more salt if you want. Serve warm or cool, keeps in the refrigerator for up to a week and is pretty healthy too!
I served this bowl cool garnished with a nasturtium from my garden. Check out bonus recipes and pictures on my personal blog The Scorpion's Table enjoy!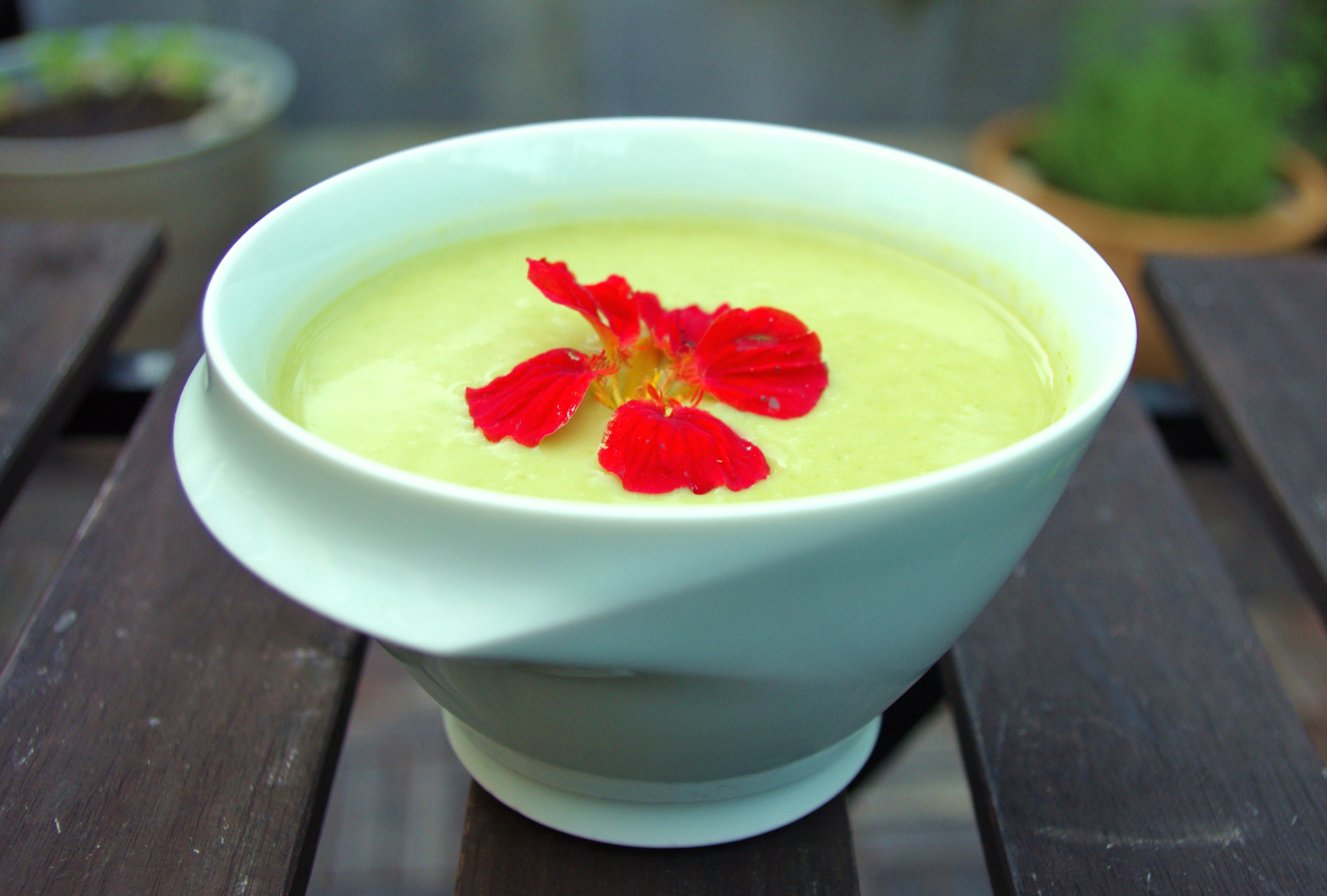 FOLLOW HUFFPOST