Over the weekend I wrote a post about the new credit card law, The Credit Cardholders Bill of Rights (the law is actually titled "Credit Card Accountability Responsibility and Disclosure Act of 2009"). This law makes it unlawful for credit card companies to issue cards to anyone under the age of 21 unless parents co-sign for the card and/or the company makes a determination of financial wherewithal.
In fairness to the new law, now that I have a copy of the transcript, it does provide for issuance of a credit card to individuals under age 21 who have completed a certified course on financial literacy or education. This mollifies me a little bit.
It seems to me that the credit card example is just one of many where our schools and universities must elevate their game so to prepare our young adults to deal with real-world situations. We are living through a terrible economic upheaval right now. Whereas few, if any, saw the problems coming, certainly the impact could have been deadened a bit by better informed consumer decisions about borrowing, budgeting, saving and purchasing (overpriced homes, for example).
Even if you are one who philosophically believes that the government should step in to protect us from ourselves (the new credit card law), the fact is that the government will never have the ability or reach to cover everything. Ultimately the responsibility lies with each of us -- to take steps to educate ourselves and our children or grandchildren, nephews, nieces and cousins, and students.
I am using credit cards as a metaphor but understanding financial principles is not difficult stuff. It requires an investment of time and some personal discipline. To expect the government to cover all potential sink holes and then pull us out when we get in one, is silly. We have to take responsibility ... "ask not what your country can do for you ...."
So, how financially literate are you? Our company has prepared a test if you want to take it. Fifty questions that you should probably be able to answer. You can find the test on our website www.theskinnyon.com. No one's name is asked. This test - what we call our FINANCIAL LITERACY CHALLENGE -- is just for your own benefit ... or, for those you care about.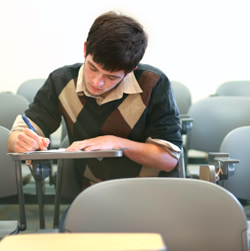 Jim Randel is the author of The Skinny on Credit Cards
This Blogger's Books and Other Items from...
FOLLOW HUFFPOST