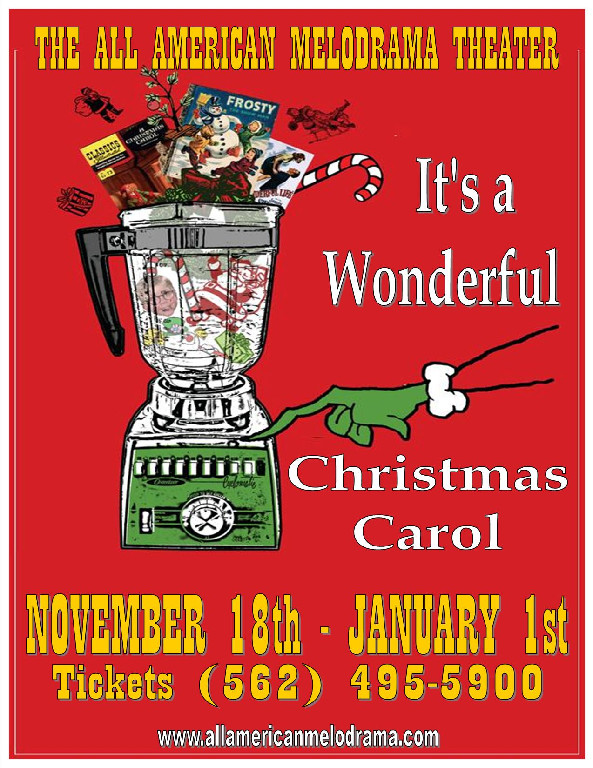 With their latest production, It's a Wonderful Christmas Carol, written and directed by Ken Parks, with music by Parks and Rick Illes, it's easy to see why The All American Music Theater and Music Hall was recently honored by Trip Advisor as number one attraction in Long Beach. The script was preternaturally good, as were the performances; and the place was as packed and bristling as Best Buy's front door at 11:59 p.m. on Thanksgiving Day. The evening felt like a big rumpus room, rife with ruckus, filled with an extended audience-family, which, when you think about it, is the whole point of the holidays.
Not only was the production, as always, raucous and fun, in short, entertaining, its timing couldn't be better: it spoofs dastardly bankers (Here it comes, wait, here it comes: Booyah!). Giving new and outlandish twists to familiar stories (I'm sure the jabs at South Coast Rep's traditional A Christmas Carol are unintentional) it offers the possibility to become a family holiday destination tradition. And why not, when Dickens gets to meet Scrooge, Teeny Tim appears as a wisecracking puppet, Muppets Bert and Ernie make cameo appearances, Clarence the angel joneses for a George Foreman Grill, and, as we suspected all along, we learn that Bob Marley is a Rastafarian. An offbeat, joyous ho ho ho indeed.
The script is inventive, funny and well written. Set up like a Christmas triptych, two acts ("HUMBUG or What The Dickens" and "IT'S A BLUNDERFUL LIFE or bye George") feature the classic tales of the insight through the prism of alternative outcomes. In the former, the contrite Scrooge (Parks) has a come-to-Jesus moment; in the second, sad sack George Bailey (Matthew Riggle) realizes he has a lot more for which to live than he thinks. Both tales speak of never-too-late gratitude for blessings but, of course, in true melodrama fashion, the productions undercut piety and pathos with mirth and mayhem, with puerile behavior, booze-fueled or not, the order of the day. I don't know about you but, to me, the evening feels just like a real Christmas.
Six actors play all the roles. Not only do they nail each character, each also feeds off the packed house. As a result, our laughter flows not just from their zippy repartee and improvised quips (unfortunately you can't see how Parks as Scrooge rebutted a snarky, Scrooge-like Grinchess with "She makes me look good.") but from the almost-successful efforts of the actors not to bust up themselves. It's the theatrical equivalent of the gag reel that accompanies DVDs. Amidst the picture perfect back-and-forth timing of this talented (and boisterous) everywhere-at-once ensemble, it's hard to pick out the quality of individual performances. Still, mention must be made of two Christmas tree stars. Matthew Riggles' spot-on Jimmy Stewart accent captures the spirit of the movie. And Parks' Bing Martin, the bibulous host of the Theatre's annual Christmas holiday special olio, is out of this world. Saturated with the Christmas spirit? Pickled is more like it!
Embedded in the jollity is a gift bag of relevance, all of which confirms that Christmas is about love and laughter, family and friends; about not just the humor of difficult times but its absurdity, as well. Perhaps economic stimuli won't begin at home, but outlandish fun -- a laughter stimulus -- most certainly does.
Performances are 7:30 p.m. Friday, 4:30 and 7:30 p.m. Saturday, and 7:00 p.m. Sunday. No performances on December 24 and 25. Tickets are $14-20. The Theater is located at 429 Shoreline Village Drive, Long Beach. The show runs until January 1. For more information, call (562) 495-5900 or visit www.allamericanmelodrama.com.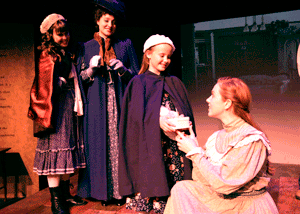 The Chance Theater's presentation of Anne of Green Gables, a musical based on the novel by Lucy Maud Montgomery, directed by Casey Long, reminds us that any season, not just this Christmas one, is the season for a compelling story of courage and inspiration, a heroine with which we can identify and for whom we can root, a good ensemble effort, and a simple, effective stage.
Long successfully sets up orphaned Anne Shirley's (Jessie McLean) outsider status and then systematically shows us how she becomes a valued member of that otherwise insular community of Avonlea, on Prince Edward Island in Canada.
Her challenges are formidable. Besides being an orphan, Anne has to contend with not being the boy her foster parents Marilla and Matthew Cuthbert (Marina Coffee and William Crisp) expected; with being redheaded with freckles; and with being of a romantic, mercurial nature (she immediately falls in love with the garden, orchard, brook and woods of Green Gables; she seeks nothing more than a kindred spirit and "empathizing sympathy."). Through sheer, disingenuous will she distinguishes herself as a friend to Diana Barrhy (Kristin Danielson-Jardine) a potential love interest with and otherwise academic rival to Gilbert Blythe (Joseph Mayers) and, literally, a life saver to an ill neighbor girl.
The costumes and set contribute significantly to the production's success. Erika C. Miller's costumes establish period and character. Masaka Tobaru's set consists of pages from the book projected onto the back wall. The effect is like an iPad screen shot, though the flesh and blood actors remind us of the miracle of live theatre, vivid, before us.
The ensemble performance is cozily effective. McLean keenly grasps Anne's motivation and desire to fit into Avonlean society. She fully understands both her character's attributes (red hair, freckles) that make her stand out and her initial social standing (an orphan bereft of parental affection; an adopted child who wasn't the boy her new family wanted; the new kid in school, introduced to that new society at an awkward age).
Her Anne is desperate and enthusiastic. She's confident and capable at the same time she wonders if she'll find acceptance, a kindred spirit, a place. She's quick tempered, wears her heart on her sleeve, and projects nervous energy. One of the songs characterizes her as twelve girls rolled into one; and McClean captures each one, with no dramatic overload. The production's set up as a young woman's coming of age in difficult, to say the least, circumstances; and McLean's performance ensures that Anne triumphs resplendently, as befits a Christmas production, not to mention any other time of year -- or life -- as well.
Coffee, Crisp, Danielson-Jardine and Mayers bookend McLean. They challenge as well as comfort and inspire her. They are both the source of Anne's early despair as well as the recipient of the fruit of her later development. Each of them -- as well as us, the audience -- are better people for having known her.
As enacted here, Anne's journey is our journey. She shows how character is defined not by words, but by actions. Whether it's facing -- or else remembering -- the difficulties of growing up; whether it's the response to getting to the end of one's rope and deciding to climb back up instead of letting go, we can appreciate -- and emulate -- her plunky, persistent spirit which, really, is what Christmas is all about.
Performances are 8 p.m., Thursday, Friday, and Saturday, 3 p.m., Saturday, and 2 p.m. and 7 p.m., Sunday. The show runs until December 23. Tickets are $22-30. The Theater is located at 5552 E, La Palma Avenue, Anaheim Hills. For more information, call (714) 777-3033 or visit www.chancetheater.com.
SUBSCRIBE TO & FOLLOW THE MORNING EMAIL
The Morning Email helps you start your workday with everything you need to know: breaking news, entertainment and a dash of fun. Learn more