Actress Sheryl Lee hasn't watched an episode of Twin Peaks in two decades, yet despite her hesitation to revisit the David Lynch creation that turned her into a cult celebrity, she recently went back to the world of dancing dwarves and cherry pie thanks to USA Network's Psych.
"There's a lot of things in the past 20 years I don't remember, but that day 20 years ago laying on that beach in the freezing cold, I remember as if it was yesterday," Lee said when recalling her filming the pilot episode of Twin Peaks in the early 1990s. In the two-season show, Lee started off playing Laura Palmer, a high school student that turns up dead, leading everyone -- on and off screen -- to ask, "who killed Laura Palmer?"
Fast forward to 2010 and Lee found herself back on the beach, this time re-creating the opening scenes of Twin Peaks from another character's point of view in this week's episode of Psych. The entire episode, titled "Dual Spires," is carefully put together to resemble Lynch's ABC series.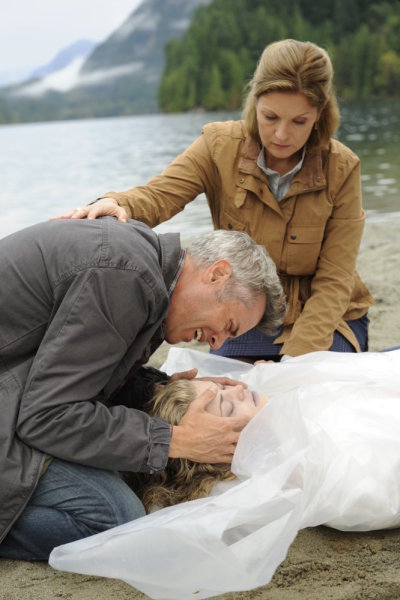 Psych writer and star James Roday has spent years trying to get a Twin Peaks tribute episode on the air, calling it a "love letter" to Lynch. "Twin Peaks was iconic. I think it changed the face of television," Roday said. Obsessed with Lynch - he watched the filmmaker's edgy movie Blue Velvet as a kid before getting hooked - Roday convinced a handful of the show's original actors to reunite on Psych, if only to "rub shoulders" with them.
"Dual Spires" celebrates the 20th anniversary of Twin Peaks, and gathers cast members including Sherilyn Fenn, Dana Ashbrook, Ray Wise, Robyn Lively, Lenny Von Dohlen, Catherine Coulson and Lee, the latter having a "mind-blowing" experience of re-visiting a scene in which she originally was wrapped in plastic and playing a corpse.
"I actually did feel as if I was out of my body that whole day [of filming]," Lee said. "It was a very strange and surreal feeling." In the Psych episode, Lee plays a town doctor that seemingly helps investigate the murder of a local high school girl.
Roday, along with co-writer Bill Callahan, included nods to Twin Peaks throughout the episode, from an obsession with pie -- this time cinnamon pie replaces cherry -- an arson case involving the local sawmill, and a seemingly endless number of Lynch references.
There's a point in the tribute episode when an elderly lady (Coulson) is seemingly talking to a log, resulting in the two main characters giving a knowing look -- a reaction seen throughout the show.
"I'm kind of tickled by the fact that the episode starts panning off a chocolate bunny sitting on my desk," Roday said of a gag in Psych playing off a brief reference Agent Cooper made in Twin Peaks. "Nobody understood why there was a bunny on my desk, but they kept it in."
Twin Peaks fans hoping for an actual reunion -- much like Roday -- might have to wait a while for Lynch to put something together, but this episode of Psych will surely give people an extra helping of nostalgia, including the sounds of Julee Cruise, who sang Peaks' theme song and re-created Psych's this week.
"Twin Peaks fans are in for, you know, about 48 minutes of pure bliss," Roday said. "I don't think any of the winks or the tributes will be lost on them."
Photo courtesy of Alan Zenuk/USA Network
SUBSCRIBE TO & FOLLOW ENTERTAINMENT
HuffPost Entertainment is your one-stop shop for celebrity news, hilarious late-night bits, industry and awards coverage and more — sent right to your inbox six days a week. Learn more