THE BLOG
George's Last Gasp Spoils my Bones Fun!
Welcome to my first Bones blog of the year! First off, I can't plug it enough: the show returns in its new time slot, Thursdays at 8:00 PM on Fox. If you can't be there, set your Tivo machines! Scoot!
But make sure you schedule it starting next week, January 22nd, because this week, Still-President Bush is crashing the party with one last gasp to the American people, denying them the return of their second favorite show for another week. BOOOOO.
2009 has not gotten off to a very good start for me, entertainment-wise. The episode that was supposed to air this week, "Double Trouble in the Panhandle," is an undercover trip to the circus! Holy crap, how fun was that gonna be?? I mean look at this still from the episode!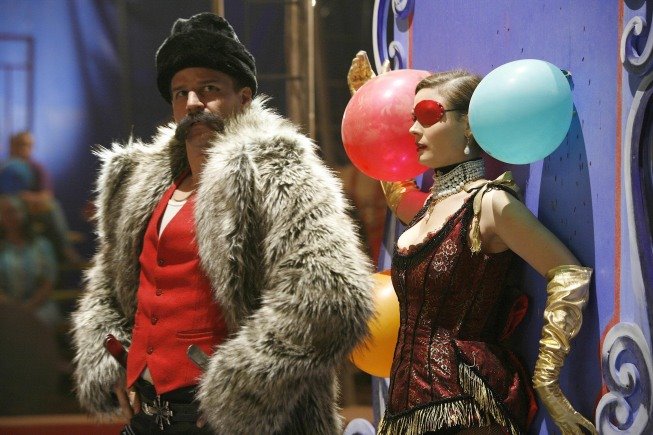 An eye-patched Emily Deschanel and a fur-sleeved, mustachioed David Boreanaz -- at the circus! Throwing knives!
But noooooooooo. George Bush couldn't do this tonight, or Wednesday, and everyone knows that no one watches TV on Friday, and if it's on Saturday, then oops, it must be a Saturday Night Live sketch and therefore "not real." Basically, I wanted pretty colors, and now I'm going to get 15 minutes of George Bush, trying to convince me that he's still relevant.
And earlier this week, the New York Giants lost to the Philadelphia Eagles. I could blame Eli Manning, I could blame Plaxico Burress. But I'd rather blame George W. Bush. Just because. Maybe it was the post-Super Bowl visit that the still-technically World Champions paid to the still-technically President that gave them the cooties. (But it was probably Eli falling asleep at the switch, overthrowing passes, no one on the Giants really feeling like playing a game of football, maybe thinking it was a preseason game, etc.)
I'm also going to blame him when I turn 29 on Saturday. You, sir, were president for nearly the entire time I was in those twenties, and they sucked. All your fault. I want a do-over. (Even though I could probably maybe blame myself for that, but why stop the finger-pointing now?)
I kid, of course. Not that there aren't plenty of things for which we can all legitimately blame Bush, but clearly my angst is not one of them. Nor is the Giants loss.
But the Bones thing? Yeah -- that's all W. And to that, I say BOOOOOOOOOOO. And also...
Tune in next week when Bones returns in its new time slot on Thursday nights at 8:00 PM on Fox! (We'll actually be treated to two new episodes, the latter one featuring the return of the Gravedigger! So set the Tivos and DVRs for two hours this one time.)
And also...
*On a lighter note, 24 (which featured TJ "Hodgins" Thyne as the, um, unfortunate Jason Girard on Day 4!) returned after a 20-month hiatus that I blame on...yes, George W. Bush. No, that was the writer's strike. And it kicked ass. (24, not the writer's strike.) On Sunday when it premiered, Tony Almeida (Carlos Bernard) - whom everyone thought was dead - was working with terrorists and Jack Bauer (Keifer Sutherland) was mad. Hopping mad, even. By the end of the first four hours, we all found out that Tony was indeed not a bad guy and it was back to TV's best action suspense bromance! Baumeida! (No? Okay.) It was just as awesome as the reveal earlier this season on Bones when we found out Zack was not a killer!
*Speaking of Zack, that storyline was never resolved. ("By the way, I'm not a killer!...." Okay, and...? AND...?) But, the actor who plays him remains a member of the "Bones" family, and if you're on the West Coast, specfically in Los Angeles area (or are willing to take a road trip), you can catch Eric Millegan this Wednesday, January 14th at The Canyon Club. I saw his show in NYC, the day the economy fell off a cliff (something we can also blame Bush for - the economy, not Eric's show), and he's just awesome. See this guy sing. You will not be disappointed. Visit the site for ticket information; they can be purchased ahead of time or at the door.