Chocolate is a perfect food, as wholesome as it is delicious, a beneficent restorer of exhausted power. It is the best friend of those engaged in literary pursuits.
- Baron Justus von Liebig
Who can deny the power and persuasion of chocolate? Chocolate anything! Truffles or delicately scented bonbons, gooey brownies and cakes, crispy wafers or cool, creamy, luxurious puddings. Even steaming chocolate waffles or pancakes studded with chips, who can deny their draw? We crave, we yearn, we devour. And in this wonderful fall season full of pumpkins and apples, chestnuts and figs, we all turn again and again to chocolate.
The French are known for their pastries, yet walk into any pastry shop or bakery and a chocolate lover will be hard put to find anything upon which to nibble beyond the chocolate éclair or the tarte au chocolat. Unless you count the pain au chocolat, gorgeous flakey, buttery pastry studded with bits of dark chocolate. Look around and you will find tartlets, turnovers and slices laden with raspberries, apples, strawberries and apricots. Or shells filled with custard or creams of vanilla, hazelnut or almond, infused with coffee or rum. But if you crave chocolate, your best bet would be to wander into your nearest chocolatier and purchase a lovely little box of bonbons and candies, all wrapped up and tied with a bow.
The cuisine of my adopted city of Nantes leans as far from chocolate as one can get. Local tradition is spiced with vanilla, fragrant with almonds and jazzed up with rum. Whether brioche, cake, cookies or beignets, one finds the same flavors repeated over and over again, comforting and familiar. But there is another wonderful ingredient one must take into account - salted butter. And caramel au beurre salé, salted butter caramel is ever present, whether in candies or as a sauce, smothered over baked apples, crêpes or really most anything. In abundant quantities. Ah, the Breton sweet tooth! But anyone who has ever eaten a chocolate salted butter caramel knows that the two are the perfect match: chocolate both sweet and salty.
Today, I offer you a luscious interlude, a gentle reminder that life can be sweet and taken slow and easy. An absolutely stunning recipe, my Baked Chocolate Tartlets begin with a tender, delicate, perfect pie crust based on the French style of replacing granulated sugar with powdered and adding milk to the egg used to bind the dry ingredients into a dough. The filling is mousse-like, light and airy from whipping then brief baking, melting on the tongue yet deep in chocolate flavor like a brownie or flourless cake. And serve these scrumptious, elegant tartlets with this classic Salted Butter Caramel Sauce, our local tradition, with a scoop of vanilla ice cream, a dollop of whipped cream or simply with a dusting of powdered sugar. Perfect. Just perfect.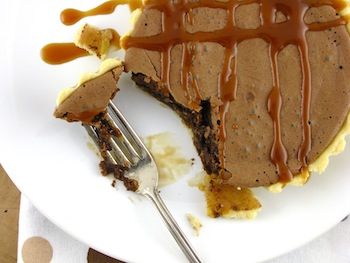 BAKED CHOCOLATE TARTLETS WITH SALTED BUTTER CARAMEL SAUCE
1 ¾ cups (250 g) flour
1/3 cup (40 g) powdered/icing sugar
8 Tbs (115 g) unsalted butter, slightly softened, cubed
1 large egg yolks
Scant ¼ cup (50 ml) milk, slightly more if needed
Sift or whisk together the flour and powdered sugar in a large mixing bowl. Drop in the cubes of butter and, using the tips of your fingers and thumb, rub the butter and flour together quickly until all of the butter is blended in and there are no more lumps. Add the egg yolk and the milk and, using a fork, blend vigorously until all of the flour/sugar/butter mixture is moistened and starts to pull together into a dough.
Scrape the dough out onto a floured work surface and, using the heel of one hand, smear the dough inch by inch away from you in short, hard, quick movements; this will completely blend the butter in. Scrape up the smeared dough and, working very quickly, gently knead into a smooth, homogeneous ball. Wrap in plastic wrap and refrigerate for 20 to 30 minutes.
Lightly grease with butter the sides and bottoms of 6 individual tartlet tins (4 to 4 ¼ inches/ 10 ½ to 11 cm wide) and place the prepared tins on a baking sheet.
Remove the dough from the refrigerator and unwrap. Working on a floured surface and with the top of the dough kept lightly floured to keep it from sticking to the rolling pin, roll out the dough and line the tins by gently lifting in and pressing down the dough. Trim the edges. Cover the baking tray with the lined tins with plastic wrap and refrigerate for 30 minutes. This can also be done ahead of time.
Preheat the oven to 350°F (180°C).
Remove the baking tray from the refrigerator and discard the plastic wrap. Cut or tear squares of parchment paper larger than each tin. Prick each tartlet shell with a fork (not too hard or deep as you don't want holes going all the way through the dough) and place a square or parchment over each. Weigh down the parchment with pastry weights or dried beans, pushing the beans into the corners. Bake for 15 minutes. Remove from the oven, carefully lift out the parchment squares and beans, pressing the bottoms down with your fingertips if puffed up, and prepare the Chocolate Filling.
For the Chocolate Filling:
3 ½ oz (100 g) good-quality dark bittersweet or semisweet chocolate (70%)
8 Tbs (110 g) unsalted butter
4 large egg yolks + 1 large whole egg
¼ cup (50 g) + 2 Tbs (30 g) granulated white sugar, as needed
Increase the oven temperature to 400°F (200°C).
Melt the butter and chocolate together in a heatproof pyrex bowl over a pan of just simmering water or in a bain marie, stirring gently, until just melted. Remove from the heat and allow to cool slightly. In a large mixing bowl using an electric mixer, beat the egg yolks and the whole egg with the sugar on high speed for 5 minutes until very light, airy and mousse-like. Decrease the beater speed to medium, gradually beat in the melted chocolate and butter in a stream until blended.
Pour into the pre-baked tartlet shells, evenly dividing the chocolate filling in between the 6 tins; using a soup ladle makes this easier. Slide the baking sheet with the 6 filled tins into the oven and bake for 8 minutes or until the top is just set, having formed a slight crust.
Remove from the oven, slide the tarlets off the baking tray and onto a cooling rack and allow to cool.
For the Salted Butter Caramel Sauce (Caramel au Beurre Salé):
1 cup (200 g) granulated white sugar
3 ½ Tbs (50 g) salted butter
1 cup (250 ml) heavy cream
Melt the sugar in a medium-sized saucepan over medium-low heat and cook until completely melted and caramel in color. Lower the heat to low and whisk in the butter in about 3 or 4 additions. Continuing to whisk, add the heavy cream in a slow stream; the caramel may foam up, but keep whisking, as it will calm down once all the cream is added and will turn to... a smooth caramel. Once it is smooth and creamy, remove from the heat and allow to cool at least to tepid before serving.
Jamie Schler lives, eats and writes in France. To read more of her work visit Life's a Feast.

SUBSCRIBE TO & FOLLOW THE MORNING EMAIL
The Morning Email helps you start your workday with everything you need to know: breaking news, entertainment and a dash of fun. Learn more