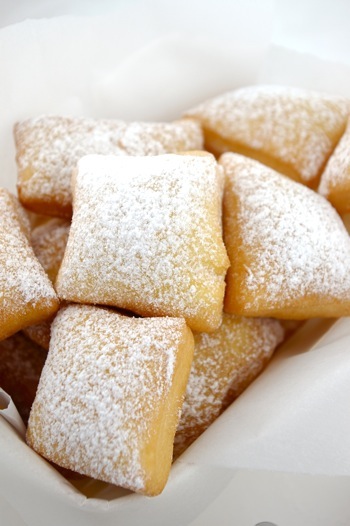 Anyone who reads these food pages knows about Mardi Gras and Lent, Carnival and all of her traditions, so I won't give you yet another history lesson. What I will talk about are beignets. Holidays come with folklore and rituals, customs unique to that day or season, and these early days of springtime leading up to Easter are no different. Mardi Gras, that joyous day of abandonment and festive merrymaking preceding the penance of Lent has given root to many traditions around the world: parades and masks, costumes and carnivals. And like most holidays, Mardi Gras has given birth to her own, unique food traditions.
To mark the day before Lent, one eats "gras" (fat) and in France this means eggs, butter and oil, milk and cream. Celebrations in every city from the earliest of times required some kind of treat made for the celebrating masses, special foods before the 40 days of privation, therefore pastry chefs and housekeepers needed to prepare festive snacks fast and on the cheap and thus the old Roman pagan tradition of bugnes came to be attached to this holiday somewhere around the early 16th Century. Originally very simple, deep-fried snacks of flour, water and yeast, often flavored with orange flower water - the word buygne meant swelling in the middle Ages - pastry chefs were eventually given authorization to "faire gras" during Carnival season up until Holy Wednesday, and permission was granted to use up supplies of butter, eggs and milk (which only made sense) and today's sweet, delicate, fried beignets were born.
Merveilles, Tourtisseaux, Oreillettes, Bugnes or Bottereaux, these delectable little beignets, some feathery-light pillows, some crunchy, crispy confections, each and every one is a specialty for this Mardi Gras and Carnival season in France, the name and possibly the shape only changing from region to region. Trays piled high with beignets, freshly fried and dusted quite generously with powdered or granulated sugar, begin appearing in bakeries and pastry shops throughout France shortly before Mardi Gras, and remain an absolute fixture through the end-of-March festivities. (Like the Galette des Rois and other holiday specialties, beignets are baked, sold and enjoyed for weeks rather than just for the day.)
Bottereaux, the beignet specific to my adopted hometown of Nantes, is a fabulous rum-infused beignet cut into squares or lozenges. Nantes has a long and close relationship with rum since the early 19th Century; tragically and sadly, Nantes built her fortune on trade with the French West Indies, former trade partners, former colonies. Ships based in Nantes would be sent to Africa where their captains would exchange European goods for men and women who would then, in turn, be brought to the Caribbean to work on the sugar, tobacco and spice plantations. The ships would then return to Nantes, doorway to the Continent, bringing back vanilla, pepper, ginger, cinnamon, things tropical and exotic, along with the tobacco and cane sugar, adding, in the 19th Century, rum to their cargo. Rum, dark, woodsy, exotic, heady with the scent of the West Indies, rich with the flavor of far-off lands did so intrigue the people of Nantes that it became part of their culinary repertoire, enriching the gastronomic pleasures of this part of the world. It is difficult to find a local sweet specialty that isn't spiked with either rum or Muscadet, her own local wine. (Two more traditional, rum-infused local specialties of Nantes are the Gâteau Nantais and the Fouace Nantaise.)
Bottereaux are normally made with a yeast-risen dough creating feather-light pillows although they can also be made much more simply with baking powder (like her sister from Lyon, the bugne), making for a denser, cake-like beignet, almost like a fried version of a brioche or our own Fouace Nantaise. The recipe I offer you today is this faster, easier version with baking powder. Heady with rum and made, if you like, with our traditional Brittany salted butter, Bottereaux are fried very quickly, drained then doused immediately with copious amounts of powdered sugar and eaten hot, fresh and joyously, one after the other. Just before going out to celebrate.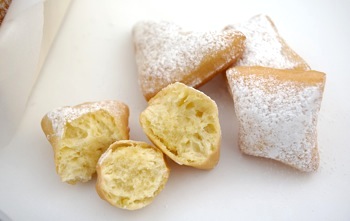 With all the new food trends that abound, isn't it nice to know that some things never change? Not just for Mardi Gras or Carnival, Bottereaux are quick, easy snacks to make whenever you please.
Carnival Donuts from Nantes
2 cups (250 g) flour plus more as needed
1 tsp (5 g) baking powder
Small pinch salt
4 Tbs (50 g) granulated sugar
3 ½ Tbs (50 g) salted butter, cubed, softened to room temperature *
2 large eggs, lightly beaten to blend
2 - 5 Tbs (30 to 50 ml) rum, as needed or to taste **
Oil for frying
Powdered (confectioner's or icing) sugar or cinnamon-sugar for dusting
* unsalted butter can be used, simply add an extra pinch of salt
** if you prefer not to use rum, replace with 1 Tbs orange flower water which is also traditional to our city, using water or milk as needed to make the dough
Put the flour in a large mixing bowl and make a well in the center. Place the baking powder, salt, granulated sugar, softened butter, beaten eggs and most of the rum into the well. Using a wooden spoon, stir the wet ingredients into the dry, pulling the flour little by little into the batter as a thick paste is formed, gradually working the flour into the batter and creating a smooth dough. If the dough is too dry simply add a bit more rum as needed until all of the flour is moistened and a dough is starting to pull together.
Scrape the scraggly dough out onto a floured work surface and knead vigorously for a few minutes until all of the butter is worked in and the dough is smooth and elastic (press your hand into the dough and then release; the dough should spring back). Wrap the dough in plastic wrap and refrigerate for 2 or 3 hours.
Roll the rested dough out on a lightly floured work surface to a thickness of about 1/4 inch (5 mm). Using a sharp knife or pizza or pastry cutter, slice the dough into 2 -inch wide strips then crosswise to make 2-inch squares or lozenges. These can be made larger if you like.
Heat the oil to 350°F (180°C) and slide the squares of dough gently into the hot oil. They will fry very quickly so watch carefully! Using a metal slotted spoon, turn the beignets once or twice while frying and once they are puffed up and evenly golden brown on both sides, scoop them out of the oil and drain on paper toweling. Transfer the Bottereaux to a clean plate and sprinkle generously with powdered sugar and eat while fresh and hot. They can also be tossed quickly in granulated sugar or cinnamon-sugar.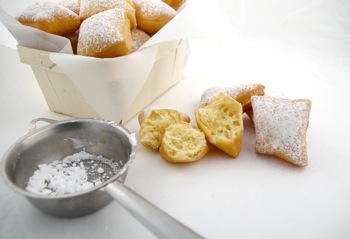 Jamie Schler lives, eats and writes in France. To read more of her work visit Life's a Feast.

SUBSCRIBE TO & FOLLOW THE MORNING EMAIL
The Morning Email helps you start your workday with everything you need to know: breaking news, entertainment and a dash of fun. Learn more