There are days we find ourselves curled up on the sofa under a mountain of blankets cradling a bowl or a plate of something warm and homey, something that comforts, an escape from the big bad world. How often do we step outside, close the door on our safe, familiar haven, step out onto the sidewalk, into the street and feel less and less confident that things will go as planned, not so sure that the world we walk into today is the same one we closed our eyes on last night? We turn off the news, fold up the newspaper and look for something safe, something familiar to grasp onto, yet there are days we only feel the circling sharks of a troubled world closing in, these shaky, uncertain times nipping at our heels and all we want to do is go back inside, run to our own snug corner and have someone bring us something comforting to eat.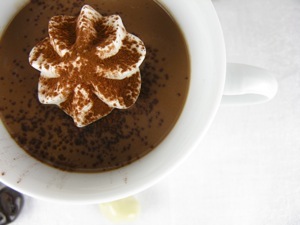 Comfort Food is a growing trend these days: everyone is cooking it, everyone is eating it, everyone, it seems, is talking about it. More and more, we yearn to be comforted, crave the safety and coziness of childhood when we could crawl onto the sofa and snuggle up against dad, feel his strong, protective arms around us. We long for the days when we could wander into the kitchen sure to find something bubbling on the stove, sending out fragrant clouds of steam, plates of cookies on the table tempting small hands, layers of cake inviting us to pull up a chair and forget all about the woes of the world, the teasing boys, the bad grades, the teacher's iron eye, the coming of adolescence.
We have finally grown up and the troubles, the worries that haunt us have grown as well: politics and scandals, the high cost of everything, controversy and uncertainty everywhere we turn. We may no longer have mom and dad to turn to for a hug and reassuring words but we do have the food, food made with all the love of a trouble-free world, the smooth serenity of the happiest times of our childhood, food savored and enjoyed with all the ease of a pair of old slippers and a warm dog, our favorite flavors with a dash of nostalgia thrown into the pot and simmered over a flame like a warm embrace, a kiss on the forehead, a taste of home. Is it any wonder that Comfort Food is all the rage?
Heaven knows, as do my family and friends, that I often turn to food for a multitude of reasons and rarely out of simple hunger. I eat to celebrate something large or small, to reward myself for a job well done, to ease tension and stress and, yes, in the search for security-blanket contentment and peace of mind. Don't we all? Comfort food plays a crucial role in all of our lives and it is something different to each of us. It could be savory or sweet, pop's special cornbread or mom's beef stew, grandma's apple strudel or a bowl of steaming, healing chicken soup. Or it could be something creamy, full of chocolaty goodness, brownies warm from the oven, s'mores straight off the Girl Scout campfire or that ice cold bottle of Yoo Hoo clunking down then slipping out of the soda machine during Summer Rec, cooling down a scorching summer afternoon. Whatever it is, it usually reminds us of simpler days, bringing us back to our well-worn childhood, days on the beach or evenings at the drive-in, summer vacations at grandma's house or the cabin in the woods.
The food that comforts me brings back visions of dad in the kitchen whizzing cake batter in his standing mixer, pouring still-liquid pudding over marble sheet cakes with the concentration of the engineer he was, mesmerizing me as he pushes mounds of dough off onto cookie sheets or ladles glistening jewel-like fruit compote into bowls. It's the aroma of bubbling pots of oatmeal on the stove on those cold, cold Florida December mornings or the scent of cinnamon as it is dusted over melting butter on warm slices of toast. And pudding! Dad's pudding was part and parcel of my Florida girlhood. Chocolate, vanilla, pistachio, creamy and rich, it may have come from a box but he made it with all the heartfelt love of a dad. Filling for his over-sized homemade cream puffs or simply by the bowlful and always topped with whipped cream, dad's pudding was something that I could rely on in times of sadness or joy, each luscious mouthful washing away one more evil thought, one more worry.
As simple and quick as boxed, these little Chocolate Pots de Crème - rich, creamy, full-bodied and delectable - are the perfect adult version of my childhood pleasure. Scoop up the tiniest spoonful and taste the incredible, full chocolate flavor, a touch of cardamom suffusing the pudding with an exotic warmth not known in my youth. This is truly something I turn to in times of trouble when I need to forget my worries, snuggle up in cozy thoughts, a luxurious treat when I simply want to nestle down in the comforting warmth of my memories.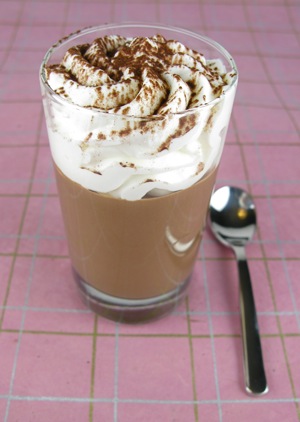 Chocolate Pots de Crème

Cooked rather than baked, this delicate, full-flavored custard is versatile, simple and at once both homey and elegant.

2 cups (500 ml) milk or half milk and half cream *
7 oz (200 g) semisweet dessert chocolate (54%) **
6 egg yolks, beaten just until blended
1/4 tsp ground cardamom (can be replaced by ground cinnamon)
½ tsp vanilla or ½ a vanilla bean, split

* I use half low-fat milk and half heavy cream.
** You can use anywhere from 6 ½ to 8 oz (180 to 225 g) chocolate.

Prepare 6 small dessert glasses, verrines, tea or demitasse cups. Place the yolks in a large glass heatproof mixing bowl and beat lightly to blend.

Grate or finely chop the chocolate and place it in a small saucepan with the milk/cream and the vanilla bean if using. Cooking over very low heat, scald the mixture (bring it just up to the boil), stirring to make sure the chocolate is completely melted and combined and does not burn.

Gradually whisk the scalded milk/chocolate mixture into the egg yolks, pouring the hot liquid in a slow stream and whisking constantly, until well blended. Stir in the ground cardamom and the vanilla extract if using.

Lift out the vanilla bean, scrape the seeds out of the pod and stir the seeds back into the custard. Pour the custard into the dessert glasses or cups, straining if necessary. Cover with plastic wrap and chill until firm.

Serve with plenty of very lightly sweetened whipped cream.

Jamie Schler lives, eats and writes in France. To read more of her work visit Life's a Feast.
SUBSCRIBE TO & FOLLOW THE MORNING EMAIL
Start your workday the right way with the news that matters most. Learn more