This week is La Semaine du Goût, The Week of Taste, in France. La Semaine du Goût is celebrating its twenty-first year of educating children and adults alike about food and taste through special school programs and menus, public workshops and cooking demonstrations by well-known chefs, not to mention the number of restaurants offering special menus this week to participate in this important cultural event. Food professionals of every branch are taking their time to transmit their passion and their savoir-faire in an effort to bring new taste sensations and food awareness to the French, encourage the discovery of la diversité des goûts et saveurs, diversity in taste and flavors.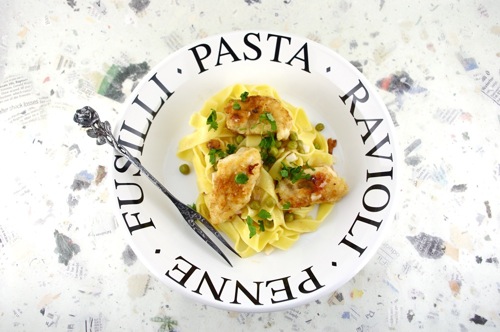 Now one would think that the French, of all people, wouldn't need educating in taste! After all, they are the masters of La Fine Cuisine, good taste in life, good taste on the table. But the French are also raising their children in the fast-paced, hectic world of the 21st Century and, like the rest of us, rely much too often on fast food and convenience food, the canned or the frozen. La Semaine du Goût is devoted to teaching kids, parents as well as young adults and college students just starting out on their own to consume wisely, eat well without spending a fortune and rediscover the marvelous world of taste.
Although my husband and I grew up in different cultures, in different culinary environments, for the better or, sometimes, for the worse, we were both always fascinated by food and flavor. And we have tried to transmit this fascination, this passion for food by raising our sons in a world of taste and a variety of cuisines, offering them all the flavors within our reach: American, French, Russian, Italian, Moroccan as well as Indian, Vietnamese, Thai and Middle Eastern among others. We travel the world in our kitchen, at the markets we visit, in the countries we have taken the kids to. It is up to us, parents, to open their eyes by titillating their tastebuds, instilling the curiosity to experiment and taste, offering them a diversity of flavors, scents that make the tastebuds tingle, a palette of colors and textures. We should teach them healthy and whole, local and fresh but teach them culture and history as well. Teach them to appreciate what they have before them, each mouthful, every meal and instill in them the desire to discover and enjoy.
This simple, elegant pasta dish will indeed make the tastebuds dance. Tender, moist, lemon-infused chicken bites are sautéed until crispy then tossed with a vibrant, tangy lemon sauce studded with sweet young peas. Served over pasta, it is satisfying yet light, inexpensive yet elegant, soulful yet bright and fresh. Nothing better.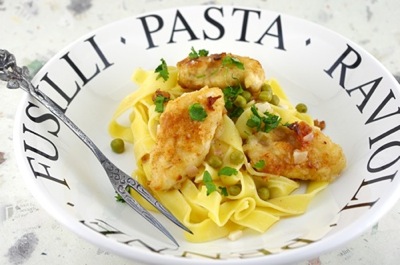 LEMON CHICKEN PASTA with peas
For 2 - 3 people as a main course
12 - 14 oz (350 - 400 g) raw chicken tenders (aiguillette) or skinless breast
3 Tbs freshly squeezed lemon juice
1 Tbs olive oil
1 medium to large-sized garlic clove, peeled and minced or crushed
Salt and freshly ground black pepper
9 - 10 ½ oz (250 - 300 g) fresh linguine, pappardelle or your favorite pasta
A few tablespoons flour seasoned with salt and pepper for dusting the chicken
Olive oil for browning
3 medium shallots, chopped
2 cloves garlic, chopped
1 cup (250 ml) chicken broth
Juice of 1 lemon, about 3 - 4 Tbs
Salt and freshly ground black pepper
1 cup fresh or frozen peas, optional
A few tablespoons chopped fresh coriander leaves or flat-leaf parsley
Begin this dish early in the day if preparing for dinner or the night before if preparing for lunch. Clean, rinse and pat dry the chicken and cut into very large chunks (I sliced the aiguillettes into two. Place all the chicken in a bowl just big enough to hold them all. Pour the 3 tablespoons lemon juice, the 1 tablespoon olive oil and the minced garlic over the chicken. Salt and pepper , stir so all the chicken is coated in the liquid, then cover the bowl with plastic wrap and place in the refrigerator to marinate all day, overnight or at least for several hours. The chicken marinated like this will not only be infused with lemon flavor but once cooked it will be tender and moist.
Once the chicken has marinated, take the bowl out of the fridge and remove the chicken pieces from the marinade. Start a pot with water for the pasta. Salt the water once it comes to a boil.
Heat up about 2 tablespoons olive oil in a large skillet. Toss the chicken pieces in the seasoned flour to coat then shake off the excess flour. Once the oil is hot, add the chicken (you may need to do this in batches as you do no want to crowd them) and allow to cook until the pan side is golden brown and crispy. Turn the pieces over to brown on the other side. Add more olive oil to the pan as needed. As the chicken pieces turn golden brown all over, remove them to a plate.
Cook your pasta in the salted boiling water as you prepare the chicken and sauce. Keep watch over it and drain it when it is done. Place it in a large serving bowl.
Once all of the chicken is browned, quickly and very carefully wipe out the skillet with paper towels then add a couple more tablespoons of olive oil to the hot skillet. Add the chopped shallots and garlic and, tossing and stirring, cook them until they are wilted, tender and caramelizing around the edges, about 2 or 3 minutes. Carefully pour the chicken stock and juice of one lemon over the cooked shallots and garlic. Salt and pepper. Add the peas and lower the heat to allow the broth to simmer for a few minutes until the peas are cooked and tender and the broth and juice are reduced to about half. Carefully add the chicken pieces to the broth just to heat through.
Pour the sauce with the peas and chicken over the cooked pasta and toss gently so the pasta is sauced and the chicken and peas are evenly distributed. Sprinkle the chopped fresh coriander or parsley over the top to toss as you serve.
Jamie Schler lives, eats and writes in France. To read more of her work visit Life's a Feast.
SUBSCRIBE TO & FOLLOW THE MORNING EMAIL
The Morning Email helps you start your workday with everything you need to know: breaking news, entertainment and a dash of fun. Learn more