If you're famous and gay (or just like famous gays), the annual GLAAD Media Awards on Saturday night honored the best in film, television and journalism at the Hyatt Regency Century Plaza in Los Angeles, with special honors going to Drew Barrymore and Wanda Sykes.
The awards ceremony, now in its 21st year, paid special attention to transgendered people and LGBT people of color -- right down to the show's hosts. "Part of being a host this year was being insistent on that," said co-host Wilson Cruz.
Cruz and transgendered co-host Candis Cayne kicked off the night with a song and dance number that also involved hotel staff.
Cruz, who came out at 19 and spent his entire career out of the closet, said, "It's made my work richer; it's made me feel what I do matters and I take very seriously the roles I take and the message I put out there. I know people are looking at me and wondering if I'm going to stick around, and I've been here for a long time now, so I'm not going anywhere."
For actors who stay closeted for their careers, "I know they're doing it for personal reasons," Cruz said. "I hope that they can join us, but I only want them to do it if they can speak authentically about their experience and further the cause, otherwise, no thank you."
Cayne, who is best known for playing a trans woman on Dirty Sexy Money, said her career has been an uphill fight. "Right now it's, 'Can I get cast in a girl role? Do I just have to play tranny roles? Are there any good transsexual roles out there?' she said. "Eventually I'm going to be cast in a sitcom playing the crazy next door neighbor."
GLAAD, which promotes fair, accurate and inclusive representation LGBT issues, prefers to spread out its media awards with ceremonies in L.A., San Francisco and New York. Saturday night's show named four winners in this year's 32 media categories.
Tom Ford's A Single Man won for Outstanding Film - Wide Release, with Richard Buckley, Ford's partner accepting on his behalf as the designer-turned-filmmaker, like many travelers, was stranded in London.
Gay fave
Glee
won for Outstanding Comedy Series, and upon accepting the award, producer Ryan Murphy gave "shout-outs" to out cast members Jane Lynch and, in particular, Chris Colfer. "At the age of 19 when the media came calling, (Colfer) was true to who he is, instead of coming out at 40 when it doesn't matter." (No doubt a rip on singer Ricky Martin's recent gay declaration).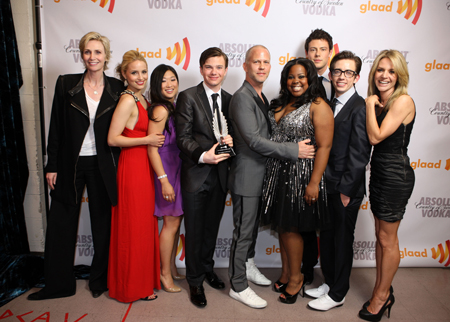 As for what's next for Colfer's gay Glee character Kurt, "Chris' character will never be the victim, ever. And next year, Chris will have a boyfriend on the show, and they're going to be prom kings and popular."
RuPaul's Drag Race won for Outstanding Reality Program. "I've been in show business for 28 years, and a few years ago I couldn't get arrested in this town -- although I did," RuPaul joked upon receiving the award.
Actors Benjamin Bratt (La Mission) and Sofia Vergara (Modern Family) presented the award for Outstanding Spanish-Language TV Journalism Segment to Telemundo for Polémicas Adopciones.
Drew Barrymore accepted the Vanguard Award following a montage of her gayer work, including playing a lesbian coming out to her father in Everybody's Fine, her SAG award-winning role as Little Edie in Grey Gardens, her lip-lock with Ellen Page in Marie Claire and her activism fighting Prop 8.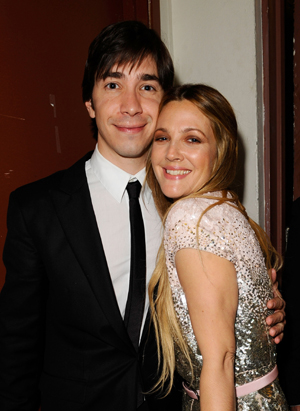 "The most important thing in the world is that we take care of each other," Barrymore said onstage. "I'm so honored to be here this evening because this is a family."
At Wanda Sykes' request, Mississippi teen Constance McMillen, whose high school canceled prom because she asked to attend with her girlfriend, presented the actress with the Stephen F. Kolzak Award.
"When I heard about her story, it was a no-brainer," said Sykes of McMillen. "I would love to have her come out here: One, to get her out of Mississippi and two, because she's doing what GLAAD optimizes -- she's fighting homophobia in Mississippi and at such a young age."
Sykes attended the event with Alex at her side. As for life outside the closet, "I came out last November and to be receiving such a big award in a short amount of time is humbling," said Sykes. "I don't regret coming out, and I know there's not an African-American face out there representing the community. Did I really want the job? No," laughed Sykes. "But anything that will start a dialogue and make people see that they're not invisible is good, and I hope I don't screw it up."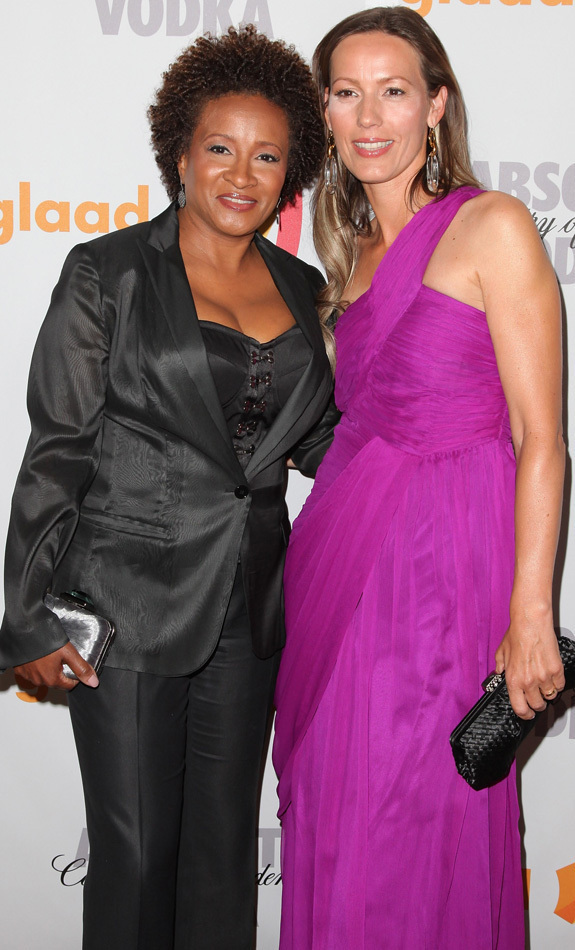 Adam Lambert, GLAAD nominee for Outstanding Music Artist, promised "lots of glitter and glam" when he closed the show with performances of "Music Again" and "Fever." As for being out in the industry, Lambert said, "I was the first artist signed to a major label who was already out, at least that's what they tell me, so, yeah, it's changing."
Other guests and presenters included Bryan Batt (Mad Men), Dustin Lance Black (Milk), Jason Lewis (Sex and the City), Kirsten Vangsness (Criminal Minds), Chaz Bono, figure skater Johnny Weir, Jaila Simms (Making His Band), Holly Robinson-Peete (Celebrity Apprentice), Brad Goreski (The Rachel Zoe Project), and Rose Garcia, Mikey Koffman, Tracy Ryerson (The Real L Word).
SUBSCRIBE TO & FOLLOW THE MORNING EMAIL
Start your workday the right way with the news that matters most. Learn more