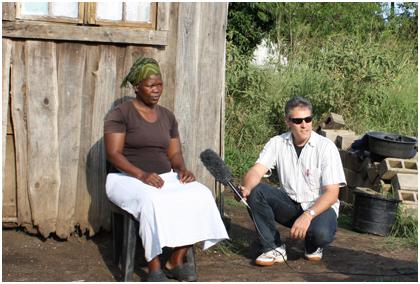 When it comes to inspiration, I've gone gaga for Gugu.
I recently returned from a whirlwind trip to South Africa, where I spoke about microlending, financial independence, and women's empowerment to more than 1,000 women during meetings held in Johannesburg, Durban and Cape Town.
The incongruity of attending a conference discussing professional skincare against the backdrop of a vast and complex continent where millions of people do not have clean water or may die from a mosquito bite, and in the country with the World's highest HIV/AIDS infection rate, was not lost on me. In fact, I lived in South Africa as a young woman after leaving my native UK and before coming to the United States, so I know the stark contrasts of this land intimately. In many ways, South Africa is a microcosm of world issues. Here, as in much of the world, economic prosperity is highly concentrated in the hands of the few and injustice, poverty, and violence persist.
And yet, it is the success of my own skincare company, Dermalogica, and the lessons I learned along the way, that led me to help launch joinFITE (Financial Independence Through Entrepreneurship) to address these very issues. Were it not for the success of my company, I may never have known Gugu's name or have been here to tell you her story. I think it is also fair to say that without it-although she may never use our products on her own skin--Gugu would not now be figuring out the best way to expand her business and invest her profits.
Gugu Lungile is a proud South-African entrepreneur and single mother of four children. As a recipient of a joinFITE microloan, Gugu recently sat down for an interview with Cherie Keating, our Managing Director for South Africa. Cherie was immediately struck by Gugu's "very serious bearing" while possessing a smile as warm as a sunrise!
As Gugu explained to Cherie, there are no money lenders in her community and the only option for obtaining a loan was through joinFITE and its partners. Gugu was able to use her loans to expand her party-rental company and start a second business--a commercial chicken farm. Her party-rental business captures the essence of an entrepreneurial spirit that is stunningly simple, yet insightful: no other party rentals company offers a tent as part of the package, so Gugu used her loan to purchase a tent.
Her tent is absolutely natural in a hot, sunny place like South Africa. She also rents chairs and decorations, and her services are in high demand for weddings, funerals, and all manner of parties. The seemingly simple decision to buy a tent as part of her package offering is the essence of entrepreneurism: identifying and recognizing the gap in the marketplace and the business opportunity which it represents.
The chicken-raising enterprise has had its setbacks, like when someone broke into her coop and stole her chickens, but Gugu's steely determination kept the business afloat even through difficult times.
Gugu and her family live in a one-room home. She says she likes her current set-up, where the chicken coop is at one end of the property, the tent and party-rental storage area is at the other, and in between is a large, open, sunny area where she can dry laundry. Speaking as someone who grew up in a home consisting of a single mother and four children, I am certain that Gugu always has plenty of laundry to dry.
Gugu didn't really have much to say about "dreams" per se, but her goals are to keep her kids in school and to invest more in her tent-rental business. Sometimes the simplest goals are the most meaningful.
I am sorry that I didn't get to meet Gugu when I visited South Africa, but I hope she knows that just as joinFITE has inspired her, she has inspired me.
FOLLOW HUFFPOST