As part of a year-long photojournalism trip around the country, I am including stories about people who are making a difference in their communities. For more information, please visit Finding My America.
Sabrina is a petite thirteen year old with bright eyes and an excited smile. She and her classmates are anxious to attend the Halloween fair that has been scheduled later in the day, and are busy finishing up projects in the computer lab so they can go. A youthful-looking teacher, wearing jeans and with visible arm tattoos, walks around the room, offering encouragement and help. "Mrs. Gunderson's our favorite!" the kids volunteer in chorus when I ask them how they feel about their teachers at Pima Partnership Middle School.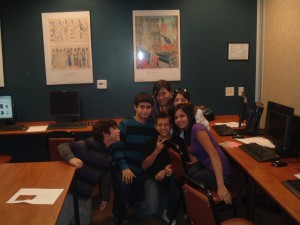 "I used to get D's and F's," Sabrina confides to me, "but that was before." Before means in her old school, where she was just another kid lost in the system, frustrated by the pace of lessons she didn't fully grasp. At PPMS, with individualized help and smaller classes, Sabrina's grades have improved, and the academic apathy that she once felt has dissipated. She's confident that now she'll get to go to college, and maybe even become a judge one day. A boy across the room laughs at this. "You probably won't even finish high school!" Sabrina squares her shoulders and fires back that she'll probably finish before he does, and with better grades.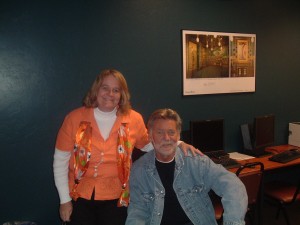 There's a team behind Sabrina's soaring spirits, starting with Harry Kressler, Executive Director of Pima Prevention Partnership. The Partnership is a wide-ranging social services agency in Tucson with many specialized branches, including a mentorship program for children of imprisoned parents, a teen court, and adolescent treatment centers, but its two charter schools are what intrigued me most. Kressler, one of my hosts while I was in Arizona, spoke about the schools with such forceful, infectious passion that I wanted to see them for myself.
Kressler's official title suggests bureaucracy, but there is nothing aloof or pretentious about the man. His attitude regarding the children his agencies serve is more suggestive of "let's roll our sleeves up and get to work" than "let's form a committee". He is a true believer -- in the employees he handpicks, and the children the Partnership serves. When I ask him if there's any particular student he's most proud of, he is quick to answer "all of them". As I walk through the high school with Kressler, I understand that he means what he says and that the kids feel it: they are equally excited to see each other. Hands are shaken, fists are bumped, and backs are patted with equal, genuine warmth. Some of the children are gang members, or have brothers and sisters in gangs. Many come from challenging circumstances, including poverty and neglect. All of them were failing in traditional school environments, for a combination of reasons ranging from behavior to learning disabilities to social struggles.
So what is it that makes students like Sabrina excited to be at Partnership's charter schools? As my day at the school progresses, I realize that there is no one answer -- and no magic bullet. Instead, there are many seemingly simple things that make the complex program work -- and that may appear deceptively effortless to outsiders.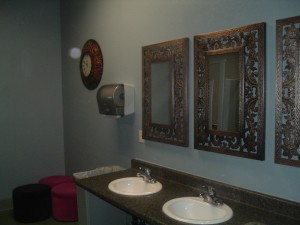 The environment at the Partnership's schools, particularly the high school's, is not typical. The schools are modern and clean, but beyond that there's a surprising elegance to the surroundings that one doesn't expect to find in schools serving the underprivileged. Kressler firmly believes that environments should be uplifting and inspiring for both students and employees. There are no ancient desks, leaky water fountains, or institutional colors in the Partnership's schools. There's a bright neon sign over the Cyber Cafe, where students go to snack, study, and type in comfortable chairs. The girls bathroom is bright and cheerful and Kressler tells me that the girls, even more than the staff, are adamant about keeping it that way. The classrooms are clean and well-lit, and student artwork hangs neatly from the walls.
"Environment affects mood," Kressler tells me as he picks a dead leaf from a live plant. "If you want people to feel their best, then you surround them with the best possible environment." The theory that beauty is inspirational and cleanliness invites order isn't lost on the students. One tells me that she comes to school early every day because she finds it impossible to study at home. Another says he's begun writing poetry in the cafe between classes, although he's not ready to share it yet.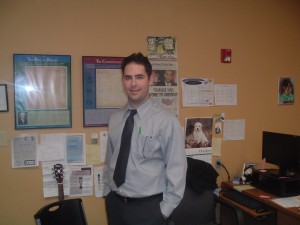 Teachers are part of the environment, and Kressler says he seeks more than qualifications from those who wish to teach at the Partnership's charter schools. He expects teachers who are energetic, motivating, and who sincerely care about the kids in their classes. To show me an example, he lets me sit in Mr. Taravati's high school English class. A guitar leans against the wall, and I later learn that Taravati occasionally plays for his students. However, on the day I visit, Taravati is passionately discussing lines from Robert Frost's "Mending Wall" and comparing them to real-life situations and social attitudes. "Do good fences make good neighbors? Are they necessary? What harm comes from them, what good?" The students have been given an opening to express their opinions, and several rise to the occasion. Others sit back in various stages of interest, but none seem lost or unfocused. In the 30 fast-moving minutes I sat in his class, Taravati dissected Frost's work, invited discussion on social parity, tried on a couple of accents, and briefly talked about his own experience growing up as the son of an Iranian father and "hippie" mother in the Midwest. His passion for the subject he was teaching was all at once endearingly nerdy and enlightening. Even if Robert Frost hardly stands a chance of becoming any of these kids favorite poet, they now know that some of the concerns they have today were shared by others over 85 years ago.
The tired expression that "some things change while others remain the same" is sadly true in the U.S. educational system. There are still tangible fences between the haves and have-nots in a society where the majority of a school's budget is determined by neighborhood taxes. Schools in richer neighborhoods are better funded than those in poorer areas. Segregation is no longer based on race or color, but on affluence, and the effect is roughly the same.
So are charter schools like the Partnership's, which rely on grants and private donations, the best answer? Yes and no. On the downside, grants and donors can rapidly change and even end, which would put the children being served at risk. However, there appears to be no general consensus that the public system of basing school funding on neighborhood taxes should be changed, and until there is, schools from poorer neighborhoods, serving at-risk children, will continue to be underfunded.
There's also the matter of specialized services, which charter schools like the Prevention's excel in providing. Massive size and increased bureaucratic strictures make it difficult for the public system to create nurturing environments and provide individualized services like those offered at Pima Partnership's middle and high schools.
Lastly, as the boy who writes poetry in-between classes reminds me, there's more to school than academics. He was bullied in his last school by kids he couldn't escape. "Here," he says, "everybody's nice, or at least they leave you alone. There's just none of that allowed or they don't get to be here." And for the kids at Pima Partnership, getting to "be here" is a privilege rather than a right, which is a feeling that public schools would have difficulty replicating.
The teens at Pima Partnership are there because they want to be, and because with a lot of encouragement and help, they've made a commitment to their own educations. Most are blissfully unaware of the amount of money it takes to run a charter school, or the dedication it takes from the hidden team that argues their cause to donors and grant-givers. What they do know is that graduating high school isn't the end of their road, but the beginning of one. The Partnership's graduates are all eligible for a college scholarship.
"I'm going to be a good judge," Sabrina tells me. Her belief makes a true believer out of me.