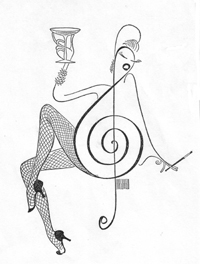 This Saturday's "Wall to Wall Broadway" marathon at Symphony Space in Manhattan will be a unique opportunity to hear many of the top tunes from the past 105 years of Broadway musical theater.

Although the marathon -- a program that will be free to the public and run from 11 a.m. to 11 p.m. -- is subtitled "Broadway: A Century of Musicals," the oldest song performed will be George M. Cohan's "Give My Regards to Broadway," from the 1904 production of Little Johnny Jones. The newest pieces will be from musicals now being composed for the ASCAP and BMI Lehman Engel Musical Theatre Workshops. In total, over 100 performers -- including Michael Cerveris, Melissa Errico, Raul Esparza, Debbie Gravitte, Brian Stokes Mitchell, Donna Murphy, Kelli O'Hara, Martha Plimpton, Julie Wilson and B. D. Wong -- will perform over 100 songs.

According to Paul Gemignani, music director for more than 35 Broadway and West End shows and conductor of an orchestra performing "Broadway Classics" at the marathon from 8 p.m. to 11 p.m., Saturday's program will help preserve the Broadway musical, "an art form like jazz that is unique to this country. It needs to be played, be put out there, be performed often, so people don't forget that legacy. Unlike classical music, what happens is a musical tends to run, is a great hit, but once it closes, that's it, no one remembers it unless they happen to be an aficionado and have a big record collection. Plus the fact there are so many young people that have never heard any of this stuff because they haven't had the opportunity yet."

In addition to the "Broadway Classics" segment, the marathon will feature a discussion by former TV newsman and author Robert MacNeil and New York Times columnist and former theater critic Frank Rich about musicals that changed their lives; a discussion by director-producer Harold Prince on the making of musicals; a salute to composer Frank Loesser, the centennial of whose birth will be celebrated next year; and a conversation between Sheldon Harnick, lyricist for Fiddler on the Roof and other musicals, and Lin-Manuel Miranda, creator of In the Heights. In addition, cast members from current Broadway musicals, including West Side Story, Mary Poppins, The Lion King and South Pacific, will perform in the late morning and early afternoon.

Isaiah Sheffer, Symphony Space co-founder and artistic director, said that due to budget constraints, the marathon, Symphony Space's 38th, will not be broadcast on satellite radio, as in the past. However, it will be taped; Sheffer said he was hopeful "some philanthropist will come across with money to broadcast it at a later date." He also said Symphony Space might possibly issue CDs of parts of the program.

Entry to the event will be first come, first served, though Symphony Space members will receive priority seating.