Haiti - Humanitarian Crisis or Crisis of Humanitarianism?
The way in which international and national authorities in Haiti are dealing with Hurricane Tomas can teach us a great deal about how the economically and politically powerful are dealing with the powerless, especially the 1.3 million living in refugee "tent cities."
Incapacity, and even cynicism are exposed. But so, too, is what might be called a "crisis of humanitarianism."
For example, President Rene Préval and other authorities urged homeless families - who have been living under tarps and tents for almost ten months now - to leave their tents and go stay with friends of family on higher ground.
Wouldn't families have done that long ago, if that were an option? One camp resident's monologue offers a little glimpse into that reality.
No human being would choose to live in the squalid camps with their fetid toilets, lack of electricity, schools, and other services.
On Nov. 5, as the rain fell, a young resident of the camp which covers the Place St. Pierre in Petion-ville, a nice little park reminiscent of Washington Square Park in New York City, walked to a radio station that was providing non-stop Tomas coverage and waited in line to speak into the microphone. When it was his turn, his quiet, desolate voice said more than his words:
When the rain falls on our blue plastic roofs, its as if we were sleeping in the streets. We get wet. They don't do anything for us. On top of that, we're hungry. We don't have any food to eat. You know that most of our parents don't work...
Another example - Earlier this week, the International Organization for Migration, which happens to be headed by a former U.S. Ambassador to Haiti - William Lacy Swing - tried to move residents of the supposed "model resettlement camp" out of their temporary homes. As relief worker Georgienne Nienaber writes in this recent Huffington Post post, everyone has known for months that the location of the Corail-Cesselesse camp is not safe for any housing - temporary or permanent.
In a recent exposé by Haiti Grassroots Watch on the lack of any coherent or workable plan for Haiti's 1.3 million homeless, Géhard Tauscher, an employee of the International Committee of the Red Cross and Coordinator of the "Shelter Cluster" - an informal grouping of international and bilateral agencies and humanitarian and aid organizations - confirmed that the land is currently unsafe. As of Oct. 12, little progress had been made, or was even in sight, for the hundreds of thousands living under pieces of plastic, many of which may have been shredded by Tomas as of this writing.
Nienaber also notes that the United Nations Office on Humanitarian Affairs (OCHA) has a list of places where the over 1 million people who do not live at Corail-Celesse can take shelter, assuming the penniless camp dwellers can get a computer, electricity, get online, and then link to an Excel document that is... Nienaber writes that "[M]aybe, just maybe, the shelters can handle 50,000" people out of the hundreds of thousands in potential danger.
That leaves 1,250,000 potentially still in need of housing.
More examples -
OCHA is also pleading for donations. What is going on?
Haven't OCHA, and the Haitian government, and U.S., and all humanitarian organizations and businesses, been in Haiti for almost ten months now? Aren't they funded to the tune of billions of dollars?
Didn't former U.S. President announce plans to spend $1 million on hurricane preparedness measures five months ago?
Haven't billions been donated by citizens, governments and multilateral agencies in the name of the Haitian people?
A recent column from
Center for Economic Policy Research
which quotes heavily fro
m a Nov. 2 op-ed from journalist Ansel Herz
in the
New York Daily News
offers more examples of the cynical crisis of humanitarianism in the midst of a humanitarian crisis that has been ongoing for decades.
Also telling is the reaction of the U.S. State Department. Twenty people from its Disaster Assistance Response Team. According to a government website, State Department Assistant Secretary for Public Affairs Philip J. Crowley said the team will "prepare the ground for the storm" by helping the Haitian government "mitigate potential damage through canal clearing and drainage channel preparation, and providing information to the Haitian people."
The twenty U.S. DART employees - with their expensive U.S. salaries, hotel rooms and vehicles - are going to single-handedly "mitigate potential damate" and "provide information" that isn't already being provided? For all the criticism of the Haitian government one might have, Haitian officials, doctors, nurses and others are on the radio full-time today, Friday, November 5, as Tomas hits Haiti.
And that brings up another question - Why aren't the canals cleared already?
The Haitian Minister of Public Works has hundreds of employees, the government's National Equipment Center, run by presidential candidate Jude Céléstin - ruling Préval's hand-picked successor - has trucks and back hoes and loaders. There are scores of foreign contractors, like the Haiti Recovery Group which is, according to its website, "dedicated to helping Haiti rebuild" but which is also dedicated to winning contracts. Ashbritt, a principle in the company, follows disasters and catastrophes around the world. (In Haiti, the Haiti Recovery Group has a "camp" with full-time air conditioning and their own food and entertainment facilities. Certainly that adds to costs.)
The U.S. is also sending the USS Iwo Jima, which the U.S. Southern Command calls "the amphibious ship" in its news release.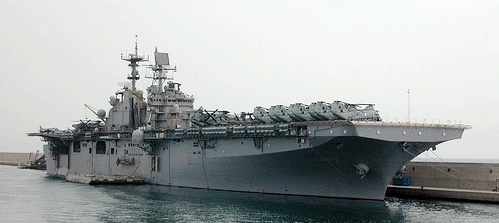 But the ship's own website offers more details on its history as a war vessel: the ship "inserted marines from the 26 MEU (SOC) into Northern Iraq during Operation Iraqi Freedom, patrolled the Persian Gulf, conducted operations in and around Djibouti as part of Operation Enduring Freedom, and executed a peacekeeping missions off the coast of war-torn Liberia, transiting more tha 45,000 nautical miles."
And so here is the biggest question of all - Is this what humanitarianism looks like?
Or is it just one more day, one more disaster for what scholar Costas Douzinas, Professor of Law and Director of the Birkbeck Institute for the Humanities at Birkbeck, University of London, has called the "military humanitarian complex."
It's worth quoting extensively from his article, "The Many Faces of Humanitarianism," available as a PDF here.
The westerner used to carry the white man's burden, the obligation to spread civilisation, reason, religion and law to the barbaric part of the world. If the colonial prototypes were the missionary and the colonial administrator, the post-colonial are the human rights campaigner and the NGO operative. Humanity has replaced civilisation. 'The humanitarian empire is the new face of an old figure' one of its supporters admits. 'It is held together by common elements of rhetoric and selfbelief: the idea, if not the practice, of democracy; the idea, if not the practice, of human rights; the idea, if not the practice, of equality before the law.'76 The postmodern philanthropist, on the other hand, does not need to go to far-flung places to build clinics and missions. Globalisation has ensured that he can do that from his front room, watching TV images of desolation and atrocity and paying with his credit card. As Upendra Baxi puts it, 'human rights movements organise themselves in the image of markets' turning 'human suffering and human rights' into commodities." (page 21)
And again, in guise of a conclusion:
Unlike the missionary, the humanitarian does not need to believe in any particular religion or ideology, except the global ideology that people suffer and we have an obligation to relieve their woes. Pain and suffering has replaced ideology and moral sentiments have replaced politics, as Richard Rorty advised us to do. But this type of humanitarian activism ends as an anti-politics, as the defence of 'innocents' without any understanding of the operations of power and without the slightest interest in the collective action that would change the causes of poverty, disease or war. (page 22)
Next week - check out Haiti Grassroots Watch for a new exposé that tries to further the understanding of "the operations of power" by looking at the "cash-for-work" programs taking place all over Haiti.