UN, NGOs carrying out expensive, disjointed, uncoordinated and unworkable plan for "return and resettlement"
Nine months after the catastrophic earthquake which killed 230,000 to 300,000 people and left 1.3 million homeless, most of Haiti's impoverished refugees continue to live under plastic tarps and tents in horrific and dangerous conditions in 1,354 squalid refugee camps.
In spite of reports and articles denouncing the camps - many of which violate the Sphere standards and basic human rights - and irregardless of the mounting demonstrations against the government and against the UN troop presence, camp residents are largely out of the loop: left to fend for themselves, with no food, no security, and completely in the dark about what kind of planning might be going on, or about when they might be able to leave the camps and move into something more decent.
For the massive "humanitarian" presence and the Haitian government, with the Bill Clinton-led Interim Haiti Recovery Commission, it seems to be "business as usual" with grants awarded at closed-door meetings, but no relief for the refugees in sight.
In the meantime, hundreds of millions of dollars donated to the Haiti remain unspent, and there are at least 3,000 NGOs and hundreds, if not thousands of international workers from places like the Red Cross, Oxfam and other humanitarian organizations. There are almost 12,000 UN soldiers and police with the mandate to "protect civilians under imminent threat of physical violence," and "support ...Haitian human rights institutions and groups in their efforts to promote and protect human rights."
But...
And what is in store for the 1.3 million displaced people?
A new, Haiti-based grassroots "reconstruction watch" effort, a partnership between AlterPresse, Sosyete Animasyon Kominikasyon Sosyal, and two associations - REFRAKA and AMEKA - took on the last question for its first investigation.
A dozen interviews, scores of documents and many telephone calls later, Ayiti Kale Je/Haiti Grassroots Watch discovered there actually does seem to be a plan...
However,
it is not readily accessible to the media or the Haitian public,
it is only very loosely coordinated,
it has not been openly approved by the Haitian government, nor is it overseen by any Haitian agency or ministry, making accountability difficult, if not impossible,
and it is likely impossible to turn into reality.
Farmer and volunteer community radio reporter Jean-Maxot Guerrier [below] was part of the team who looked into the matter.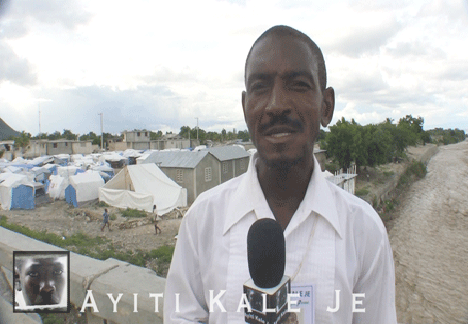 Read the three-part series from Ayiti Kale Je/Haiti Grassroots Watch (in English, Spanish or French and Creole.)
Watch the videos on our site or here on the Huffington Post.