That One Time a Stranger Called My Toddler 'Fat'
Only two years and five pounds separate my daughters, but they couldn't be more different in every other way. Phaedra is long and lean: on the tall side for her age, yet rarely carrying a spare pound anywhere.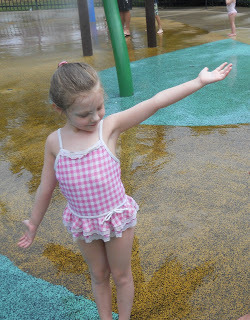 Bella is also tall for her age, but unlike Phaedra's waif-like build, she's sturdy -- a solid girl who never misses a meal and is strong enough to pick up anything blocking her way (including her baby sister and the dog).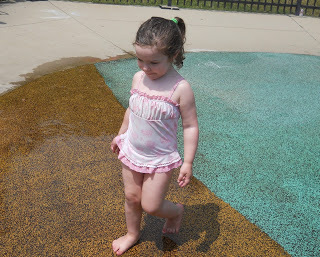 Phaedra's bathing suit hangs on her like a curtain, while Bella fills out every last inch of hers. Phaedra will probably have an extended awkward, lanky phase when she gets older. Bella will most likely careen upwards in terms of height, and have the kind of curves girls dream about having. Ironically, each girl will probably have the type of body the other girl would kill to have, because that's how life works.
*****
Once, my mom took the girls to the park. She was pushing 2-year-old Bella on the swings when a little boy approached, followed by his grandfather. "I want to swing! Grandpa, can I swing?"
"You can swing once that little fat girl leaves."
When my mom told me this story, I was shocked. Partly because she was telling me this story in my living room instead of through the bars of a jail cell after punching that man (I'm sure it was close, though), but mostly because of that one word: fat.
To start, let's be real: Bella is not fat, or even remotely overweight. She's not rail-thin like Phaedra, but how many kids are? Bella is a healthy weight for her body and her age. To think someone could look at a child her age and think she is overweight is unnerving.
Second, seriously, old man? You're going to pin a (then) 2-year-old with that word? You feel OK with yourself calling a toddler "fat" to her face? You, sir, are a terrible human being.
I'm raising future women. The older my girls get, the more I realize that this, in fact, is the world they'll be living in as women. They are quickly approaching the age where they'll live entire days without me, spending the majority of their time in potential contact with assholes who will pass their own stupid judgment on the beautiful women I helped raise. Assholes who will utter a comment about them that may fly out of their thoughts after 30 seconds, or stick in their heads for the rest of their lives. Did Bella notice the word the man in the park used, or even hear what he said? Probably not. But what if she had been 5 instead of 2? What if she had been 12 instead of 5?
I'm raising future teenage girls. Girls who will hopefully have a healthy amount of self-esteem, but realistically will probably judge their own beauty based on the opinions of boys, other girls and what they see on TV and in magazines. Do I think they're beautiful? Yes, and not in a blind "my baby is beautiful" kind of way. They are each gorgeous in their own unique way, and I regularly tell them so in genuine, situation-appropriate ways. But I know that, at a certain point, my words will become meaningless. It will be up to them to decide whether or not they believe in their own beauty.
No matter how my girls end up filling out their bathing suits when they grow up, I can only hope that they choose to love what they see in the mirror, and ignore what they may hear at the park.
Follow Janel Mills on Facebook and Twitter. You can also read her essays in I Just Want to Be Alone and You Have Lipstick on Your Teeth.
Photo credits: Janel Mills
Like Us On Facebook
|
Follow Us On Twitter
|
Contact HuffPost Parents
Also on HuffPost:
7 Things You Didn't Know About Toddlers
Toddlers who constantly demand ""look at me!" are most likely to become better collaborators and learners when they're older, a study published in the journal Child Development found. Author Marie-Pierre Gosselin said that, "Toddlers whose parents have consistently responded positively to their attention-seeking expect interactions to be fulfilling. As a result, they're eager to collaborate with their parents' attempts to socialize them."

Researchers studied the behavior and brain scan images of kids while they played with others, were given rewards and prompted to share with their playmates. The findings revealed that, "even though young children understood how sharing benefited the other child, they were unable to resist the temptation to make the 'selfish' decision to keep much of the reward for themselves." But thankfully, as a child's brain matures, so will the child. "Brain scans revealed a region that matures along with children's greater ability to make less selfish decisions," the study found.

Children who snore or have sleep apnoea are more likely to be hyperactive by the age of 7. Researcher, Dr. Karen Bonuck said a toddler's "sleep problems could be harming the developing brain."

According to Ewen MacDonald of the Technical University of Denmark, adults monitor their voices so that the sound reflects what is intended. But, "2-year-olds do not monitor their auditory feedback like adults do, suggesting they are using a different strategy to control speech production," he said.

Researchers found that depriving toddlers of a daily nap led to "more anxiety, lower levels of joy and interest, and reduced problem-solving abilities." Kids in the focus group who missed naps were not able to "take full advantage of exciting and interesting experiences and to adapt to new frustrations."

Two-year-olds in a focus group "were more likely to copy an action when they saw it repeated by three other toddlers than if they saw an action repeated by just one other toddler," a study published in the journal Current Biology found.

In a recent Slate article, Nicholas Day illustrated a timeline of what scientists have learned about toddlers' memories over the last few decades. Before the 80s, it was believed that babies and young toddlers lived in the present with no memory of the past. Twenty years ago, however, a study found that 3-year-olds could recount memories of Disney World 18 months after they visited. And recently, research noted a "27-month-old child who'd seen a 'magic shrinking machine' remembered the experience some six years later."
Follow Janel Mills on Twitter: www.twitter.com/649point133