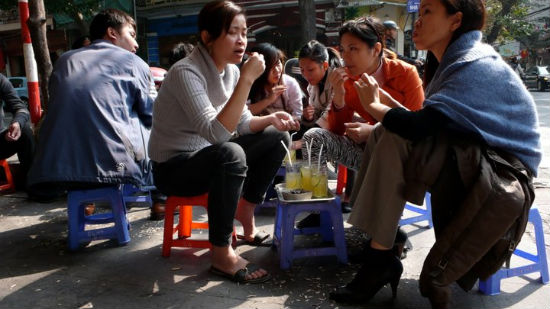 "Corona, please," I hear an Aussie say. Another Aussie a few paces down nods at him.
"Melbourne," the other responds.
They proceed to have a wide-ranging conversation over a plate of nachos. American football plays on the screens above.
Quaint scene from an Australian bar? No. Scene from a sports bar near New York's Times Square? Wrong again.
My irritation started with Khaosan Road. As a woman with a rucksack, I was backpacking through Southeast Asia myself. But, in a sense, I wasn't. I stayed off the beaten path in residential areas. I made a habit out of eating how the locals ate. I squatted down at small stools and ordered food from carts. Pointed to dishes I liked and had them brought to me with nary an idea of what was inside. I immersed myself, tried to learn as much of the native tongue as possible. I conversed with locals to learn about their culture. They were always pleased to be able to practice English and, more importantly, to inquire about how things were in far away USA.
When I needed a certain visa, I was told to go to a travel agent on Khaosan Road. When I arrived, it was a different sort of culture shock. Here I was, traipsing through Thailand, and I'd entered what seemed to be a college town filled with white people and Mexican and Italian restaurants. Had I entered the Twilight Zone? Street fairs akin to those held all summer on the streets of New York. The bars were packed, frozen drinks to be had, and everyone was so content, nay, thrilled to be immersed in this wholly inauthentic place.
I found my travel agent but couldn't be out of the neighborhood fast enough. "What is the appeal?" I wondered. Why travel halfway across the world (or even a quarter, depending on where you're from), just to hang out with people that looked just like you and spoke just like you?
Maybe it's cost? Many of the cheapest rooms can be found nestled together in backpacker hoods, which is great for those on a budget. The money saved, however, is negated by the fact that they drink like crazy and overpay for underwhelming food at tourist restaurants when they could hop on a motorbike and sit down to a $.50 plate of noodles instead. Noodles, I'll add, that probably taste better than the lasagna they just had at the diner downstairs from their hostel. The sarongs and the t-shirts are also twice the cost there of what they'd be anywhere else. Though, especially to those on the Euro, most things in Southeast Asia are astoundingly inexpensive. Those fisherman pants they think they just got a deal on at $5? Little do they know that the same pants could be found at half the price in a part of town less touristy.
There is, to be certain, a comfort in meeting folks with whom you can have a detailed discussion on the finer points of international travel, or the merits of Bob Dylan. It is challenging to carry on conversations through a language barrier, and there are those who aren't up for that challenge. There are those who just want to party and get laid, and both of those things are easier when you can chat up and try to romance someone who speaks the same language as you, though I argue the language of love is universal. But not all backpackers are walking around trying to replicate (or extend) their college days.
Backpackers, by nature, have in common a love of travel and adventure. For those who traverse in backpackers hoards, it stands to reason that the priority is more about seeing the sights and less about taking in the culture, which brings us to the hairy subject of expats.
At one of the only restaurants I ate at my whole stay in Bangkok, recommended by a friend, I walked in and saw the small place full of white people. A blond, blue-eyed guy behind the bar who, it turns out, is the owner. From Pennsylvania, he'd been an Asia reporter and settled into Bangkok and opened a business. He recommended a spot to have a nightcap. Thinking of him as a local, I assumed it would be a spot for locals and it was, to an extent. Owned by a Brit, it was a charming speakeasy, also filled with white people. It looked exactly as if you'd plucked the bar from Williamsburg, Brooklyn and helicoptered it to Southeast Asia, with the hipsters still inside. Conversations were all in English with subjects varied: wine, Obama, traffic.
In a sense, I feel the expats are even worse. They say, "Hey, Thai people, I love your country so much I'm going to move here and take advantage of your cheap goods and services, but I'm going to open establishments that you won't patronize because I'll charge prices that you can't afford. I may learn your language but I won't mingle with you. My place will be filled with people like me, not like you. And then I'll hang out at other places like mine, run by people that look like me."
Restaurants, in Southeast Asia, are their own transplants. Locals may open restaurants to try to make money off of tourists but they don't eat in restaurants. Locals eat on the street, by the light of a cart, with steam seeping off their grills and meats sizzling on sticks.
A good friend had moved to Bangkok. When I went to visit he regaled us with stories of getting obliterated with the guys selling sausages at the cart at the end of his block. "They didn't speak much English, but we all had beer and somehow were able to communicate just fine." They wrestled and played cards and proved that locals and transplants could play well together if they tried. I wish more expats thought and worked like this, in a more open and unsegregated way. I'm sure many do. I just have yet to see much of it, but I have hope.
SUBSCRIBE TO & FOLLOW LIFESTYLE
HuffPost Lifestyle is a daily newsletter that will make you happier and healthier — one email at a time. Learn more