Books Uncovered is my monthly (give or take) column on recently released or upcoming books that, for one reason or another, I found interesting, fascinating, funny and/or scary. There are some wonderfully talented authors in this group, they all have something interesting and different to say, and hopefully there's something for everyone. If one of these books catches your fancy (or your cat's fancy) please give it a shot. Now, on to the show...
The Bible of Unspeakable Truths, Greg Gutfeld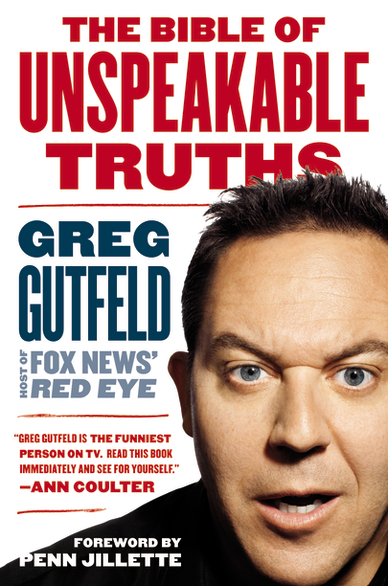 "Red Eye" is by far the funniest show airing at 3:00am (not counting ShamWow infomercials). Ok, it deserves more credit: "Red Eye" is easily one of the funniest shows on television. There, I said it. The Fox News show, hosted by former Men's Health and Stuff editor-in-chief Greg Gutfeld, presents a engagingly skewed view of politics and culture, interspersed with some of the strangest video clips this side of of the Numa Numa kid's WebCam. In The Bible of Unspeakable Truths, Gutfeld blends George Carlin-esque musings on everything he considers wrong with the world ("Why Exercise Kills Your Sex Life") with observations on things that need to be fixed or implemented NOW ("Prostitution Should be Legal--and Free--for Troops"). You'll also be treated to a perhaps uncomfortably intimate look at Gutfeld's, shall we say, idiosyncrasies, such as his love for unicorn porn (aka uniporn). Pick up the book and be subjected to some unspeakably funny truths.
Says Gutfeld: "All the stuff I do - whether in articles, or on tv or in books - is based on one premise: communicating truth at its most basic level. I've been writing and collecting "unspeakable truths" for a while, and using them on my blog, then in my show and elsewhere, and I decided compile them in a book so people wouldn't have to spend years looking for them. They're meant to be silly, fun, mildly obnoxious - but at their heart - express an assumption we all hold in our core to be true. It's also great reading for the toilet."
Buy The Bible of Unspeakable Truths from
Amazon
Barnes & Noble
Indiebound
The Men Who Would Be King, Nicole LaPorte


Confession: I love reading about media and entertainment companies. I hate celebrities who get famous for doing embarrassing stunts that will leave their children emotionally paralyzed, but I love reading behind the scenes stories about people who truly create. I'm fascinated by the ins-and-outs of mega-conglomerates, the decision-making processes, rationales and personalities of the most powerful and creative minds in the world. So when I heard there was a book coming out detailing the inner workings of Dreamworks SKG (Steven Spielberg, Jeffrey Katzenberg, David Geffen), I had to read it. The Men Who Would be King by Nicole LaPorte is a fascinating look at the brilliant--and often contentious--people behind a troubled studio, with some truly incredible stories and tidbits ("Shrek" was originally such an afterthought that animators considered it punishment to work on it). The Men Who Would Be King reads like a page-turning thriller, but with real larger-than-life characters who've created some of the most enduring entertainment of our lifetime. A riveting read that peels back the tinsel of tinseltown.
Says LaPorte: "The idea for the book evolved from my reporting at Variety, where I covered DreamWorks for many years. The studio always stood out as quirky, idiosyncratic--and slightly crazy!--compared to more traditional, and corporate, Hollywood studios. And, of course, it was run by three legends. By the time I started covering DreamWorks as a journalist, a lot of its glory had faded--this was post-American Beauty, Saving Private Ryan, Gladiator, etc.--and I suppose my interest stemmed from a mystery: What happened? I wasn't in Los Angeles when DreamWorks was first formed, and as I went back and learned more about what an enormous and ground-breaking event it was when Spielberg, Katzenberg, and Geffen first got together, the story became even more intriguing. In fact, to me it was the most obvious Hollywood story out there. Once I started the reporting, I figured out why nobody else was bothering to do it--it was an incredible amount of work, and few people wanted to talk, for fear of crossing SKG. But there was also a tremendous amount of interest in the story, which was incredibly encouraging. Hopefully, I did justice to what I think is one of the most fascinating Hollywood tales of all time."
Buy The Men Who Would Be King from
Amazon
Barnes & Noble
Indiebound
A Bad Day for Pretty, Sophie Littlefield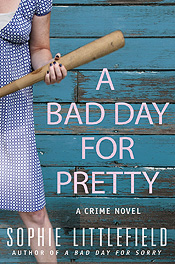 Sophie Littlefield is one of the brightest new mystery writers in the business. Her debut novel, A Bad Day For Sorry, was nominated for just about every award in the field, including the Edgar, Anthony, Macavity, Barry, Grammy, Oscar, Tony, and Fred. Her second novel, A Bad Day For Pretty, again features her tough-talking middle-aged heroine, Stella Hardesty, widow and abuse survivor, who takes justice into her own hands in order to make scumbag men regret the day they crossed her path. If you're a fan of Sue Grafton's KInsey Milhone series, be sure to spend a day with Stella.
Says Littlefield: "I'm not big on these authors who say they "talk to" their characters, but I have to admit that in December of 2007 my main character, Stella Hardesty, showed up fully formed and demanding a forum. I was having an extended pity party for myself after a decade of failure, having been unable to garner even faint interest from an agent, despite writing eight books and sending out two hundred queries. I'd done everything right - followed the rules, the trends, the industry publications and the publisher guidelines...and I was also suddenly middle-aged. And it wouldn't stop raining. And I had gained twenty pounds. And then one day there's Stella - 50, plain, and mad as hell, and she's all "Fuck 'em"...and I tried reasoning with her, tried putting her back in the box, tried convincing her that the hero of my last effort was far more reader-friendly ('cause who doesn't love a Pakistani-American detective with a hot Jewish girlfriend) and she basically told me to shut up and write. And so I did."
Buy A Bad Day For Pretty from
Amazon
Barnes & Noble
Indiebound
Go, Mutants!, Larry Doyle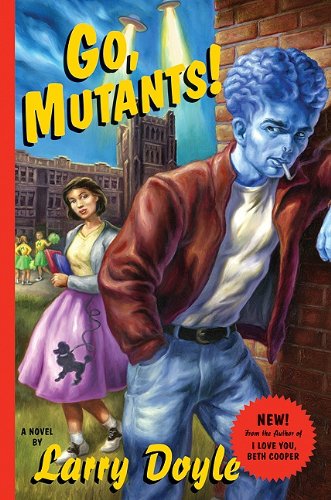 I Love You, Beth Cooper was one of the funniest novels I've ever read, the first book since Dave Barry's Big Trouble that had me in tears of laughter. Now Doyle, a former "Simpsons" writer, has returned to wreak more havoc on the American Teenager (tm). Like Beth Cooper, Doyle's new book Go, Mutants! is also set in what appears to be your typical high school. Yet quite unlike Beth Cooper, Go Mutants! imagines a 1950's world in which aliens have integrated into our society and, like ordinary teenagers, must deal with bullies, alienation (literally), mad scientists and living several heads. Just like ordinary teenagers. Now there are two types of people in this world: those who stop reading anytime they come across the word 'alien', or the kind of people who are B-movie loving geeks still disappointed that they never did figure out how to build a neutron canon in physics class.
Says Doyle: "In her speech at the Republican National Convention a couple years ago, Sarah Palin glowingly quoted Westbrook Pegler, the Jew-unfriendly communist hunter from the 1950s. (Something about good white people from small nonintegrated towns.) And it all came together for me. The everpresent fear. The morality puppets. The demonization of the different. We were living the fifties all over again, but without the great music! In perusing the popular culture of the time -- and there is no better psychogram of an era -- I noticed that beyond the Bomb, the Reds and Aliens, there was a greater terror, one lurking in their midst: Teenagers. And then I had to make it funny."
Buy Go, Mutants! from
Amazon
Barnes & Noble
Indiebound
SUBSCRIBE TO & FOLLOW CULTURE SHIFT
Every Friday, HuffPost's Culture Shift newsletter helps you figure out which books you should read, art you should check out, movies you should watch and music should listen to. Learn more