Every few weeks, a book shoots briefly across the publishing firmament which restores and even enlivens my faith in the future of this often underestimated form. Because anyone can go and draw up a list of favorite books they remember from their childhood, and fuss about the good old days, and whine about technology, but what a golden age we're actually living in now -- if we can only see through all the fuchsia.
Along a Long Road. Grandpa Green. Marshall Armstrong is New to Our School. Three by the Sea. Monkey with a Tool Belt. Pomelo Begins to Grow. All of these picture books are fresh and bright and soulful and spilling into their margins, all were published to varying fanfare in the last few months, and four are already well on their way to permanent obscurity. The two others will probably follow. Seasons, and inventories, change. Golly, Easter is upon us! Cupcake fairies, anyone?
What's the hurry? Are there really so many masterpieces waiting in the pipe? Okay then, give me a speedier bike ride than Along a Long Road and I'll move on, or a more curious newcomer in school and you'll never hear me evangelizing about Marshall Armstrong again.
So I think I'll stop talking about The Carrot Seed now that Julie Fogliano and Erin Stead have finally created a worthy successor to Ruth Krauss's and Crockett Johnson's agricultural touchstone. Of course there have been many ravishing children's fables about the magic of planting and tending to a garden, and winning friends, and influencing neighborhoods, but apart from The Carrot Seed, I cannot recall a story so private, so patient, that wasn't eventually also dependent on fantastical tendrils and toadstools and Amazonian blossoms to string us along -- I cannot remember a picture book as modest and true on this subject as Stead's and Fogliano's And Then It Was Spring, which you will not find without a miner's cap if you go browsing.
Barnes and Noble, for one, has this buried beneath their display shelves, which probably does not speak well for its prospects, only three weeks after its publication. I think I'll buy it, even though I'm the only one in my family still justifying the seventeen bucks I spent on Marshall Armstrong. Still, it's the forgetting I'm always worried about with books this meticulous, so I really think I will. You know, just to have around. Can I borrow a ten?
Though maybe I could wait a couple of months and rescue it from Amazon's remainder bins for thirty-nine cents -- but no, I will take this book home with me, and I will foist it on my family, now, while the earth is still brown, promising and implacable both, because that is the progress of spring, in case we should need a reminder. First "a hopeful, very possible sort of brown," then brown with "a greenish hum that you can only hear if you put your ear to the ground and close your eyes."
Yet notice how bright the knit hat, the red wagon, the cardinal in all this inevitable brown. How vivid is your imagination of hypothetical wonders -- right under your feet, where surely something is happening with those seeds from all the waiting and watering, but also mice just waking up perhaps, and worms, and ants just beginning to tunnel their unknowable infrastructures. Did birds dig up our seeds and have a feast before we got there in the morning? So much can go wrong, it's amazing it doesn't always. Like bears. Was it bears that went recklessly rampaging across our gardens even when we have gone to the trouble of also planting signs?
"Please do not stomp here -- there are seeds and they are trying."

Which is probably the least we can ask, and the most we can wish for, as readers and dreamers, in this or any other season.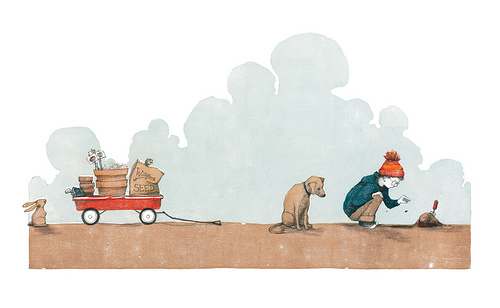 Seven Great New Picture Books
There is something for everyone here. This book accomplishes the very rare trick of remaining simply, hypnotically accessible to even the youngest of readers, while also delivering plenty of worthy diversions for the parent who will probably be charged with returning here again and again. The glossy yellow road alone is diversion enough, bending and swooping and widening in front of the solitary cyclist who does not otherwise appear to be following any itinerary. Along and along and along, through harbors and tunnels, across bridges, past ice cream trucks, a dragonfly, a snail, an apple which proves briefly vexing -- but never mind! Because look over there: at the people playing football, the swimmer lying on his back, the dog tied to hydrant outside the grocery store, laundry flapping on the line, electric poles, a roller coaster. Really, who needs a roller coaster?

On growing up and moving on: This is another of those rare tall books that doesn't seem to fit anymore on American shelves, and yet all of the extra acreage here feels indispensable for containing such phantasmagoria as a chorus of giddy potatoes who like to throw mud cakes at one another and lounge in the branches, a hovering, menacing teapot, forests of mushrooms, and Pomelo himself, who is mysteriously identified as a garden elephant. From France.

"He was born a really long time ago -- before computers or cell phones or television." From the great and sometimes mystifying Lane Smith, here is the story of a long and busy life told mostly in unexplained pictures: of topiary dragons and pyramids, a couple carved high on the top of a wedding cake, a heart in the center of a maze -- plus what's that mossy looking elephant doing on the cover? Okay, you'll have to figure that out for yourself. Exhilarating. Durable too: You could look at this book a hundred times and never remember everything.

A brand new title by a brand new author and illustrator, David Mackintosh, that is not coincidentally a little stranger than it looks on its surface. Notes the boy who sits next to him in class, "Marshall Armstrong doesn't fit in at our school," and it doesn't nearly end with the briefcase and the porkpie hat.

From the curiously unfamous English creator of Egg Drop and The Adventures of the Dish and the Spoon comes this roguish, simple fable of a mouse who cooks dinner (fondue), a cat who keeps house (between naps), a dog who plants gardens (with bones) and the castaway fox (a representative of the Winds of Change Trading Company) who arrives with the tide, depositing his tiny seeds of doubt.

The hero of Chris Monroe's Monkey With a Tool Belt trilogy bears a passing resemblance to Curious George, but he's a great deal more useful in the community than his mischievous forebear, who always seemed to come too easily to his popularity. Chico Bon Bon wears his tool belt like a résumé, though he manages to also summon a genuine delight at meeting the challenges Monroe puts before him – here he visits his friend Clark (the eponymous Noisy Problem in book two) and discovers a clumsy duck at the heart of one paradise's energy dependency.

Finally a worthy successor to The Carrot Seed of sixty years ago, here is the promise of spring: first "a hopeful, very possible sort of brown," then brown with "a greenish hum that you can only hear if you put your ear to the ground and close your eyes." Stubborn and watchful.