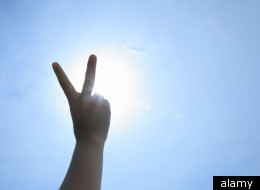 Alfred Nobel wrote an unusual will in 1895, setting up five prizes: in physics, chemistry, "physiology or medicine," literature, and peace. There was no economics prize: That was added by the Central Bank of Sweden in 1968.
Nobel's will made news around the world, because, in those days, few people left a fortune to some public or philanthropic enterprise. But Nobel, unlucky in love, had no family, and he wanted to do something special with his money.
He was a brilliant scientist and entrepreneur, with 355 patents to his name. His most famous invention is dynamite. And many people suppose that he established his prize for peace in order to atone for this invention.
Not so. From what we know, he was proud of his achievements in explosives, which allowed the building of what we today call "infrastructure": the St. Gotthard Tunnel through the Swiss Alps, for example, and the Central Pacific Railroad. "There is nothing in the world which cannot be misunderstood or abused," he said. What's more, he was a great believer in the deterrent power of terrible weapons. (Sometimes, his belief in deterrence was naïve.)
In his will, Nobel asked that his peace prize go to "the person who shall have done the most or the best work for fraternity between nations, for the abolition or reduction of standing armies, and for the holding and promotion of peace congresses."
He also said that his prizes - all five of them - should go for work done "during the preceding year." Even the literature prize? Oh, yes. The Nobel prizes were not meant to be lifetime-achievement awards. But committees have always ignored the will, when they felt like it.
Nobel asked the Norwegian legislature to appoint the peace committee. And they always have, since 1901, when the Nobel prizes began. The peace committee is composed of five persons, and they are all Norwegian. It has been this way from the beginning. The will does not require that the committee members be Norwegian - it's merely custom.
So, the Norwegian people elect the legislature, and the legislature elects the peace committee. You might say, therefore, that the Nobel Peace Prize is a reflection of the Norwegians and their political culture. That culture is, of course, social democratic.
In these last 111 years, the peace prize has been given 92 times. (The committee used to skip years, occasionally.) A hundred and one individuals have won the prize, and 20 organizations. They've all been interesting--every one. But shall we have a look at a handful?
Jay Nordlinger is the author of Peace, They Say [Encounter Books].
In the inaugural year, the prize was divided between two men: Frédéric Passy and Henry Dunant. Passy was a Frenchman, and a renowned pacifist. Dunant (1828-1910) was a Swiss, and the father of the Red Cross. In middle age, something tragic happened to him: He went bankrupt, and became a vagabond. He was reduced to begging. Eventually, he found refuge in a hospice, where he was discovered by a journalist in 1895. A campaign was mounted to get Dunant the first Nobel Prize. He died nine years later, at 82. He did not want an elaborate funeral. He said he wanted to be carried to his grave "like a dog," which he was.

This lady was a minor Austrian aristocrat, and a friend of Alfred Nobel. He was probably in love with her, at first. But she married someone else, and everyone went on with life. Suttner (1843-1914) was a big-time peace campaigner. She influenced Nobel to leave, among his prizes, a prize for peace. In 1889, she wrote an anti-war novel called Die Waffen nieder! or Lay Down Your Arms! It was a huge hit, and gave the peace movement a boost. Tolstoy compared the book, in its impact, to Uncle Tom's Cabin. Suttner died on June 21, 1914, exactly a week before Princip took his gun and destroyed the world.

This laureate (1861-1930) was a real-life Indiana Jones, except probably more impressive. Nansen was an athlete, an explorer, a scientist, a writer, a professor, a diplomat, an executive, a humanitarian. At 18, he set a world speed-skating record. He explored and charted the Arctic regions, braving many dangers. He curated at the Bergen Museum. He was his country's ambassador to Britain. After World War I, the League of Nations asked him to do several tasks. He was the first high commissioner for refugees. When he won the Nobel Peace Prize, he became the second Norwegian to do so. There has not been one since.

The 1925 award was split between the British foreign secretary, Sir Austen Chamberlain (half-brother to Neville), and the American vice president, Dawes (1865-1951). Dawes was honored for work he did before becoming vice president: for leading the committee that gave Germany a new schedule and new terms for reparations. Dawes was basically a businessman, a financier, and a statesman. But he was also a musician - and in 1912 composed a piece called Melody in A. Fritz Kreisler, the great violinist, made a recording of it. After Dawes died, the piece assumed a new life. Carl Sigmund put words to it, turning it into a pop song called "It's All in the Game." It has been sung by everyone from Louis Armstrong to Elton John.

Ossietzky (1889-1938) was surely one of the bravest people ever to win the prize. He was a German journalist and pacifist. Even before the Nazis came to power, he was arrested and imprisoned. When the Nazis came to power, he was arrested and imprisoned again, almost immediately - the day after the Reichstag fire. He could have fled the country, as others had done, but he felt he should stay and fight. He paid with hard labor and torture. The authorities demanded he sign a statement renouncing his principles, but he refused. Prominent people - including Einstein and Mann - campaigned for him to win the peace prize. For one thing, they thought it might save his life. It helped a bit, but Ossietzky died in 1938, from the effects of persecution. He was 48.

The 1922 laureate, Nansen, was talented, but the 1950 laureate was no slouch. At Jefferson High in Los Angeles, Bunche (1903?-1971) was both the sports star and the valedictorian. That's pretty unusual. At UCLA, he was again a sports star and the valedictorian. That's almost unheard of. Plus, we're talking about a young black man in the 1910s and '20s. When he earned his Ph.D. in political science at Harvard, he became the first black person in America to earn a Ph.D. in that field. Working as a U.N. envoy, he presided over negotiations between the new state of Israel and the neighbors that had attacked it. For that, he won the peace prize - the first non-white laureate.

Before Oliver Tambo and Nelson Mandela, there was Albert John Lutuli (1898?-1967). His name is sometimes spelled Luthuli, but he went without the "h." He was an anti-apartheid leader in South Africa, the president of the African National Congress. He was also a Zulu chief, a committed Christian, and an apostle of nonviolence. A humble man, he inspired awe in many around him. The apartheid government let him out for ten days to go to Oslo to pick up his prize. At the ceremony, Lutuli noted that the South African interior minister had declared him undeserving of the Nobel. "Such is the magic of a peace prize," said Lutuli, "that it has even managed to produce an issue on which I agree with the government of South Africa."

There was a time when a great many students were assigned a book called I, Rigoberta Menchú. It was the autobiography of a Guatemalan who belonged to a rebel group called the Guerrilla Army of the Poor. Later, it transpired that the book was full of holes - falsities. But it did not lose its canonical status. Menchú (b. 1959) won the peace prize in 1992, the "Columbus year": the 500th anniversary of Columbus's discovery of, or encounter with, the New World. The committee decided to give the prize to the most famous indigene the Americas had to offer. Menchú was luckier in the arena of world prizes than in the arena of national politics. She ran for president of Guatemala in 2007, getting 3 percent of the vote.

A lot of people know that Arafat won the peace prize, but they don't know, or tend to forget, that he won it in concert with two Israeli statesmen - the prime minister, Yitzhak Rabin, and the foreign minister, Shimon Peres. They won for the Oslo Accords, named for the committee's own city, in which the accords were negotiated. One member of the committee, Kare Kristiansen, resigned in protest. He could not stomach even a third of an award to Arafat. The other four committeemen voted for him. In Oslo, Arafat (1929-2004) bowed to local sensibilities by removing his sidearm, a .357 Magnum. Peres, in his Nobel lecture, went out of the way to say that Arafat's share in the prize was "fitting."