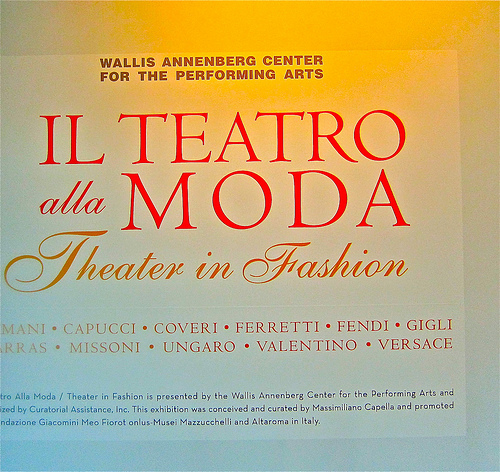 As my Huffington Post readers know, I am an opera buff. I try to attend them anywhere in the world where I happen to be, and my particular passion is the Italian operas, Verdi, Puccini and the like. So when I was invited to attend a fashion show called Il Teatro alla Moda, which roughly translates as Theatre in Fashion, I was intrigued. The fact that the show was being mounted by the Wallis Annenberg Center for the Performing Arts cemented my attendance, since this is the new theatrical center being built on the site of the stately old 1933 Italianate-style Beverly Hills Post Office. I suspect I will be writing quite a lot about this performing arts center in the next few years, before and after it opens in 2013, for it will be a spectacular addition to our lovely little city. Philanthropist Wallis Annenberg, heir to the great newspaper family, put a large sum into the initial offering, then my banker, Bram Goldsmith of City National Bank, came up with the 500-seat theatre in the center, and many friends like Fred Hayman, Paula Meehan and others dug deep into their pickets to continue the underwriting. It will also serve as a theatrical school for young people, something sorely needed in these perilous times.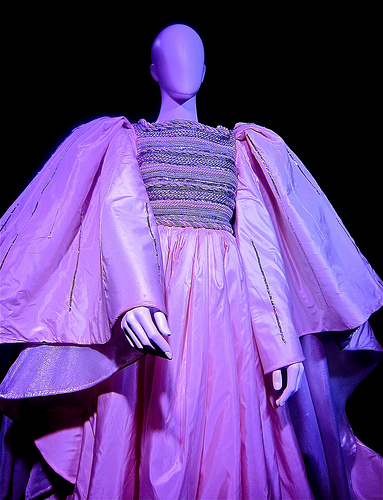 Norma, by Roberto Capucci, for Temple Virgins scene in Bellini's opera (1986)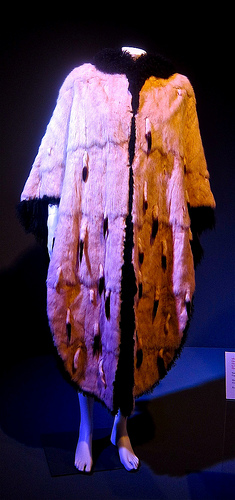 Fendi's furs for Cecilia's cape in La Traviata (1983)
Ms. Lou Moore, Executive Director of the Annenberg Center saw this show in Milan about two years ago, and decided it was something which should be offered to our city as an example of the culture which will be exhibited at the forthcoming center. They found a conveniently empty building at MGM Place, at 253 North Beverly Drive, corner of Dayton Way and Beverly Drive, and spent a small fortune converting it into a beautiful, temporary exhibition hall. A stunning exhibition of theatrical costumes from Italy's world-famous haute couture designers, it reflects their passion for opera, dance and theatre. Every costume in the show is exceptional; I can honestly say I have never seen such a collection assembled in one place. It was conceived and curated by Massimiliana Capella and promoted by an Italian group wth a long and unpronounceable name.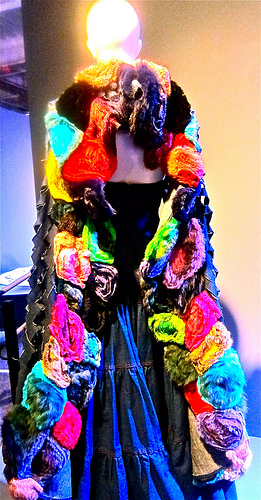 Carmen's outfit by Karl Lagerfeld for Fendi (1986)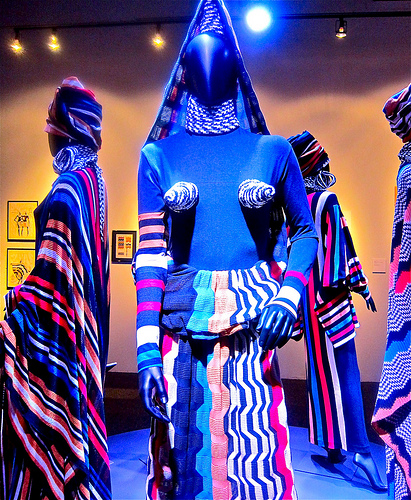 No, not Madonna, it's Missoni's African costume created for the opening ceremony of the 1990 World Cup in Italy!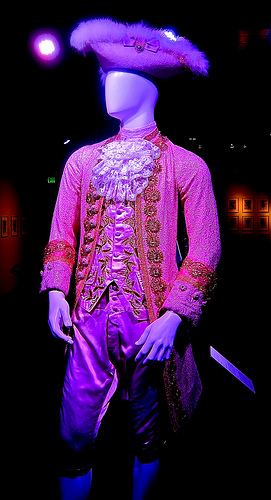 The Dream of Valentino, by Valentino for Monsieur Boncaire.
Armani, Capucci, Coveri, Ferretti, Fendi, Gigli, Marras, Missoni, Ungaro, Valentino, Versace... some I know and some I never heard of, but all sent their best and most spectacular outfits, 80 costumes and sketches in all, to the United States premiere of the exhibition. Lou told me, "The designers' passion for the arts resonated with me on a personal level; for many of them, the arts are their first love. It's that passion for theatre, dance and opera that we plan to bring to the Annenberg when we open."
Queen of the Night Costume by Romeo Gigli for The Magic Flute.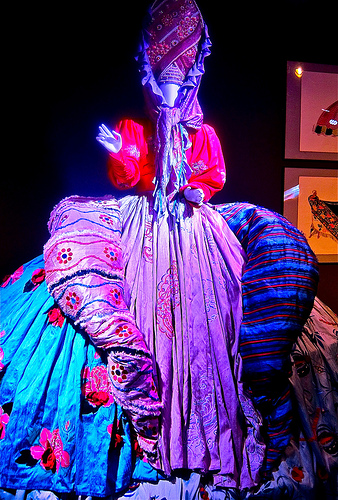 Matryoshka costume by Gianni Versace for Souvenir of Leningrad.
So I took my trusty little Canon camera into the hall this week and snapped a dozen shots of what I considered some of the most thrilling costumes there. The show will be open to late November, perhaps longer. It's open from noon to 7 pm on Wednesday to Friday and 11 am to 8 pm on Saturday and Sunday. Tickets at the door are $10, children and students with I.D. are free, while Wednesday is free for all. I suggest you get over there before it close for a thrilling, fashionable experience.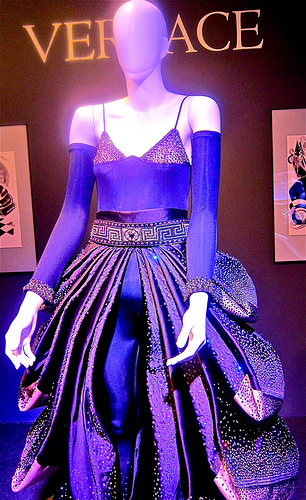 Eva Peron by Versace for Luciana Savignano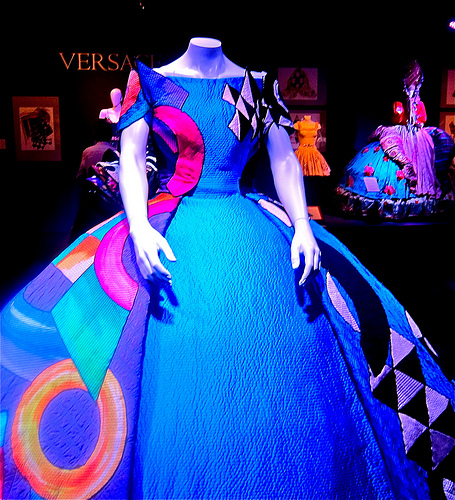 ...and Versace's Sonia Delaunay Gown for Capriccio
To subscribe to Jay Weston's Restaurant Newsletter ($70 for twelve monthly issues), email him at jayweston@sbcglobal.

SUBSCRIBE TO & FOLLOW THE MORNING EMAIL
The Morning Email helps you start your workday with everything you need to know: breaking news, entertainment and a dash of fun. Learn more