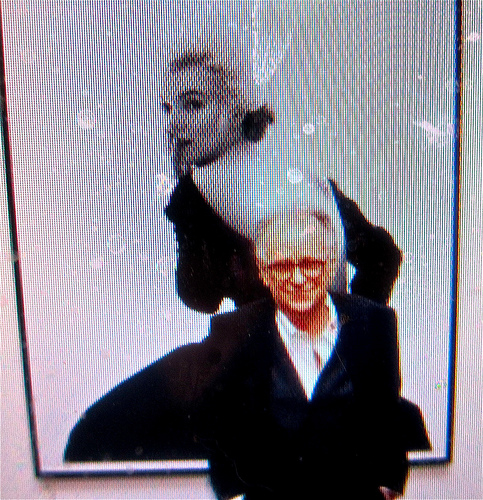 Bert Stern in front of one of his Marilyn Monroe photos.
In the 1950s and early 1960s I had a best friend named Bert Stern. He was a brilliant and successful photographer, one of the greatest ever (and I was a less-successful and not-as-brilliant publicist). So on Friday evening I went to the Landmark Nuart Theatre (11272 Santa Monica Blvd. (310) 473-8530, a block west of the 405 Freeway, with plenty of street parking in the adjacent street). It was the opening night of a one-week run of an amazing documentary about Bert by director Shannah Laumeister, who was there for the evening. We met and chatted after the screening; I told her how much I loved the film and was devastated by the memories it evoked.
The director of the movie, Shannah Laumister, in front of the Nuart theatre.
The film is sometimes funny, breathtaking, poignant, and full of celebrities... it helps an audience who only knows him by repute to understand and appreciate how his work has helped shape a lot of the advertising since then and our understanding of the world. It details how the kid from Brooklyn (as was I, both of the same age) began working at Look magazine in the early '50s, at the same time another friend of mine, Stanley Kubrick, was also working there as a photographer. (And the film has an interview with James Harris, Stanley's first producer and a former film partner of mine.) Bert began doing photographs, which probably created modern advertising art as we know it today... actually making Smirnoff vodka a worldwide brand and the white spirit a huge success. (Remember the upside-down Egyptian pyramid seen through a martini glass?)
The two signed photos by Bert of Marilyn which I have.
We both were drafted into the Army during the Korean War, Bert went to Japan and I went to Korea, but we once hooked up for a wild weekend in Tokyo. In 1957, when I was the publicist for the Newport Jazz Festival, I brought Bert to Rhode Island to shoot what was originally going to be a dramatic scripted feature film with his then-girlfriend, Dorothy, but when we (or rather I) could not raise the money for that, I obtained an initial investment of $40,000 from Jean Stein (daughter of MCA's Jules Stein) and we shot a docudrama called Jazz on a Summer's Day. (Anita O'Day, in her picture hat, scat singing, Gerry Mulligan swinging on alto sax, Louis Armstrong singing 'Mack Tthe Knife' on his birthday, July 4th, Thelonious Monk playing piano as the sailboats head out to sea. Even a shot of Elaine and Louis Lorillard, the cigarette heirs, on whose farm the orignal festival was held.) I sold the movie to a European distributor for $199,000, our exact cost, and am told that to this day it plays in a little theatre in Paris. But the film has become a wild success on YouTube and is considered one of the greatest jazz docus ever. (And indirectly led to my producing the jazz-oriented feature, Lady Sings the Blues, about Billie Holiday.) The new film shows many iconic pictures of Elizabeth Taylor, Richard Burton, Audrey Hepburn, Bardot and Twiggy, as well as his famous Sue Lyons' photo for Kubrick's Lolita poster, but it is his photos of Marilyn Monroe in 1962, just six weeks before she died, which have remained in the public eye to this day.
Bert's famous shot for the Lolita poster
He did two of her last shoots and tells of his desires, unsuccessful, to make a romantic adventure of it. Bert's incessant womanizing is not neglected in the film, and it was the strongest motivation in his life. I was with him the night in 1959 that we saw the 17-year-old ballerina, Allegra Kent, dance in George Balanchine's Seven Deadly Sins, for the NYC Ballet and Bert whispered that he would marry that girl. Which he did, at a wedding I attended. (The late editor, Clay Felker, was best man.) Allegra had never even been kissed when they met. They went on to have three children and she left and divorced him in the '70s.
Filmmaker Shannah Laumeister first met Bert when she was 13, and later as an actress became his 'muse' and friend and occasional romantic partner.. At the screening, she told how she tormented about including herself as a character in his documentary, and finally did so when it worked out dramatically. This film is remarkable and fascinating in so many ways, complete candid in its depiction of his lifelong obsession with women, all women, and especially those he photographed. "Making love and making photographs are closely connected... Women are everything. Man is just a muscle," Bert says in the film. (I heartily agree.)
Now in his 80s, he is the central character being interviewed... and I must say, he is absolutely open and honest about his flaws, selfishness and desires which almost destroyed him. As one reviewer said, "It is a portrait of an artist as an old man who has no lying in him." I left the theatre Friday evening wondering if I could ever be so revealing about my life as he was about his. The answer was a definite 'maybe.' Which is what, in a way, these posts on Huffington offer me... the chance to be open and honest, but perhaps not quite so revealing. Go to the Nuart before it closes to see what I mean.
To subscribe to Jay Weston's Restaurant Newsletter ($70 for 12 monthly issues) email him at jayweston@sbcglobal.net.