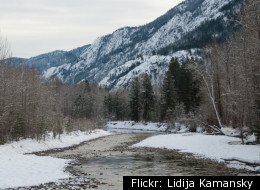 The branches of towering Douglas firs and Ponderosa pines sway in the wind. Wisps of clouds brush the rounded peaks. And snow drops gently from tree limbs like fairy dust. An isolated hut, with nary another person in sight, provides a picturesque picnic spot to survey a bucolic, snow-draped field. Navigating to my lodge, I must first glide past a glacial-carved river bed, and then through a dark corridor rimmed with Western red cedar, cottonwoods and birch where the only sound is the rustling of branches. These observations seem like scenes from an idyllic land far, far away. For me, it's just another afternoon on my solo four-day lodge-to-lodge cross country ski trek in Washington's Methow Valley, almost four hours from Seattle but world's apart.
While many of the ski areas in the East and West have been plagued with less-than-ideal ski conditions, the Methow Valley is tied as the snowiest place in the US. (Especially the Mazama section in the upper part of the valley where I ski.) Unlike downhill areas where cross-country skiing is an afterthought, the Methow is a Nordic skiing-centric locale. Several former Olympians call the Methow home -- namely Laura McCabe and Leslie Hall -- and Sadie Bjornsen, another local, just won her first medal for Nordic skiing at the world cup. Thanks to the diligent and well-organized Methow Valley Sport Trail Association, groomers hit the trails at 2am to begin tracking each of the 200 km of trails. It's not just the powder or extensive trail system that make this area so appealing, but also the comfortable lodges set a mere two to five miles apart and the flat-as-can-be trails. Anyone in reasonably good shape can rent a pair of skis; heft a small pack loaded just with essential clothing, toiletries, snacks and a water bottle; and follow my itinerary through paradise. (It's impossible to get lost: Every intersection displays a huge map with "You are here" signage as well as a wooden plaque etched with the trail name affixed to the tree trunk.)
This impressive 12-room, lakefront inn is the area's epicenter for fine dining. (it's set on the vast lands of former ranch owner Jack Wilson who led pack trips into the surrounding mountains with some prestigious guests, including Supreme Court justices.) I order a green salad with dried cranberries, toasted hazelnuts and pomegranate seeds followed by grilled black tiger shrimp with sweet pepper jelly. The chocolate tart with crispy almonds and caramel is a perfect conclusion to a relaxing meal. Either before or after dinner, guests gather in the lounge beside the massive river rock-constructed fireplace, to sip a glass of wine (like the vibrant Pinot Grigio from the Columbia Valley I sample), or flock to the outdoor hot tub that's maintained at a toasty 102° F. The spacious, pine-trimmed rooms are each equipped with an electric fireplace and a soaking tub that's ideal for calming sore muscles.

This comfortable accommodation is firmly rooted in a Western motif with most of the 14 rooms facing corrals; others occupying the original ranch house dating from the 1940s; and an old cook shack from a local gold mine being repurposed first as a chicken coop and, later, as an informal lounge. Duvet covers sewn from denim jeans cover the beds, and wall pegs are fashioned from bent horseshoes. Stirrups, horse collars and lariat ropes are all part of the accents in the main building. In the summer, many guests check in with their horses in tow. Since meals are not served here, I stroll across the road to the charming Mazama Country Inn where they offer family-style meals. We start with fireside hors d'oeuvres of Brie, fresh fruit, hummus and beer-battered zucchini. Then we retreat to the dining room for tasty slices of pot roast -- chicken Marsala and grilled salmon are other popular entrees - followed by Boston cream pie for dessert.

I huddle with a warm cup of mint tea in the sunken living room beside the amber-glowing wood burning stove. My view through the bay window is of skiers battling an unexpected snow storm. Owners Kim and Steve Bondi, two wildlife biologists, have imbued this low-key lodge with their love of nature and the Methow Valley. Each of the simply-adorned rooms are mostly named for regional sights (such as the almost 10,000-foot Mount Gardner) and local artwork (often of the natural environment), including those of a well-respected watercolorist, John Adams, hang on the walls. They also offer complimentary snowshoe tours through the neighboring woodlands with a naturalist. Kim and Steve wholeheartedly embrace a locavore and sustainability ethic, whether it's honey from the bees Kim raises; oregano, spinach, kale or other herbs and vegetables from their garden; or tangy goat cheese sourced from the local dairy. Every Thursday they host Soup & Presentation night where guests and members of the community flock to the inn for a naturalist talk. After a meal of flavorful potato, spinach and garlic soup and thick slices of whole grain bread, we traipse to the basement and become enwrapped in a lecture on the elusive lynx.

The name says it all: A cluster of six rectilinear steel boxes perch atop wheeled stilts in an expansive meadow. Each of these Zen-like spaces are sited so that guests never gaze upon their neighbors. (The one glass wall - really sliding doors - looks out to the distant mountains.) This Tom Kundig-designed accommodation is pared down to the essentials: a wood burning stove, a micro-size kitchenette, and a platform bed topped with a simple foam mattress piled with warm blankets. In the plywood covered interior, nothing adorns the walls except a series of wood panels etched with a topo map of the area. Guests won't find a bathroom or sink in their quarters. Rather, there's a pit toilet and spicket outside the door and, a short walk away, hot showers and toilets in a separate building. These minimalist dens perfectly suit my back-to-basics sensibility. Melding with this contemporary retreat is Wesola Polana (Polish for Happy Valley), the adjacent restaurant, is housed in a barn from the early 1900s. The community adores their authentic Spanish tapas that include jamon aerrano, Manchego cheese, and chorizo simmered in hard cider, among the almost two dozen choices.
Follow Jeanine Barone on Twitter: www.twitter.com/jcreaturetravel