What better form of theatrical art than the farce to capture the absurdity of the Arizona state officials' infamous witch hunt of Tucson's embattled Ethnic Studies program?
In the tradition of the ancient pastorela, recreating the biblical pilgrimage of modern-day shepherds along the borderland highways connecting Sonora and Arizona, noted Phoenix playwright James Garcia and his New Carpa Theatre Company will premiere American Pastorela: Everything You Ever Wanted to Know About Ethnic Studies But Were Afraid To Ask on Friday, December 8th, at the Third Street Theatre in the Phoenix Center for the Arts.
"I write about issues that move me, and the absurdity of a law specifically created to shut down a program that helps teach Latino kids to be proud of their heritage was not only outrageous but ripe for lampooning," said James Garcia, New Carpa's producing artistic director and the play's author.
Garia drew inspiration from his own background as an Ethnic Studies instructor at Arizona State University, and from the increasingly bizarre showdown between Tea Party extremists and Arizona politicians with Tucson's nationally acclaimed program and teachers. Earlier this year, as Attorney General Tom Horne invoked the bloodshed of ancient Carthage in his demands for Ethnic Studies "to be destroyed," the state's notably incompetent education chief John Huppenthal blatantly misrepresented the positive findings of a commissioned audit of the Mexican American Studies program and compared Tucson youth to Hitler's paramilitary Jugend.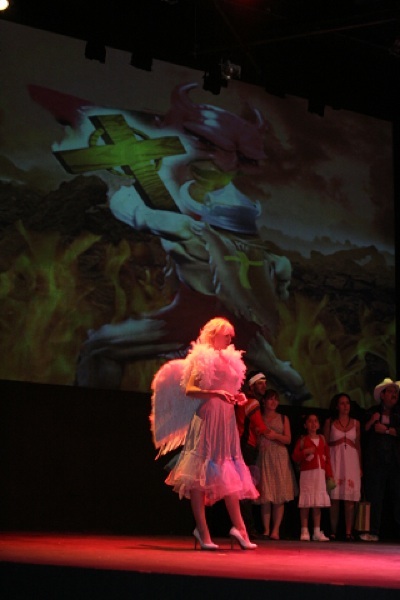 Photo by Phil Soto, courtesy of New Carpa Theatre Co.
With a cast of 25, American Pastorela spans over 50 character encounters in the journey of the Hernandez family, including "Scorpions for Breakfast" Gov. Jan Brewer, recalled state Sen. President Russell Pearce and his sham Arizona Senate candidate cohort Olivia Cortes, the Star Wars creature Chewbacca, Che Guevara, Spiderman, Shakira, and of course, State Attorney General Tom Horne and State Schools Superintendent John Huppenthal, who feature prominently as an "anti-superhero" team named Horney and Hoopy."
Founded in 2002, the New Carpa has emerged as one of the premiere frontline theatre troupes in the country, focusing on borderland, Latino, multicultural and immigration rights themes. This year's political satire on Ethnic Studies is the sixth annual pastorela production for Garcia, who also wrote and produced American Pastorela: The Saga of Sheriff Joe and American Pastorela: Show Us Your Papers. Last spring, New Carpa presented "Performing 1070," a unique series of short plays dealing with Arizona's controversial immigration law.
For more information on New Carpa, visit their website here.
SUBSCRIBE TO & FOLLOW CULTURE SHIFT
Every Friday, HuffPost's Culture Shift newsletter helps you figure out which books you should read, art you should check out, movies you should watch and music should listen to. Learn more