No one in Washington, DC--outside of President Obama--will determine the future of clean water and health care in the Appalachian coalfields more than EPA administrator Lisa Jackson.
After forty years of reckless devastation and criminal violations, after all the shoutin' is over by Big Coal lobbyists and their bankrolled politicians, the fate of clean water and human rights in the Appalachian coalfields is now in the hands of Lisa Jackson.
Will the EPA stand up to the Big Coal lobby and their misleading ad campaigns, and stand by their own guidance rules based on the Clean Water Act and science?
Or will Lisa Jackson and the EPA falter and make some compromise that will allow Appalachia to be needlessly crucified for another generation of mountaintop removal mining?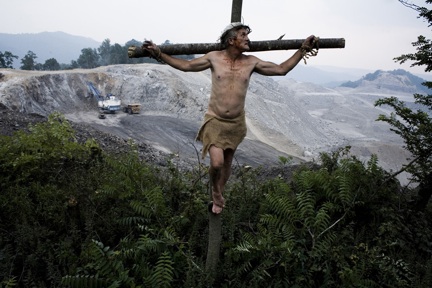 Here's the truth: Providing less than 8 percent of national coal production, highly mechanized mountaintop removal mining is crucifying Appalachian streams and watersheds, and jobs and any economic diversification in the most impoverished communities in the nation, and the health and lives of American citizens.
Says Coal River Valley resident Bo Webb, the recent winner of the Purpose Prize, who lives beneath a mountaintop removal operation in West Virginia:
"The EPA, in the interest of public health, should use its power and authority to immediately place a moratorium on all mountaintop removal operations until a thorough health study can be conducted in mountain communities that are daily exposed to more than 6 million pounds of diesel fuel and ammonium nitrate explosive fallout."
Returning from her holidays, Jackson and her EPA associates might have seen the grossly misleading Big Coal ad blitz in the Washington airports with the headline: Don't Let the EPA Destroy Appalachian Jobs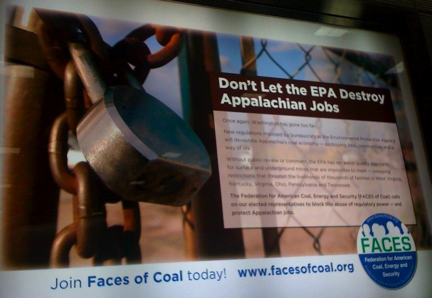 Funded by a widely denounced Washington, DC lobby firm, the ad campaign blatantly distorts the realities of job loss and overlooks the real devastation in the coalfields from mountaintop removal.
The real banner should have read: Dear EPA, Please Don't Let Big Coal Destroy Appalachians.
You can make a public comment on the EPA's guidance rules here by December 1st.
This Blogger's Books and Other Items from...
FOLLOW HUFFPOST