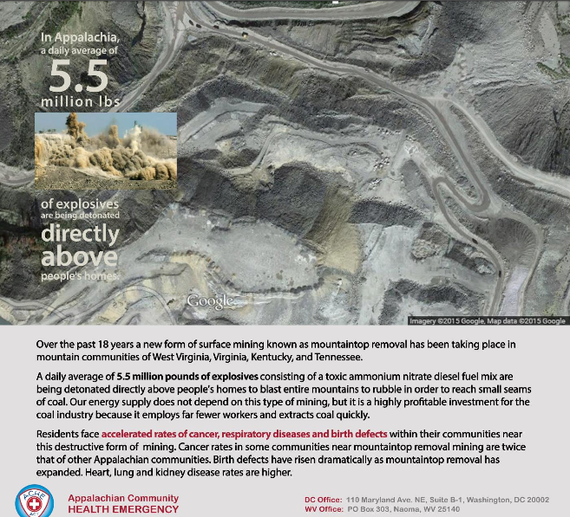 Respiratory birth defects in mountaintop removal mining communities (MTR) are triple that of NON-MTR communities. A mother that DOES NOT SMOKE, but lives in an MTR community is at 10x's GREATER RISK of birthing a baby with a respiratory birth defect than a woman THAT DOES SMOKE, but does not live in an MTR community. Research scientists, including West Virginia University's Mary Baab Randolph Cancer Center have proven that MTR blasting particulate matter collected from the air and peoples homes in MTR communities promotes tumor formation in human lung cells. Cancer rates in MTR communities are nearly triple the national average. There are now more than 25 peer reviewed and published research papers showing mountaintop removal is a major health threat to the living and the unborn. Yet, in spite of this overwhelming evidence the WV Dept. of Environmental Protection continues to issue mountaintop removal permits that allow the coal industry to blast WV mountains with high explosives unleashing fine particulates of silica, aluminum, and molybdenum dust. We, The People will no longer stand silent while the WV DEP with the blessing of Senator Joe Manchin and our Governor continue to encourage and support the poisoning of our children with toxins that cause cancer. Click the events link on the left side of this page, then come join us at the WV DEP to send a loud and firm message to the Secretary of the WV DEP; no more permits, stop allowing this murderous act to continue, mountaintop removal ends today!
SUBSCRIBE AND FOLLOW
Get top stories and blog posts emailed to me each day. Newsletters may offer personalized content or advertisements.
Learn more