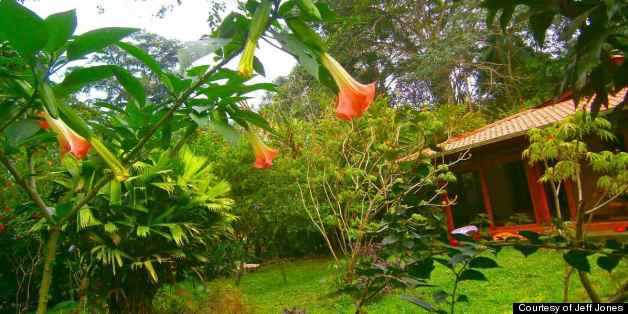 As we hit our one-year anniversary here in Puerto Viejo, Costa Rica, we made ready to move into our sixth place of residence. Last time, we explored the reasons so many folks seem to bounce around here in Puerto, as well as our own moves one and two. Here's three through six...
We needed to secure a place for four, with two days notice, Christmas week. Todo Definitely Not Bien. After much scrambling, we manage to locate a tiny bungalow out of town -- let's generously call it 300 square feet. Instead of four bedrooms, we had two sets of bunkbeds; instead of two gas burners, we had a electric skillet for cooking; and instead of our glorious patio with a table for six, two couches, and two hammocks, here the outdoor space was a 4 x 4 concrete slab with a palapa that barely covered the only table on which we had to eat... so when it rained, we pretty much still got wet -- and as it happened, it deluged the entire week. Merry Christmas kids! Aren't you glad you made the trip from NYC? And then it gets worse...
Turns out we only had the use of this particular bungalow for half the week (it had been reserved) and we had to move to an even smaller unit -- this one ordinarily used by the gardener, who had gone home for the holidays. So we lug all our things (this time by the armload) 40-some yards down the wet, slippery hill, and into the shed. The rain, and Flor de Caña Rum, poured non-stop.
The cost for our one-week stay in this genie's lamp? About the same, perhaps a bit higher than you'd normally pay for a month in a lovely two-bedroom house around here. Feliz Navidad.

When we pictured ourselves living in Costa Rica, we pictured, well, I'm not quite sure, but it certainly wasn't living in a house that looked like it might be in Florida or Cali. And yet here it was: two kitchen sinks, two stoves, huge fridge, sunken bath, built-in closets with full-time dehumidifiers, big sliding glass doors on the eat-in patio, etcetera. And when we first saw the house, had it not been for the fact we had no place else to go, we'd have probably rejected it (we didn't move all the way here to live in some stupid American-style house... grouse, grouse grouse, blah, blah, blah..).
But guess what? After eight months without, it's really kind of nice to have hot water on demand throughout the house; nice tiled floors that get, and stay, clean; the spacious, well-appointed kitchen and so forth. Yes, it was on the pricey side, but we had a wonderfully long list of guests scheduled to visit (full-house from Christmas through mid-March), so we took it. Three-month lease, which would get us past Semana Santa, when once again, there would be nothing available.
(Side note: The house is located in Playa Negra, and a highlight of our stay here was the proximity to the hotel and spa known as Banana Azul. Built and operated by the impeccable Colin Brownlee, the place is immaculate, the setting postcard perfect. We rolled through almost everyday; sometimes for a meal, sometimes for a cocktail and many times to simply take advantage of the lounge chairs, palapas and food services on the beach -- open to all. If you're headed this way, check it out.)
The house treats us (and the 13 family members and friends who visited over the three months) quite well. But the three months are up; time to go. Again.
We ask everyone we know in town, check all websites, bulletin boards, etcetera, and find a cool little, mostly outdoor, two bedroom, thatched-roof, gingerbread-kinda-looking beach house in Cocles. We moved in April 1. Let's see how long it lasts.
Welcome To Your Costa Rica Dream Retirement
SUBSCRIBE AND FOLLOW
Get top stories and blog posts emailed to me each day. Newsletters may offer personalized content or advertisements.
Learn more